Asus VG277Q1A Review – If you are searching for a budget gaming monitor that provides maximum performance with the optimal gameplay experience then this is the perfect monitor for you. It supports a 165Hz refresh rate, FreeSync support, 27 inches FHD display. Overall the Asus VG277Q1A is a very good option without spending too much money.
If you are a beginner this is really good for you, because the price is amazing also you will get better features and performance. Just like the good things that are many bad things in this monitor like it doesn't have a fully adjustable stand,
The monitor offers a tilt-only stand and it might be uncomfortable for long gaming sessions because you have to change the position of the display if you needed so there is no option for that.
The second thing is the resolution is not great, It provides a 1080p resolution that is not very aggressive but good for beginners, this is not a huge problem. You will see problems when you play games for a long time you might see flickering and laggy visuals,
because most of the time high refresh rate doesn't give you optimal performance, I know the monitor supports FreeSync but the overall performance feels decent as the monitor overclocking the refresh rate to 165Hz and the standard refresh rate is 144Hz.
Asus VG277Q1A – Overview
For beginners, this is perfect because there is no need for extreme response time, responsive graphics, also the price tag is very good at this level of performance overall, Let's check the monitor in detail, I am sharing the full importance of how this monitor can be perfect for you or not for you.
Before buying a Monitor always choose an optimal performance, not aggressive high-end specs, read this post till the end to get the all information about this monitor and whether it's good or not.
The Asus VG277Q1A comes with a 27 inches Full HD display with 165Hz refresh rate ( supports 144Hz) and AMD FreeSync premium, The performance of this monitor is great there is no major issue but the picture quality is not great and you might see horrible image quality in some cases, so keep in mind before choosing this monitor for your gaming setup.
While playing games the monitor performs well, as I already said the image quality and colors are not very optimized and you might see fewer quality graphics as well, which will affect your gameplay experience, not from the speed and performance but the visuals experience is little weaker.
Another downside of this monitor does not provide an adjustable stand just you can tilt the display at a limited angle, adjustability is another feature that gives you a comfortable viewing experience by changing the viewing angle of the monitor to a different position via rotating the display, changing the height of the stand to a high or lower position, turn it to horizontal/vertical mode and swivel to a different position.
Read: ASUS VG249Q Review – 144Hz, FreeSync
Build and Design
The Asus VG277Q1A is built with decent plastic material on the entire body, bezels are thin that looks great from the front view, the backside is designed like many other Asus models that look great, and the stand of this monitor is medium size and there is no issue of space consumption in your desk, easily fits on any desk size. As I said earlier there is no adjustability feature on the stand just comes with tilt-only adjustment.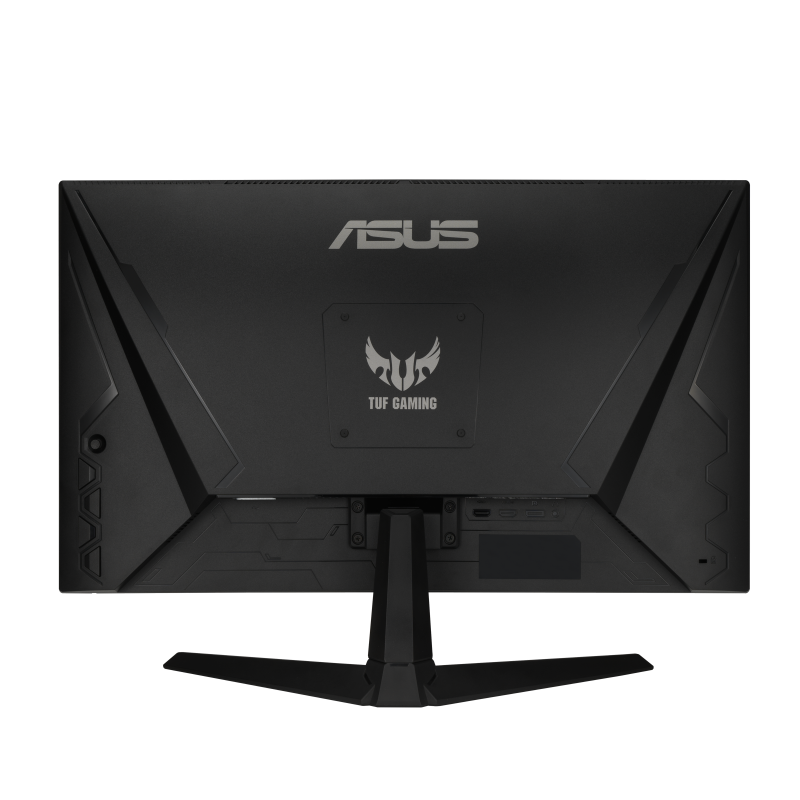 I think at this price range you will not have a perfect monitor by getting all features so you have to compromise some features. The weight of this monitor is about 4.47 Kg with the stand and the dimensions are (W x H x D): 615 x 453 x 194 mm with the stand.
Image Quality
It has 27 inches VA panel with a resolution of 1920×1080 pixels, contrast brightness is ok in normal room conditions. Colors are not accurate and you will see fading and pixel bleeding in some cases. Graphics are responsive due to FreeSync premium and the 165Hz refresh rate that works pretty well and there is no major problem with the performance of the video playback.
If you are looking for a performance-focused budget monitor then this is the best for your gaming setup, or if you wondering for a good monitor with crystal clear vibrant image quality with all features then this is not for you, you have to increase your budget and check out some pother monitor.
For beginners, this is the perfect investment as you are in the learning stage, and when you are pro stage take your gaming setup to the next level by adding high-end devices.
Performance
The Asus VG277Q1A offers a superfast 165Hz (Overclocked) refresh rate with the support of AMD FreeSync Premium for smoothy graphics while rendering the data to the monitor, visuals are responsible and overall feels perfect. You can play games on this monitor without any big and major issues like the screen flickering, tearing, and blurry visuals but you may face some image quality-related issues s but those are no problem, Image quality is not good on this monitor but from a gaming angle the monitor doing a good job.
Connectivity
The monitor comes with DisplayPort, HDMI, and earphone jack, but no USB Ports.
Pros
165Hz refresh rate, AMD FreeSync, Impressive price tag, Lightweight.
Cons
Weak image quality, No USB ports, No fully adjustable, Decent build quality.
Price Trends
Comparison
These are the main competitors of the Asus VG277Q1A –
The ASUS VG248QG is better than the Asus VG277Q1A. It offers an attractive price tag that's very nice, also it supports G-Syn and 165Hz refresh rate as well. Another better thing about this monitor is the fully adjustable stand so you can adjust the monitor to a different position without any problem. Due to it;'s small 24 Inches display the image quality is very good if you compare it to the VG277Q1A.
This is another perfect monitor than the VG277Q1A, It has a 240Hz refresh rate with G-Sync and a fully adjustable stand, also the picture quality is very good, Little price but gives you a perfect monitor. If you are ready to spend a little more money then this is the best for you within 200$.
The VG279Q1A is the same as the VG277Q1A but there is a little more bonus for you as this is supported Adaptive-Sync and FreeSync both, and it offers swivel and tilt adjustability, This might be a very good option for you because the price and specs are similar and you can buy this monitor if you are thinking to purchase the Asus VG277Q1A.
Conclusion
The Asus VG277QA is good for you when you only need performance, as I already compare this monitor to 3 monitors, you can see the difference between all these monitors, Asus VG279Q1A is better than this monitor same price but you will get better specs, also the ASUS VG248QG is a very good option if you are looking for a budget gaming monitor, I hope this post helps you to choose the right monitor.