BenQ PD2705U Review – If you are searching for a 4K USB Type C Monitor with HDR10 support, then the BenQ PD2705U is the best option. The price tag is a little higher than any other 4K monitors, but it may be a good choice for content creation and editing due to its fantastic color accuracy.
The 27 inches 4K display looks excellent in fewer bezels, and the stand supports height adjustments so you can change the monitor's height to a comfortable position without any issues. Also, you can tilt, pivot and swivel the display to the best viewing angle.
This is the perfect monitor for those working in content creation and editing. The playback will improve color accuracy and sharpness overall, so the USB Type C helps you transfer data faster. You can connect your Mac devices very easily.
Read: LG 32UP550N-W Review – 4K, Low HDR Brightness
BenQ PD2705U Review –
The BenQ PD2705U offers a 27 inches flat IPS 4K panel with a 60Hz refresh rate and AMD FreeSync supports. Also, it has HDR10 and a USB Type C port for image quality cum better productivity, and the main point is the stand is fully adjustable so that you can change the viewing angle to a perfect position.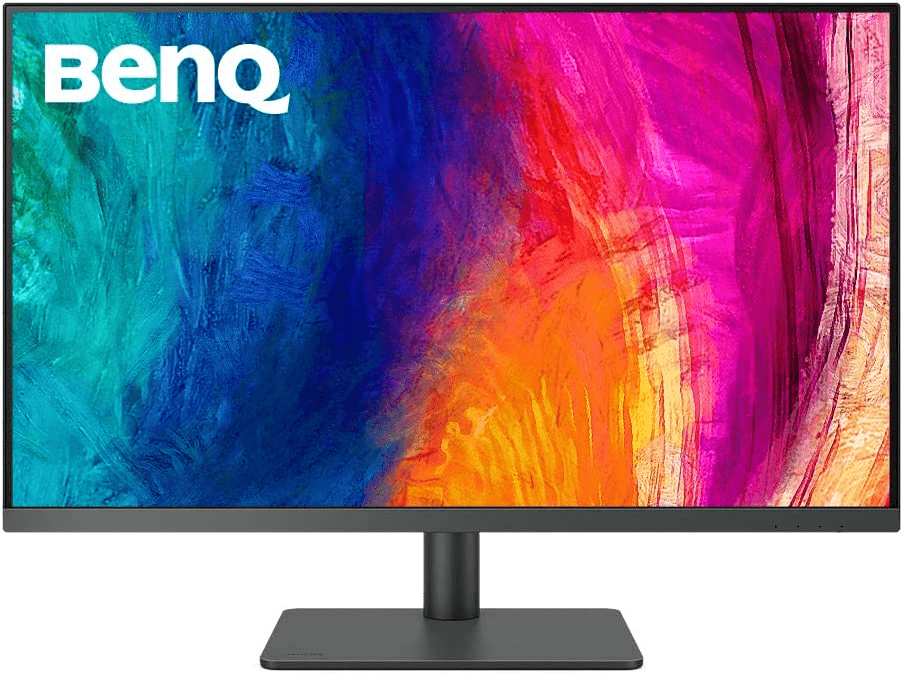 When it launched in the market, the price tag was enormous, but right now, the price tag is reasonable and gives more competition in the market with the same specs monitors. It has some downsides, such as the viewing angles and the low HDR peak brightness; the contrast is not unique.
Build and Design
The body of the BenQ PD2705U is made from plastic and looks good. The square shape stand saves a lot of space on your desk to keep extra accessories below the monitor. The frame supports all adjustments, including the height, pivot, swivel, and tilt adjustability. This is very good for a productivity monitor to change the viewing angle to your favorite position.
The overall build quality of this monitor is okay, there is no metal body or any other strong finishing but good, but the minimal border looks good, and the stand doesn't keep much space in your desk setup.
This monitor weighs around 9.3 Kg with the stand, and the dimensions are 17.8 – 22.1×24.2×10.1 inches with the frame.
Read: 5 Best External Monitor For MacBook Pro Video Editing
Image Quality
The BenQ PD2705U has 27 inches flat IPS display with a resolution of 3840×2160 pixels. It supports HDR10 for vibrant colors and a better dynamic range and offers a 99% sRGB rate for natural-looking shades that are good for editing, graphic design, or content creation. The overall image quality is good but needs improving viewing angle and better HDR peak brightness to give you stunning visuals.
Performance
Performance-wise, it has a 60Hz refresh rate and FreeSync for decent gameplay. The low refresh rate is not sufficient for many users who want a higher refresh rate, which is why you can't enjoy the heavy gameplay on this monitor. Still, otherwise, there is no issue with multitasking or other tasks.
Connectivity
The monitor has many ports, including HDMI, DisplayPort, USB Type C ports, and audio outputs.
Pros
4K, USB Type C port, Fully adjustable stand, HDR10.
Cons
Weak viewing angles, Low peak HDR brightness, decent 60Hz refresh rate.
Price Trends

CHECK THE PRICE ON THE B&H STORE
Comparison
These are the top 3 competitors of the BenQ PD2705U –
The ViewSonic VP3256-4K is better than the BenQ PD2705U, it has much better color accuracy, which is excellent for professionals, and the best thing is that you will get a more significant 32 inches display with an adjustable stand. The main big thing is the price tag is low compared to the LG model.
If you don't have a higher budget but want a 4K HDR10 USB Type C monitor, the Samsung S80A is perfect. It has 27 inches 4K display with HDR10 supports and a fully adjustable stand so you can comfortably adjust the monitor's height. Also, you can use tilt and pivot swivel adjustments to get the perfect viewing experience.
This one more perfect monitor has excellent specs and overall experience with the best price tag. The 32UP83A-W has 32 inches 4K display, and HDR10 supports fantastic color and sharper visuals. It supports AMD FreeSync for decent gaming and an adjustable stand for a comfortable view.
Final words
The BenQ PD2705U is an excellent monitor, but the price tag is so you can get a better t]deal than this monitor, such as a more prominent display size and better color accuracy, like the ViewSonic VP3256-4K. If you don't budget, Samsung S80A is an excellent choice, but the LG 32UP83a-W is good for you if you want more things.
I hope this post helps you to choose the right monitor for your need, check out our other articles to get the latest tech stuff.