Dell P2419HC Review – This is one of the cheapest business monitors. It's a USB- C monitor and has good contrast and Build quality. It is a good monitor for normal business purposes. It is not designed to match the pace of excellent gamers or any other hectic task because of the slow response rate and low resolution. If you are looking forward to buying a good monitor spending less than Dell p2419hc is one of the great options you can go for. Keep reading the review to know about its advantages and disadvantages.
Key Features
Resolution: 1920 × 1080p
Aspect Ratio: 16:9
Contrast Ratio: 1000:1
Screen Size: 24 inches
Response Rate: 5ms
Refresh Rate: 60Hz
Brightness: 250 cd/m2
Panel technology: In-Plane switching
Weight: 60Ibs
Let's talk about this the Dell p241Hc. Overall it looks very elegant and attractive, the screen size of the monitor is quite big and has a connectivity layout and a good contrast ratio. Although it's not a good monitor for gaming and editing it works for browsing and the monitor has several other features such as GPU- friendly, standard colour quality, and good grayscale performance. so, if you are a paced gamer and thinking about buying it then you should not go for it because it's not suitable for competitive gaming. it's a good monitor for doing everything easy tasks.
Overview
Dell P2419HC has an infinity edge design. The monitor looks very decent and is made up of durable materials. It doesn't provide the joystick. It has a very good tilt range and stands height so, we can adjust it easily according to our comfort.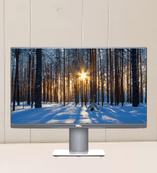 The colour quality of the monitor is excellent and very good display size. Its response rate is quite not good in comparison to another monitor which makes it not suitable for tasks like editing. The picture quality of the monitor is sharp and crisp. it offers IPS technology but doesn't offer free sync.
In short, it has pros as well as cons and it depends on your preferences that why are you buying the monitor and how much you can spend on it? Before spending on any monitor, one should read about its build and design will give a good idea that whether it's an ideal monitor for you or not. Let's read about its build and design.
Build and Design
The Dell P2419HC looks like other, dell monitors but it has cleaner lines to deal with a sophisticated environment. It offers a 24-inch display and comes in a black and grey colour which gives an aesthetic and rich look to the monitor. The panel borders of the monitor are thin. It provides good stability, you can fix it wherever you want.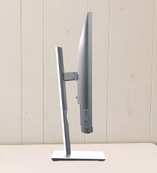 It provides adjustable features. It has a good ergonomic stand, the height of the display can be tilted, swivelled and pivoted according to our comfort. VESA mounting can go with Dell P2419HC. The monitor has a circular hole in its back to reduce the cable clutter and has two USB 3.0 ports.
One DisplayPort 1.2, one VGA, one upstream USB 3.0, one HDMI 1.4 and two downstream USB 2.0 inputs in it. You have to face little difficulty while connecting with two or more setups. Keep reading the review to know about its image quality and colour reproduction.
Image Quality
Dell P2419HC has an ideal size screen. The colour contrast ratio of the monitor is 000:1 and offers 250 cd/m2 brightness. Its offers a 178° vertical and horizontal type viewing angle and 16.7 million colours. The resolution of the monitor is not excellent but it's quite good. It provides a 72% colour gamut.
One of the essential features of the monitor is its excellent colour accuracy. It has OSD buttons instead of a joystick which degrades its quality. The monitor doesn't have backlight leaks. After 6500k points, the temperature of the colour gets warmer in Dell P2419HC. The monitor doesn't support, the Free sync and G sync technology.
overall, the colour quality of the monitor is excellent in comparison to other monitors but it lacks somewhere in speed and Joystick. You can go for the monitor if you want it for document processing. The performance of the monitor should be examined properly before purchasing any monitor. Read the below paragraph to get a rough idea about the performance of Dell P2419HC.
Performance
The Dell P2419HC is a 24-inch monitor with 1920×1080 resolution. The refresh rate and response rate of the monitor are 60Hz and 5ms. The monitor has a very good display and great colour accuracy and variance. The backlight rating of the monitor is 252 cd/m2 and has a good contrast ratio.
Although the monitor response rate is quite slow, it is good for copywriting and other office uses. The monitor has high input lags and OSD buttons. The height of the monitor is adjustable. The monitor is not suitable for gaming and editing due to its low response rate. it provides several connectivity options. Read the below paragraphs to know about the pros and cons.
Connectivity
The monitor comes with a USB, DisplayPort, USB Type C, and HDMI ports.
Pros
It is cost-effective.
It is a good monitor for document processing and browsing.
It provides a good image quality.
The contrast ratio and colour accuracy of the monitor is satisfying.
It is an accurate IPS panel.
Dell p2419 has a very rich and standard build quality.
It offers several connectivity options.
Cons
The response rate of the Dell P2419HC is not good.
It is not suitable for hectic tasks such as competitive gaming.
It has OSD buttons.
Price Trends
Comparison
Here, are some other alternatives to Dell P2419HC which provides satisfying features. Let's compare those alternatives with Dell P2419HC. The alternative is those in some aspects but not in others as alternatives are essential for an alternative monitor before going it. It will save you money and give you a lot of options where you can choose from.
The BenQ gw2480t is one of the good options for casual gaming as well as for daily office purposes. It is specially designed for the young generation. The monitor has a 1080 IPS panel and has a quite quick response time of 5ms. It's not a professional gaming monitor so, it doesn't support technology such as AMD FreeSync and NVidia G-sync. It is a good monitor for copywriting and data processing etc. The building design of the monitor is decent. The monitor offers a Display port, headphone jack, HDMI and VGA connectivity. The price is also not very high. Overall, it can be a good alternative.
The Dell P2419HC both belong to the brand dell and are cost-effective but there are certain differences between the two models. The u2419 also provides 4 USB 3.0 ports and a 3.5mm headphone jack. Both the monitors are not at all suitable for gaming and editing purposes. They both are good options for data processing. the U model has DP 1.4 whereas the P model has DP 1.2. They Both offer very good image quality and build design. As you can see, there is a very minute difference between these two but both are effective for general purposes.
It is one of the best gaming monitors with a high response rate in comparison to the Dell P2419HC. The resolution of the LG 27GN950 is 3840×2160 which is much good than dell. LG 27GN950- B is compatible with free sync and G sync technology. It can be used for gaming and other business purposes. It has a 160Hz refresh rate and low input lag, the build quality is decent and has a mediocre contrast ratio. The size of the monitor is 27 inches which is much larger in comparison to Dell P2419HC. The image quality is crisp and sharp and the colour reproduction is rich and accurate. So, if you want a monitor for gaming and editing and are willing to spend much then LG 27GN950-B is much more effective in features than Dell P2419HC.
Gigabyte G27Q is also one of the budget-friendly monitors. It is designed for gaming purposes as well as for daily work. The size of the monitor is 27 inches and the refresh rate is 144Hz. It has a quite wide viewing angle and exceptionally low tag. The monitor is not only game-oriented but it has all other decent features. so, if we compare the Dell P2419HC then you can see a huge difference between these two monitors but both are cost-effective. The building design of both monitors is excellent.
Thoughts on Dell P2419HC
So, you got a detailed idea about the features, performance and colour quality of the Dell P2419HC. It provides various connectivity options and is budget-friendly. The image quality and functionality of the monitor are more than good.
It's a must buy monitor if you are looking for data processing without spending much. Several disadvantages are there such as w response rate and OSD buttons which one should keep in mind before buying it. I mentioned several alternatives in the comparison paragraph for your convenience. You should go for them if you are not satisfied with Dell P2419HC.