Dell S2722QC review – The Dell S2722QC is one of the best monitors in the productivity segment, It has 27 inches 4K UHD display with bezel-less borders and a 60Hz refresh rate. The monitor supports FreeSync and VRR, that's suitable for smooth performance and stable visuals.
The monitor focused on productivity, so if you are looking for a working monitor then this is perfect for you. The Dell S2722QC offers a USB type C port that you can connect to your Mac devices very easily.
Talking about the picture quality of this monitor, It has amazing image quality with HDR10 support, The 4K resolution gives you more details, and The contrast and HDR brightness is a little low but you can't see any big difference.
Viewing angles are very good, the stand is fully adjustable so you can adjust the highest of the monitor, or you can use, portrait, swivel, or tilt to change the angle of your monitor.
Adjustability is the best feature of this monitor and works really well, Before choosing this monitor for your workstation check more details about this monitor.
Dell S2722QC Monitor Review
The Dell S2722QC comes with a 27 inches 4K UHD display with HDR10 support, It has FreeSync VRR capabilities, 60Hz refresh rate, and a fully adjustable stand that you can change the display to a comfortable position. This is not a gaming monitor so don't expect hardcore gaming from this monitor, also the response time is not that great with its 60Hz refresh rate,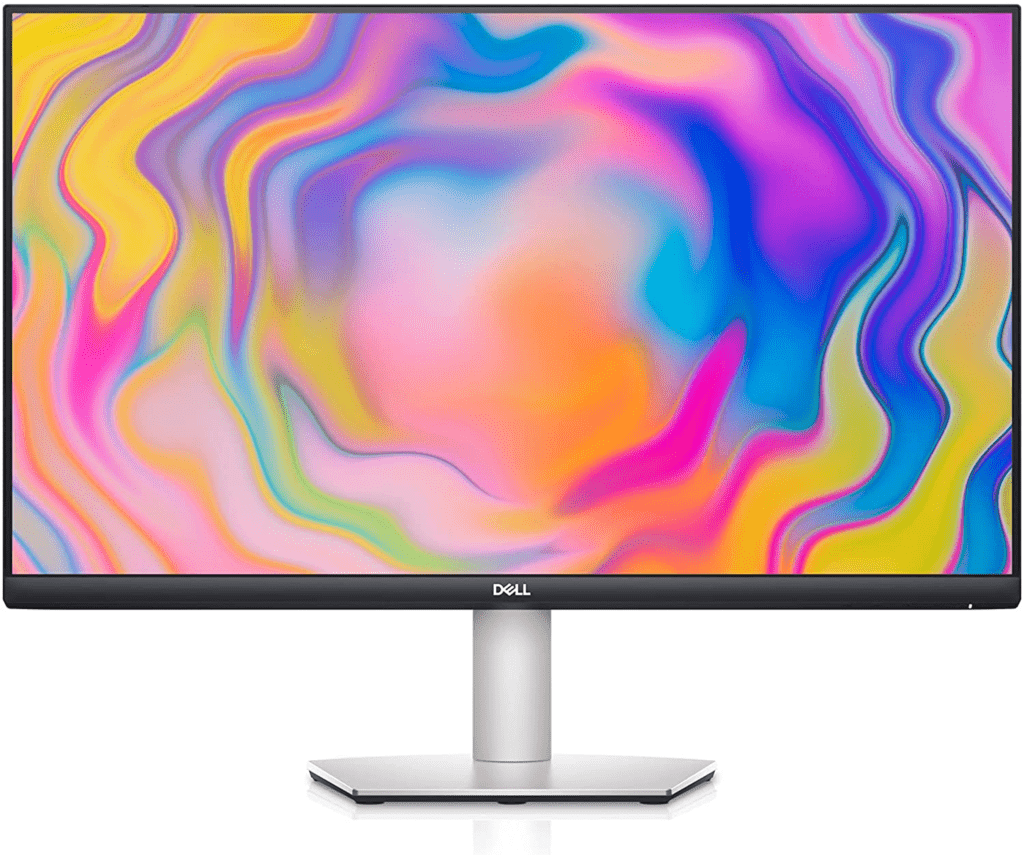 Due to FreeSync the visuals are smooth and definitely, the colors are very good but the contrast and HDR brightness are not very optimized so you can see grayish instead of deep blacks in some darker environments, as I already said you can't see any major difference in picture quality but it has.
The monitor did a great job on productivity and content creation, Of course, this is not a very excellent monitor for extreme editing, and content creation that needs good color accuracy if your monitor support HDR10.
Build and Design
The body is made from plastic, looks very minimal and clean, is small, and perfectly fits on your desk without capturing too much space. The monitor feels premium with a sturdy and minimal design that most users like. The stand is metal designed that looks good,

and also allows you to change the height of the monitor, you can change the viewing angle by tilt, portrait, and swivel the stand to your favorite viewing angle so you can work for a long time without feeling fatigued.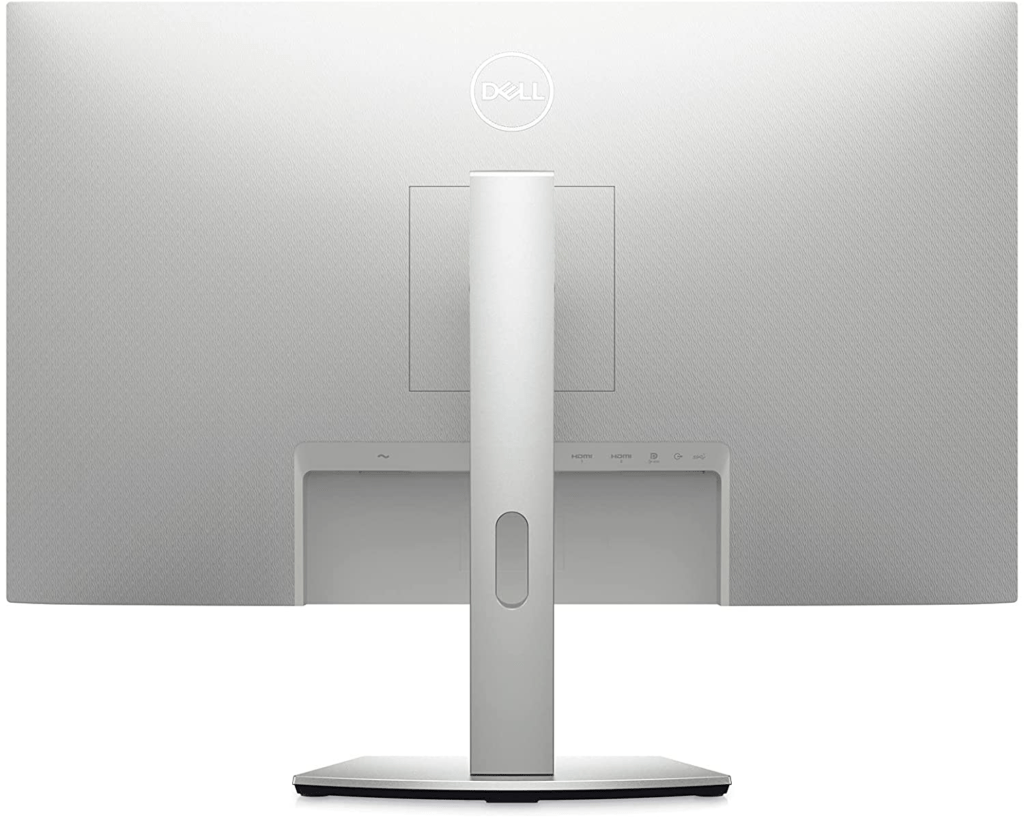 The weight of this monitor is 6.9 Kg, and the dimensions are 24.08 x 6.88 x 20.08 inches.
Image Quality
The Dell S2722Q offers a 27 inches IPS panel, with a resolution of 3840 x 2160 pixels means a 4K UHD display, It supports HDR content, with very good color accuracy in SDR but not in HDR. also the contrast is a little weak and you can face less quality in a dark background, and the HDR peak brightness is not impressive to gives you a super vibrant image quality,
but most of the time this is not noticeable due to you can see it on the darker room, and mostly user use this monitor for working purpose. The monitor is good for office work not for extreme photo editing, or content creation where you will need better color accuracy in a high dynamic range.
Performance
It has a 60Hz refresh rate with VRR capabilities, for multitasking and working on this monitor there are no issues, but yes, you may see problems in heavy gaming, such as flickering and response rate due to its low refresh rate the monitor doesn't provide immersive gameplay experience. This does not mean you can't play games on this monitor but only for light games that don't have heavy graphics and rendering time.
Working purpose the monitor did a great job with the USB Type C port that you can transfer data with faster speed and get connectivity flexibilities like Mac devices.
Connectivity
The Dell S2722Q comes with 2 HDMI, 2 USB A, 1 USB C, and a 3.5mm jack. There is no DisplayPort connectivity on this monitor.
Pros
4K, HDR10, USB Type C, Adjustability, Build, and design.
Cons
Weak contrast and HDR brightness, the response rate.
Price Trends
Comparison
These are the main competitors of the Dell S2722QC monitor –
The LG 27UK850-W is better than the Dell S2722QC, it has better color accuracy and deeper blacks than the Dell S2722QC lacks contrast and HDR brightness, but the biggest con of this monitor is it doesn't offer a fully adjustable stand. If you are looking for better image quality in a monitor then this might be a good option than the Dell model.
The ViewSonic VP2756-4K is way better than the Dell 2722QC, It has massive image quality with vibrant colors and the sharpest playback, very good for content creation and editing stuff. The biggest cons are the HDR is not in this monitor otherwise it has a fully adjustable stand with 27 inches 4K UHD display with a superb color gamut that gives you more colors and a better work environment within the USB Type C port and DisplayPort.
This is another good option that you can choose for your work setup, The Dell UltraSharp U2720Q has a 27 inches 4K UHD display with a USB Type C Port, better build quality, and connectivity option, with less price tag than the Dell S2722QCK. It has a 60Hz refresh rate and there is no FreeSync on this monitor so you can't play heavy games on this monitor, but for working purposes, the monitor is a very good option in terms of the budget.
Final Words
No doubt the DEll S2722QC is a very good monitor but the contracts and HDR brightness is not impressive, If you don't have any issue with this thing then you can go for it, But if you are looking for a content creation monitor then the Viewsonic model that I compared above is the best choice overall. I hope this post helps you to choose the right monitor for your need.