How Arogya Setu will help you to fight against COVID-19, Recently Government of India publish an app that can be downloaded from Google Play Store or Apple App store.
In this post you can know more about The Arogya Setu app, how it works and how you can be safe from the COVID-19 virus,
In this bad situation we have to follow all the official rules and regulations to prevent from the ongoing pandemic.
You can get the latest information on World Health Organization official website,
and in india many fake news are surfing from Facebook, Whatsapp and other social media sites so please don't believe any kind of such information,
Always follow official information like the WHO website or Government of India official website.
What Is Arogya Setu App?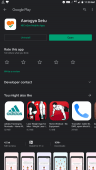 Arogya Setu is lunched by Indian Government for tracking the COVID-19 positive petient with access of bluetooth and location on there phone.
This is simple app that can be help you to prevent from to get infected by the Virus, How it works and can really help you to prevent from the COVID-19?
Well this app is like a tracking app so here you have to give the access of location and bluetooth,
When a positive petient near to you then this app will notify that please make distance from others because in this area a CORONA positive petient is near to you.
How Arogya Setu App Works?
Basically Whenever a person test the COVID-19 test and if the result was positive then,
on patients mobile phone, Arogya Setu will be installed and tracking every activity of the person,
So whenever a CORONA positive petient near to you this app will give you alert,
this is very useful when you go out of home for your essential shopping or other essential jobs.
This is needed to install the app and get notified when you nearest a COVID-19 petient.
Why App Is Asking For Access To The Location And Bluetooth?
Well this app is only work when you turned on location and bluetooth, with the help of location you will tracked and bluetooth is for your nearest mobile connection.
One more is that you can believe this app because this app couldn't expose your personal information,
your personal information will be shared only for the Indian Government so don't worry about that.
How To Use And Download The Arogya Setu App?
This app is now crossed 10 Million plus download within a weak. If you want to know how to use this app and how we can download the app,
so this is very important because I saw in the Google Play Store many other fake apps like Arogya Setu is now available,
But they are totally fake so i recommend that please don't install by going directly play store
by searching the Arogya Setu app here you can see only fake app are available on the top page.
So for the original Arogya Setu app, you have to go the official government of India website then you can download,
but for your convenience here we will provide the original app so below you can download the app.
How To Use This App?
Firstly you need to install the app, you can install it from above download bottom.
In the Google Play Store many applications are available similar to Arogya Setu so please install from a given download link.
Step 1. Register your mobile number
When you install the app you need to verify your phone number, So open the app and then next screen you will be asked your number,
here enter your number and then automatically verification is complete.
Step 2. Answer simple question
After number verification here you have to answer a simple answer like your name, age, gender, and travel history.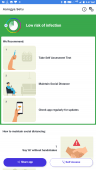 Is It Necessary To Keep Location And Bluetooth Always On For Arogya Setu App?
No, its not necessarily all time, whenever you go out from home then you can turn on for the application.
If you're in home you doesn't need this application as much,
But you can keep it for your safety, When you go to Ration store or if you're essential workers then this app is always useful for you.
Conclusion:
In this post shared some important information about the Indian COVID-19 tracking app is called 'Arogya Setu' app that available
on Google Play Store and Apple store. If you have any kind of questions, suggestions, or request please comment down below.