Samsung Odyssey G32A Review – Higher refresh rate is a must be needed on a gaming monitor with smooth graphics and stable visuals, so the Samsung Odyssey G32A is the right choice. It has 32 inches 165Hz refresh rate, AMD FreeSync Premium support, an fully adjustable stand, and nice build quality with a very good price tag.
The Samsung Odyssey series always gives a peak performance so there is no complaint about the performance but from the image quality, the monitor is not that great as it has very decent contrast and brightness, also there is no HDR certification on this monitor so you can't play HDR gameplays.
The color accuracy is not impressive, so these are the main downside of this monitor if you are looking for good image quality with better performance then you can choose another monitor, there are many options available in the market.
Read: Samsung Odyssey G7 LC32G75TQSNXZA Review
Samsung Odyssey G32A Review
The Samsung Odyssey G32A offers a 32 inches Flat display with a 165Hz max refresh rate and AMD FreeSync Premium that gives you super smooth and stable visuals, you can play heavy games on this monitor without any screen tearing, flickering, or blurry visuals due to 165Hz refresh rate and FreeSync Premium combination.
The build quality of this monitor is good and the design is similar to many Samsung monitors, especially the Odyssey series, The V-shape stand looks good and gives you the adjustability to change the viewing angle of the monitor to your favorite position.
Build and Design
The body of the monitor is made from plastic with fewer bezels looks good and feels premium, the design is very similar to many Odyssey gaming monitors, so there is no new design but looks good overall. The stand of this monitor supports height adjustment so you can change the height of the monitor to a comfortable angle,
so you can use swivel, pivot, and tilt adjustment to get a perfect viewing angle while playing games on this monitor. The stand handles the weight of the monitor perfectly without any tilt on the body.
The weight of this monitor is around 6.21kg which is lightweight as of gaming monitor, and the dimensions are 28.3 x 23.5 x 9.8(WxHxD) inches.
Image Quality
The Samsung Odyssey G32A offers a 32 inches flat VA panel with a resolution of 1,920 x 1,080 pixels, The Odyssey G32A is a gaming-focused monitor so don't expect amazing image quality like many other work monitors but for gaming, you will miss the HDR gameplay. The contrast and brightness are not that great for content creation stuff but for gaming, it's enough.
Performance
Talking about its gaming capabilities then the monitor performs really smoothly and the graphics are very stable due to FreeSync and 165Hz refresh rate, you can play games for long sessions without any screen tearing, flickering, or blurry visuals while playing games so that's the great thing about this monitor. The most important thing is the price tag really impressive because you will never get that level of performance at this price tag.
Connectivity
The monitor comes with HDMI, DisplayPort, and a headphone jack, there are no USB Ports in this monitor so that's disappointing.
Pros
165Hz refresh rate, AMD FreeSync Premium, Fully adjustable stand, response rate.
Cons
Weak contrast/Brightness, No HDR, No USB Ports.
Price Trends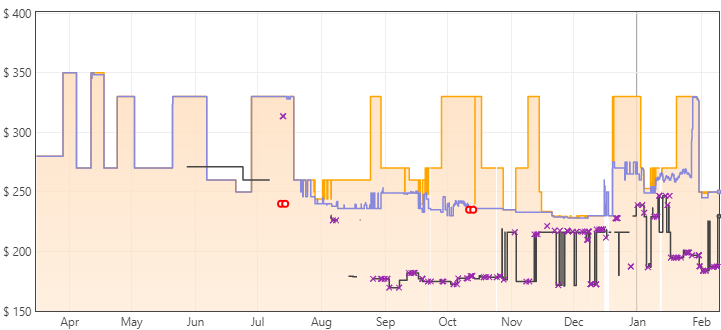 CHECK THE PRICE ON SAMSUNG STORE
Comparison
These are the main competitors of the Samsung Odyssey G32A –
If your budget is low and wants a 165Hz curved monitor then the Acer ED270R is perfect for you, It has 27 inches 1500R curved display with a 165Hz refresh rate, AMD FreeSync Premium, and a Fully adjustable stand. For gaming, this is the perfect monitor for you with a less price tag than the many other monitors in the market.
This is another great affordable monitor from Dell, It has a small 24 inches flat display with a 165Hz refresh rate, AMD FreeSync, and G-Sync compatibility also has a 99% sRGB rate for amazing color accuracy. If you are looking for a 165Hz monitor with good image quality then this is a very good option and most important the price tag is also very good.
The Asus VG328H1B offers a 32 inches 1500R curved display with 165Hz refresh rate, and AMD FreeSync Premium, the build, and design are very similar to many other Asus monitors, the best thing about this monitor is the price tag is less than the Samsung Odyssey G32A, so it's a great choice for your gaming setup.
Conclusion
The Samsung Odyssey G32A really impressive gaming monitor with less image quality but there are many other options available in the market with a better price tag and overall features, such as the Acer model that I compared with it, I hope this post helps you to choose the right monitor for your need.