Boat BassHeads 100 Review – Want to know more details about the Bassheads 100? then read this post, In this post, I am sharing with you my experience with these earphones and whether you should buy them or not. Right now in the market, these are the cheapest wired earphones that come with good sound quality and a nice design.
The Boat BasHeads 100 is an in-ear Wired Earphone with a microphone, The earphone comes with a 3.5mm audio jack, which is a great thing. Right now Earbuds are more popular than wired earphones Because of the wireless connectivity, super handy, and comfortable wearing experience are the biggest pros of the earbuds.
This does not mean wired earphones are not good, not at all, Wired Earphone has many good things and you can't get those things on wireless earbuds like the sound quality – the wireless earbuds are connected through Bluetooth and the quality is dependent on latency rate of data transfer through your device, so you will see a low sound quality in wireless earbuds than a wired earphone,
because the wired earphones transfer the data through the wire and that's the reason the quality of the audio is more clear, deeper, and more stable vocals.
Another bad thing about earbuds is that you have to charge them each time and you have to keep the buds very carefully, otherwise, you lose them anywhere. Check the Boat BassHeads 100 review for more details.
Read: Top 5 Earbuds That Don't Fall Out From Your Ears
Boat BassHeads 100 Review
Talking about the Boat BassHeads 100 Earphone, It is the best earphone that you can get within your budget, this is the cheapest earphone in the market with good audio quality, amazing wire quality that doesn't break easily, the design of the buds is very unique and perfect fitting, like many good things it has one downside, the buds are pretty sharp so you have to keep the buds very carefully at the perfect position.
I don't like the straight 3.5mm audio jack, I like the Boat BassHeads 220 audio jack design, which gives you more reliability
The other downside is the earphone doesn't have deeper bass like the BOAT Bassheads 220, but it has a very clear sound with balanced bass and treble settings.
Unboxing Experience
The Boat BassHeads 100 comes with two different sizes of ear tips and a warranty card.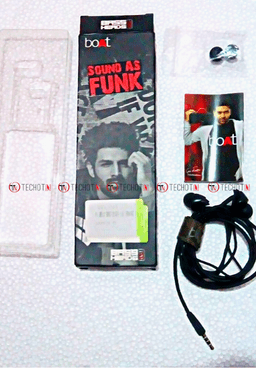 Specification
| | |
| --- | --- |
| Headphone Type | In the Ear |
| Volume control | No |
| Connectivity | Wired |
| | |
| --- | --- |
| Connector Size | 3.5 mm |
| Headphone Driver Units | 10 mm |
| Frequency Response | 20Hz-20KHz |
| With Microphone | Yes |
Closer Look
The Boat BassHeads 100 comes with a 1.2m long wire that is enough, also it offers a call received/ends button with a microphone.
The buds are designed hawk type that is a little sharp so be careful while keeping the earphones in pockets, beds, or any location where you can be hurt by the sharp hawk-designed buds.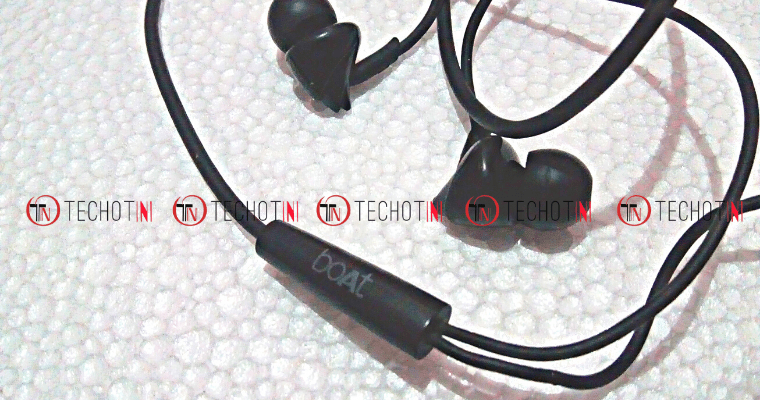 Build and Design
The Boat BassHeads 100 earphone is made of plastic, and the wire quality is superb and didn't break, many earphones break after using 1 year but this is really great, The wire quality is great with the use of 2 years non-stop. The design of the audio jack is not good, I like the design of the BassHeads 220, It offers metal finishing with a 90-degree turned audio jack angle that gives you more comfort.
Color Options
This is the Black color, The Boat BassHeads 100 offers 4 Different colors including Black, White, Red, and Pink. Amazon and Flipkart sell many colors I don't about these variants, Consider buying the earphones from the official website.
Read: Best Wireless Headphones (Most Popular)
Sound Quality
The Boat BassHeads 100 produces crystal clear audio with balanced vocal clarity, The earphone is advertised as deep bass but the reality is different, The bass is not accurate and not very deep like the BassHeads 220, If you are looking for deep bass then this is not for you. This is perfect for normal uses like calls, watching videos, and other stuff.
The studio is a very clear and good product overall at this price range, If you want to get deep bass then use an equalizer app to control the audio outputs from your phone, Also the audio quality is changed I'm different devices so keep in mind.
The vocals are clear and stable in any type of song like Pop, Classic, or EDM. The earphone produces background instrumental music perfectly with most of the supportive instrumental music.
For normal calls the earphone did a great job, the bad thing is there is no volume control.
Read: Best True Wireless Earbuds
Microphone Quality
It comes with a microphone for calls and recording voices, The quality is good with capturing the background noise widely. The audio is very thin and doesn't feel smooth. The position of the microphone is good and you can easily record your voice or videos through this microphone, for calls The mic did a great job.
Below the mic, it has one button over there for accepting/Rejecting calls or use as a play/pause button.
Dimensions
The width of this earphone is 60mm, its Height is 18mm and the depth is 202mm. The weight of these earphones is about 36.4g. The length of the wire is around 1.2 meters that are good enough and comfortable to wear anywhere with extra-long wire.
Pros
Great Wire Quality
Audio is Clear
Durable
Inbuilt microphone
Cons
Buds are Sharp
No Deep Bass
No L-shape audio jack
No Volume Control
Price Trends

Comparison
These are the top competitors of the Boat BassHeads 100 –
This is the best earphone that you can choose, It has 10mm, Drivers, with a metallic finish. The earphone comes with earfins for sporty fitting, This is really great for running and workouts. The Boult Audio BassBuds X1 offers a built-in mic with Deep bass, also There are many colors available so you can choose your favorite one. Right now the price tag is very good and a healthy competitor of the Boat BassHeads 100.
If you are looking for a normal uses earphone then this is perfect for you, The BoAt Bassheads 102 offers a 3.5mm audio jack inbuilt microphone. The buds are made from plastic with a decent finishing touch. This is good for more normal calls watching videos, and listening to songs. It doesn't have deep bass, and the audio quality is clear and comfortable while using it.
This is another option that you can choose from, The earphone comes with silicon finishing and the L-shaped audio jack gives you more durability and I like this design. the sound quality is a little bass profile with nice clarity and easily captures the background instrument elements. Also, it offers Mic so you can record your audio or make a call with that.
Read: The 3 Best Mics for Zoom Meetings, Live Streaming, Gaming
Wired vs Wireless Earphones: Which is Good?
The decision between wired and wireless earphones depends on your personal preferences and how you plan to use them. Here are some factors to consider:
Wired Earphones:
Sound Quality: Wired earphones generally provide higher audio quality, as they can transmit audio signals directly through the cable without the potential for wireless signal loss or interference.
Reliability: Since wired earphones don't rely on wireless connections, they are generally more reliable and less susceptible to connectivity issues.
No Battery Concerns: Wired earphones don't require charging, so you won't need to worry about battery life or finding charging opportunities.
Simplicity: They are usually plug-and-play, without the need for pairing or Bluetooth connectivity.
Wireless Earphones:
Convenience: Wireless earphones offer greater freedom of movement since you're not tethered to your device by a physical cable. This is especially useful during workouts, commutes, or other activities where wires might get in the way.
No Tangling: Wireless earphones eliminate the hassle of dealing with tangled cables, making them more convenient to use and store.
Aesthetics: Wireless earphones are often more aesthetically pleasing since they don't have visible cables.
Advanced Features: Some wireless earphones come with features like touch controls, built-in microphones for calls, and integration with voice assistants.
Portability: Wireless earphones are typically more portable and easy to carry around.
Compatibility: Wireless earphones can connect to a wider range of devices that support Bluetooth connectivity, such as smartphones, tablets, and laptops.
It's important to note that advancements in wireless technology have improved the audio quality and connectivity of wireless earphones over the years. However, if audio quality is your top priority and you don't mind the slight inconvenience of a cable, wired earphones might be a better choice. On the other hand, if convenience, mobility, and a cable-free experience are more important to you, wireless earphones could be the way to go.
Conclusion
The Boat BassHeads 100 is worth it at this price range, and the sound quality is reasonable, If you are searching for a wired earphone that provides good sound quality with a microphone also long durability then this is perfect for you. Also, you can check the competitors to choose the right earphone within your budget.
I hope this post ( Boat BassHeads 100 review) helps you to choose the right product, If you like this post then share it and subscribe to our newsletters to get the latest post notification via email.