The 5 Best Earbuds That Stay in Your Ear – The most popular earbud has one major problem buds are not perfectly attached to your ear and have chances to fall out when you do some exercise or start running.
There are many problems with wireless earbuds but the major problem is the buds fall out from your ears when you start running, which means that you have to wear perfect earbuds that don't fall out,
In this post, I will show the top 5 Earbuds that you can wear while you running or doing some exercise.
Read: The 5 Best Bluetooth Headset For Calls In Noisy Environments
The 5 Best Earbuds That Stay in Your Ear for Workout, Sport
These earbuds are the best quality product, long-lasting and overall performance and it feels like premium earbuds.
These are the Top 5 earbuds that you choose –
1. Bose SoundSport Free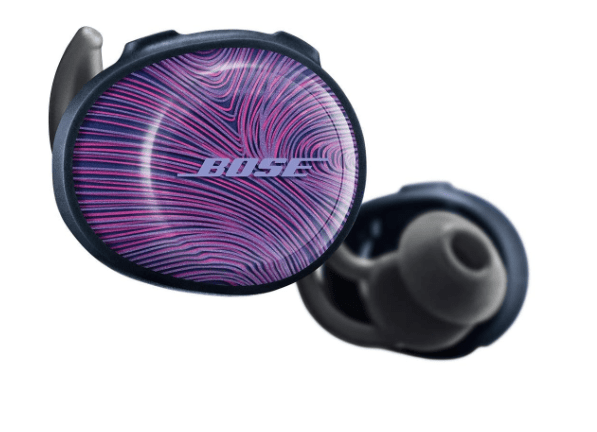 Limited Edition Color Ultraviolet with Midnight Blue
Truly wireless sports headphones for total freedom of movement, packed full of technology that makes music sound clear and powerful
Earbuds are sweat and weather-resistant (with an IPX4 rating) and come with 3 different pairs of StayHear and Sport tips (in sizes S/M/L) that provide a comfortable and secure fit
Up to 5 hours of playtime with each charge and an additional 10 hours with the included charging case
Track lost earbuds with the Bose Connect app's "Find My Buds" feature
SoundSport Free headphones have an integrated dual-microphone array located on the right earbud to allow you to use them during calls when connected to a smartphone that supports Bluetooth. Call audio will only be heard in the right earbud
Firmware update to improve audio-video synchronization for customers using iPhones, iPads, and other Bluetooth devices that support AVDTP version 1.3 or later
2. Bose SoundSport Pulse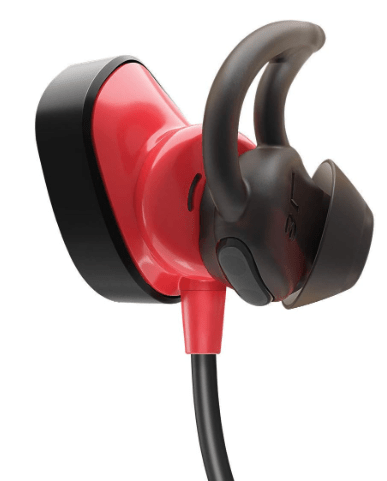 A built-in heart rate sensor makes it easy to track your performance. Connectivity Technology: Wireless
Bluetooth and NFC pairing so you can connect to your devices wirelessly
StayHear and Pulse's tips provide a secure and stable fit for your most intense workouts; Sound Sport Pulse wireless headphones do not employ noise reduction technology; To ensure an accurate reading, the sensor window (located on the left earbud) should be in contact with the skin; If the sensor stops providing a heart rate measurement, try adjusting the left earbud and verifying Bluetooth connection to your device; If that doesn't restore function, wipe the sensor window with a damp cloth
The Bose Connect app gives you real-time heart rate readings, and continually adds more functionality to your headphones; If the sensor stops providing a heart rate measurement, try adjusting the left earbud and verifying Bluetooth connection to the device; If that doesn't restore function, wipe the sensor window with a damp cloth
Works with popular fitness apps like MapMyRun, RunKeeper, Endomondo, and Runtastic. Wireless range up to 30 feet; 5 hours of wireless power from the rechargeable lithium-ion battery
3. Jabra Elite Active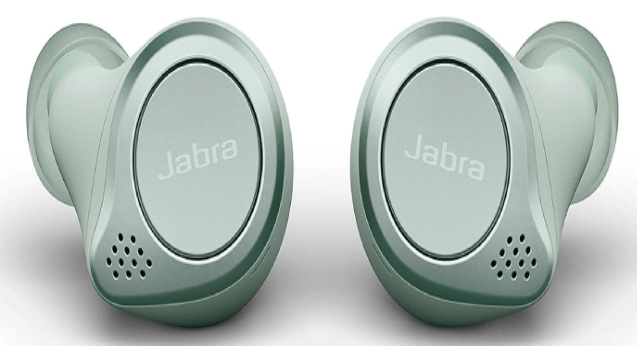 The best-fitting earbuds for a sport that have ever been created, with a special grip coating to make sure they stay in while you move; Plus, they're sweatproof and waterproof with IP57-rated protection
With these noise-canceling earbuds, you can filter out the world and focus on your music; Use the Jabra Sound Plus App to activate ANC the first time you use it and enable toggling between ANC and Hear Through via your Earbud button
4 microphones, the latest digital signal processing, and pioneering beam form technology mean these Jabra earbuds offer great call quality wherever you are; Plus, they're compatible with Siri, Google, and Alexa
With Jabra Elite Active 75t wireless Bluetooth earbuds, you get up to 24 hours of battery time (ANC on) with the pocket-friendly charging case, the Elite 75t earphones let you take calls and play music while staying connected
latest pioneering technology tests your hearing in the Jabra Sound Plus app and tailors your music to suit your individual hearing profile.
4. Skullcandy Ink'd Bluetooth Wireless Earbuds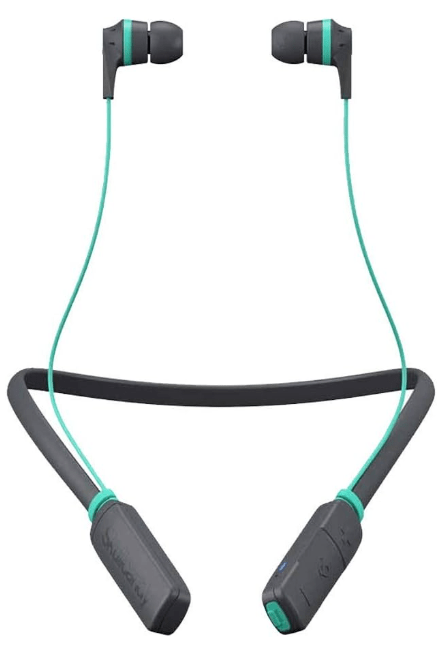 The low-profile design weighs only 24 grams, offering all-day listening that won't compromise your style. For quickly and conveniently storing in a pocket or bag, the flex collar packs up to one-third of its size.
A noise-isolating fit enhances the rich, clear audio of Supreme Sound across all types of music, producing attacking, powerful bass, warm, natural vocals, and precision highs.
Manage your calls and music on these Bluetooth buds with the built-in mic and remote featuring call, track, and volume control. Thirty feet of cord-free Bluetooth means you can do it all without reaching for your phone.
Listen longer and louder with 8 hours of rechargeable battery life. The battery fully recharges in just 2.5 hours.
5. Plantronics 212201-99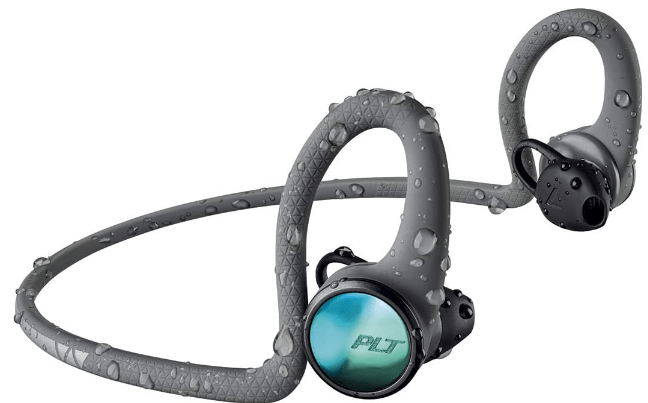 Stay visible in the dark with the reflective finish and train safer with always-aware ear tips that are designed to let in ambient sound, allowing you to simultaneously listen to music and hear your surroundings
Backbeat fit wireless headphones have a soft, flexible, and secure fit earloop design that provides a comfortable fit and remains stable during your most rigorous workouts
Bluetooth headphones have up to seven hours of wireless power so you can move more and charge less
Waterproof and sweatproof: IP57-rated durable, sweatproof, and waterproof design protects the earphones from sweat, rain, and spills and can withstand your most rigorous workouts
New My Tap offers feature customization through the Plantronics Backbeat app. Set a timer, start a stopwatch, or select your favorite playlist directly from your earbuds without ever interrupting your workout.
Read: Boat BassHeads 100 Review – After Using 4 Years
How to choose the right earbud for workout and sport sessions
Choosing the right earbuds for workouts and sports sessions is important to ensure comfort, stability, and audio quality during your activities. Here are some factors to consider when selecting the best earbuds for your workouts:
Fit and Comfort:

Look for earbuds that come with multiple ear tip sizes or customizable ear hooks to ensure a secure and comfortable fit.
In-ear, earbuds tend to provide a snug fit that isolates external noise better than on-ear or over-ear options.

Stability and Durability:

Choose earbuds designed for sports with features like ear hooks or fins to keep them in place during vigorous movements.
Look for earbuds that are sweat-resistant or waterproof to withstand moisture and perspiration.

Sound Quality:

Prioritize audio quality for an enjoyable workout experience. Look for earbuds with good bass response and clear mids and highs.
Noise isolation or noise-canceling features can help block out distractions, but be cautious when using them in outdoor environments for safety reasons.

Battery Life:

Ensure the earbuds have sufficient battery life to last through your workouts. Many earbuds offer between 6-10 hours of playback on a single charge.
Consider a carrying case that doubles as a charger for on-the-go power.

Wireless vs. Wired:

Wireless earbuds are generally more convenient for workouts, as they eliminate the hassle of tangled wires. However, some people prefer wired earbuds for the reliability of a physical connection.
If you choose wireless, make sure they have Bluetooth connectivity and are compatible with your devices.

Control and Accessibility:

Look for earbuds with intuitive control buttons or touch-sensitive surfaces that allow you to adjust volume, skip tracks, or answer calls without reaching for your device.
Consider earbuds with voice assistant integration for hands-free control.

Microphone Quality:

If you plan to take calls during your workouts, choose earbuds with a high-quality microphone to ensure clear communication.

Price Range:

Set a budget that suits your needs and expectations. There are good options available in various price ranges.

Brand and Reviews:

Research reputable brands and read user reviews to get insights into the performance and reliability of specific earbud models.

Return Policy and Warranty:

Check the return policy and warranty offered by the manufacturer or retailer in case you encounter any issues with your chosen earbuds.

Try Before You Buy (if possible):

If you have the opportunity, try on the earbuds to assess their comfort and fit. This can be especially helpful for in-ear options.
Remember that the "right" earbuds can vary depending on your personal preferences and the type of workouts you do. What works for someone else may not work for you, so take the time to evaluate your specific needs and priorities before making a decision.
Read: The 5 Best True Wireless Earbuds – Summer Edition
How to keep safe earbuds from a sweaty workout or an extreme sports session
Keeping your earbuds safe from sweat during a workout or sports session is essential to ensure they continue to function properly and maintain hygiene. Here are some tips to protect your earbuds:
Choose Sweat-Resistant or Waterproof Earbuds:

Look for earbuds specifically designed for sports and workouts with sweat-resistant or waterproof ratings (e.g., IPX4, IPX5, or higher). These earbuds are built to withstand moisture and sweat.

Use Sweat Guards or Covers:

Some companies offer sweat guards or covers specifically designed for certain earbud models. These can help protect your earbuds' sensitive components from moisture.

Wipe Down After Use:

After your workout or sports session, use a clean, dry cloth or a slightly damp microfiber cloth to gently wipe down your earbuds. Pay attention to the ear tips, ear hooks, and the body of the earbuds.

Remove and Clean Ear Tips:

If your earbuds have removable ear tips, take them off and clean them separately. You can rinse them with warm water and mild soap or use alcohol wipes to disinfect them.

Air Dry Properly:

Allow your earbuds to air dry completely before storing them. Ensure that no moisture remains in the charging case or on the earbuds themselves.

Avoid Submerging:

Even if your earbuds are rated as waterproof, it's a good practice to avoid submerging them in water unnecessarily. Water-resistant doesn't mean they are fully waterproof, and excessive exposure to water can still damage them over time.

Use a Protective Case:

When you're not using your earbuds, store them in their protective charging case. This not only keeps them organized but also provides an extra layer of protection against moisture and physical damage.

Consider Sweatbands or Headbands:

If you sweat heavily during workouts, wearing a sweatband or headband can help divert sweat away from your earbuds.

Keep Your Ears Dry:

To minimize sweat exposure to your earbuds, try to keep your ears as dry as possible during workouts. Towel off excess sweat periodically.

Regular Maintenance:

Periodically inspect your earbuds for any signs of moisture or damage. If you notice any issues, address them promptly to prevent further damage.

Use a Dehumidifier:

If you live in a particularly humid environment, consider using a dehumidifier in the room where you store your earbuds and charging case to reduce moisture in the air.

Follow Manufacturer Guidelines:

Always follow the manufacturer's care and maintenance instructions provided in the user manual. They may have specific recommendations for your earbud model.
By following these tips, you can help prolong the life of your earbuds and keep them in good working condition, even during sweaty workouts and sports activities.
Read: The 5 Best Earbuds For Gaming
Which is good for Gym Earbuds or over-ear Headphones?
The choice between earbuds and over-ear headphones for the gym depends on your preferences, workout style, and priorities. Both options have their advantages and disadvantages, so consider the following factors to make an informed decision:
Earbuds:
Portability: Earbuds are typically more portable and lightweight, making them easy to carry to the gym or while running outdoors.
Stability: Many sports-focused earbuds come with ear hooks or fins that help keep them securely in place during intense workouts, reducing the risk of falling out.
Sweat Resistance: Sports earbuds are often designed to be sweat-resistant or even waterproof, which is essential for maintaining their durability during strenuous workouts.
Minimal Interference: Earbuds offer better situational awareness because they don't fully cover your ears, allowing you to hear ambient sounds, which can be important for safety, especially when exercising outdoors.
Wireless Options: Wireless earbuds eliminate the hassle of tangled wires and provide more freedom of movement during workouts.
Inconspicuous: Earbuds are less obtrusive and won't interfere with headgear like hats or helmets.
Over-Ear Headphones:
Sound Quality: Over-ear headphones generally offer better sound quality with larger drivers and more room for audio components.
Noise Isolation: Some over-ear headphones provide passive or active noise cancellation, which can help block out distractions in a noisy gym environment.
Comfort: Over-ear headphones can be more comfortable for some individuals, especially during long workouts, as they don't put pressure on the ear canal.
Longer Battery Life: Over-ear headphones often have larger batteries, providing longer playback time on a single charge compared to earbuds.
Durability: Quality over-ear headphones are built to be sturdy and can withstand heavy use.
Versatility: Over-ear headphones can be used for various purposes beyond the gym, such as listening to music at home or during travel.
Ultimately, the choice comes down to your personal preferences and workout style. If you prioritize portability, stability, and sweat resistance, earbuds may be the better choice. However, if you value superior sound quality, noise isolation, and long-lasting comfort, over-ear headphones might be more suitable.
Read: Best Earbuds for Running and Phone Calls
It's also worth noting that some people choose a hybrid approach, using earbuds for workouts and over-ear headphones for other listening scenarios. Whichever option you choose, make sure they are comfortable, stay in place during exercise, and are suitable for your specific needs and fitness routine.
Evolution of Earbuds
Earbuds, also known as earphones or in-ear headphones, have a long history, and their development and commercialization involved numerous inventors and companies over the years. There isn't a single founder of earbuds, but rather a gradual evolution of the technology. Here are some key developments and contributors:
Nathaniel Baldwin: In the early 20th century, Nathaniel Baldwin, an inventor from Utah, is often credited with creating some of the earliest forms of headphones. He designed and handcrafted headphones for the U.S. Navy in 1910, which were more like the bulky over-ear headphones we associate with aviation and early telephony.
Stax Earspeakers: In the 1960s, Stax, a Japanese company, introduced electrostatic headphones that could be considered early precursors to modern earbuds. These were still relatively large compared to contemporary earbuds.
Sony: Sony played a significant role in popularizing earbuds in the 1980s with the introduction of the Sony Walkman. Their lightweight and portable design made them a hit among consumers.
Sennheiser: Sennheiser, a German audio company, also contributed to the development of earbuds in the late 20th century.
Apple: Apple is often associated with popularizing earbuds in the 21st century with the introduction of the iPod in 2001, which included the iconic white earbuds. Apple's earbuds, known as EarPods and later AirPods, have become immensely popular and have influenced the design of many earbuds on the market today.
While these companies and inventors played pivotal roles in the development and popularization of earbuds, it's important to note that the concept of small, in-ear speakers had been explored by multiple inventors and engineers throughout the 20th century. The modern earbuds we use today are the result of continuous innovation and refinement in audio technology.
Conclusion
These are the Top 5 Earbuds That Don't Fall Out From Your Ears 2021, I hope you like these products, If you like this post then share it with your friends and follow our social media handles to get the latest post information and also subscribe to our newsletters to get notified when a new post is out from Techotn.