How to add or change Zoom background on iPad, In this post you will learn how to add a Zoom background on your iPhone or iPad so read this post completely for detailed information.
We know that now video calling is not a fun time, we are now doing work from home, so we need the best platform to join important meetings, classes, webinars, live streams, and much more.
Coming years working from home is a common thing but now this time it's creating some difficulty to do a live stream from your bedroom. If you think to start a group video calling from your home,
you will get frustrated because of the background noise or the background. So you need to remove the background and start a live session through your Zoom video conferencing.
This is the tutorial only about Zoom but if you want you can choose other Zoom alternatives as well.
In Zoom you will get a feature to remove your background and then you can add your own virtual background to your video calling, so in this post we discuss how you can easily change your virtual background on your iPad or iPhone.
If you want to change your background firstly you need to select the background for your live stream,
so where you can find the best background for your live stream we will also discuss how to find the best background images for your live stream.
How To Change Zoom Background On iPad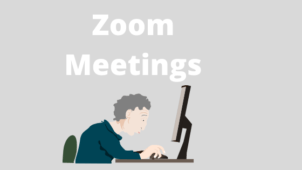 Firstly you need to install the app, so go to App Store and download the app
After downloading the app your next step is to create a new Zoom account or just sign in with your old account.
The next step is to join a meeting or create a meeting through your dashboard
After joining a meeting, click on the three-dot icon
Now you are in the menu section, the next step is to click on the Virtual Background option
Here you can see the available background on the app
Now you can upload your own virtual background to your meetings
There are the all steps to change your Zoom virtual background on your iPad. Note one thing here I told you about changing the virtual background but how you can find the best virtual background for your meetings?
so let's solve this issue first. Well, there are many options over there for your virtual background Zoom,
You can use free virtual backgrounds if you don't want to pay for paid backgrounds.
But note one thing is that your virtual background quality must be good and if not then you have to face some issue on your important meetings so note this thing.
For your best meeting experience we commanded that you use a high-quality image for your meetings, the image shouldn't be very distract-full,
so while in your meetings you're all meeting participants are disturbed with your background image so very carefully choose your background. So how you can find the best and non-disgraceful image for your Zoom meetings?
Best Virtual Backgrounds For Your Zoom Meetings
For your meeting you can choose an office background for your meeting or select a white background for you or you can choose according to your meetings.
There are many ways available to get the backgrounds but we only recommend the best and most effective way to give your meetings to are next level like a studio so we recommended using Shutter-stock for your image and video so you have to purchase a plan from their website.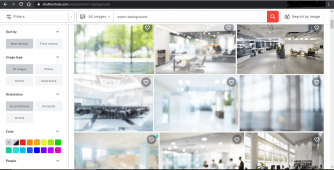 After that, you can use royalty-free high-quality images and videos. So how to buy the plans from Shutterstock, if you want to download only images then you can Buy Shutterstock Images or if you need a video for your meetings then you can Buy Shutterstock Videos
These all are the best images for your Zoom meetings. On Shutterstock, you will get a variety of images and High-Quality images.
Here you can choose your virtual background for your live session, and now you can use Shutterstock for your other projects.
But if you need more professional background and you can do lots more things with your live session so for this you need software that can help you to all your live stream, editing, and Broadcasting service in one place.
Professional Virtual Background Tools For Your Zoom Meetings
If you want, Your Zoom meetings are originally looking professional, want to blur your background, remove your background without green screens and
do some more creativity on your live session so need a tool that can help you with these all professional-level features on your Zoom meetings.
Well, these types of tools will help you to look professional while you are in a meeting.
These features are great for your zoom meetings because you have one more power on your live session you can control more things in your background.
XSplit Vcam tool is the right choice for professional meetings, Doing a live stream, this tool is also great for creators.
You need to purchase a license, and you are all set. Pricing starts from 6$ 1 month to 40$ with lifetime access. You can choose what is your requirements and use this amazing tool for pro live streams and meetings and much more.
If you like this tool then you can purchase the licenses from here. I tried to answer all your queries, If you have any problems then you can comment below.
Conclusion:
Zoom is now more famous for helping work from home workers, and for zoom video calls you need a special setup for your important meetings and live streams but now you can block your background with Zoom virtual background.
You can add your own background and manage yourself very easily.
Many people love to join a meeting through an iPad because compare to a normal webcam it is a very good option for video calls.
We discussed how you can change your virtual background on your iPad and where you get the best virtual backgrounds for your meetings and tools for your live session and much more stuff in this post.