How to enable dark mode on the Twitter Android app, dark mode is available now for the Twitter Android app, In this post, you know about enabling the dark theme
on your favourite Twitter app, so read this post completely and then enjoy your night mode on Twitter.
Twitter release dark mode already in the web version and now it's available for Android users
You can follow these quick steps that I provide below so you can easily turn on dark mode on the Twitter app within a few minutes.
I already wrote posts about other apps' dark mode features and how to enable them, for example, Google Authenticator, Play store, Google drive, Photos etc.
How To Enable Dark Mode On Twitter Android App
You know dark is a very nice colour for app users because, when you see content on the app it very good viewing experience and also saves a lot of battery,
So overall this is a nice feature and this feature is coming soon on another popular app, and then I write a post about it.
In my previous post, I already told you that the benefits of a dark mode on applications, so read my previous post to know some knowledge about the dark mode.
So follow these quick guides to apply the dark theme on the Twitter Android app.
Follow These Step To Use Dark Mode On Your Favourite Twitter App
Firstly you need to update your app, if you using an older version of the Twitter app then go to the Google play store and then update your app, when you updated your app or
If you are using the latest Twitter app then follow the steps that I told below –
1. Open Your App And Click On Profile Icon
Open your app and then you can clearly see your profile icon on the left sidebar, so click on your pro6 icon.
2. Click On the ' Bulb Icon' Button
When you click on your profile icon then, below you can see a bulb icon button so click on this button, actually, this is the dark mode button you can turn off/on whenever you want.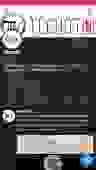 And finally, if you got a dark theme on your entire Twitter app, you can easily turn off dark mode by clicking the bulb icon button instantly.
So friends this is a small tutorial for applying dark mode on the Twitter Android app.
Can Dark Mode Really Help You Reducing Eye Strain?
I think yes on some conditions like what is your phone's screen type AMOLED, OLED or IPS Display?
Actually, the dark mode does a very nice performance on OLED or AMOLED screens because here every pixel have own light and whenever they want to display colour.
So in AMOLED or OLED displays, you can see original and brighter colour combinations, when you see content on the Black background then you see only the content
Because your black background pixels are turned off their lights totally you see only the contents.
Overall when you use the dark mode theme on your app it helps your eyes to protect from extra lights coming from your phone and if you use AMOLED or OLED Display then it definitely helps you a lot.
Can Dark Mode Boost Your Battery Performance?
Yes, it helps on some conditions that I already discussed above, so that depends on your screen type because when
You using an OLED display phone and then you use it over dark mode then the black LED pixels was totally off so you see only the beautiful colours.
So when your displays most pixels are off then there is no use for your battery to display any content.
For this reason, dark mode help to boost your battery performance, and another way without dark mode you see a white background or other colours
When you see white colour then pixels are used your phone's battery, or another in IPS LCD screens there haven't particular pixels own light, here black is not a true black background theme,
So IPS use your battery even if you are using the dark mode feature on your favourite app. So I hope you understand all the points, if you have any questions then comment down below.