How to backup your photos with unlimited storage, If you have huge numbers of photos available in your smartphone andthis reason your phone is getting slow and hang anytime then this post will fix this issue so read this this post completly for full deatail of unlimited backup storage.
Many smartphone users have this problem, and they are still confused how to get overcome from this problem i will help you by simple steps that you are missing right now and the problem is still continue.
This is simple solution but many people don't know this solution because of they don't use Google Photos app. Almost every smartphone has Google photos app but many people don't know about the feature of google photos.
How To Get Unlimited Backup Storage With Google Photos?
Well when you buy a new phone then also you buy a secondary storage option the SD card but today's phone has huge storage capacity to there internal storage so now day's this is not very needed product. But sometimes you have to store a big files such as movies or games,
then you have to buy a best SD card for your phone, if you have larger amount photos and stored in your phone then you know your device is running slow or hang sometimes because of heavy storage uses.
If you already buy a SD card then ok, but if you have not any SD card then surely your device storage is running low. So this time Google photos is the best option for backup your photos also you can store big files such as movies with unlimited storage.
Why Backup Is Very Important For Your Photos Or Other Media Files?
Backup a file is very important you never know when your device was lost or damage,at this time you can restore your files from stolen or damaged device from your Google account in single click, so please backup your every file that are existing in your phones memory now.
You have many important file or document you don't want to lost them in emergency time then upload your documents to Google dive and upload your photos or videos to Google photos right now!
Many backup platform available in market but Google Photos is best choice for your storage, Why i command Google photos? because of there are lots of file backup platform but they are charge for this and when you get a unlimited storage from Google Photos then why you pay for a third party service.
Google photos has lots of features and improving day by day for every user so below i talk about some important points about Google photos app so keep reading..
How To Upload A File On Google Photos?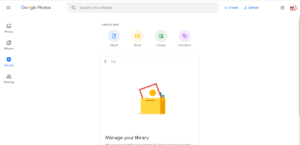 Mostly android phone has Google Photos app instead if you don't have google photos then you can install it from Google Play Store directly. If your Photos app is not updated then please update the from play store so you can get the latest features from Google photos app.
To upload your photos then you need a google account, if you haven't a google account then create a google account just going to google, process is very simple so here i writing about google photos so come to point –
firstly open your google photos app and you can see a plus icon available on the home screen of the app, click on the plus icon and upload your photos directly, if you want to upload your all photos to Gpoogle Photos app then in the app go to settings and then go to backup option,
and then turn on your backup option for your phone and you can see below a option to select the size of the images you upload to Google photos here select high quality option.
Now after few minutes your all photos videos and also your movies are uploading there and automatically backup your all photos or other media files into google photos.
Select your folder on Google app so Google photos will automatically backup your photos from your device selected folder.
Conclusion:
In this post we discussed about how to get unlimited backup storage with the help of Google photos for your smartphone, how to upload a file to Google Photos and how to backup a file and lots of important things. If you like this post then share it to your nearby and if you have any problem regarding this post or anything then comment below.