AOC C27G2Z Review – is the cheapest 240Hz refresh rate monitor with a 1500R curved body that is great for gaming. This is one of the best-curved gaming monitors that offer a great gameplay experience within your budget, It offers 27 inches 1080p 1500R curved display with AMD FreeSync for smooth gameplay playback performance.
The good thing about this monitor is the stand is adjustable so you can change the viewing angle to any position without any issue.
Well, the monitor offers awesome specs at a very low price tag, so this is perfect for you. Before buying this monitor let's talk about the specs in detail with Pros and Cons.
AOC C27G2Z Overview | Rating – 4.1/5
The AOC C27G2Z comes with 27 inches 1500R curved display with 1080p resolution, Performance wise it has a 240Hz refresh rate and AMD FreeSync for smooth gaming. The visuals are superb and the response time is amazing, also it has a fully adjustable stand so you can change the height, and viewing angle by using the swivel and pivot adjustability feature.
Product 360 – AR/3D View
The stand of this monitor is in perfect shape and fits any desk size without taking up too much space on your gaming desk, and the monitor is lightweight so you can easily carry the monitor.
Build and Design
The monitor is built with plastic, which looks nice and the back side has nice finishing touch. The stand has a little unique design and support height adjustability so there is more flexibility to change the viewing angle to the perfect position.
Due to its unique stand design looks like little weak build quality there, maybe the long time the stand gives you a problem but not early. The bezels are thin and easily gain attraction from a distance, It has a 1500R curved body with a height-adjustable stand which is a plus point in this monitor, and I think getting a curved gaming monitor with a fully adjustable stand is really good because of the curved body monitor can't fully rotate to any angle or you can't use pivot at all on most of the curved gaming monitor.
But this is really good in this monitor and I appreciate AOC for the amazing combination. The one good thing is the weight of this monitor is around 5.5Kg which is very good and it makes it portable friendly, the dimensions are 528.6(H) x 612.37(W) x 227.4(D).
Read: The Ultimate Gaming Monitor For PS5
Image Quality
The AOC C27G2 comes with 27 inches 1500R curved display with a resolution of 1920×1080 pixels, overall picture quality is decent. The color accuracy brightness and contrast are not balanced, For gaming it's ok. If you are using this monitor for editing, and graphics designing then this is not for you. This is just for gaming with some decent picture quality. The image quality is acceptable;e because the monitor is focused on gaming, and there is no big issue of responsiveness.
graphics are smooth due to peak 240Hz refresh rate, and AMD FreeSync handles perfectly, no tearing, blurry visuals but I said the colors are not much vibrant, also the horizontal and vertical angles are ok, needs more improvement pon this, otherwise there are no big issues on display performance while playing games on this monitor.
Performance
Performance-wise the monitor doing an excellent job has Better graphics management, faster performance, and the response rate is superb. As it has a 240Hz refresh rate no doubt you will see smooth visuals with better control over the game due to its AMD FreeSync which enhances overall performance. You can play heavy games on this monitor without having any big issues like tearing, Flickering, or blurry visuals you might see less clarity in images but performance wise no issues.
Read: The 14 Best Monitors for Working From Home
Connectivity
The monitor comes with Display Port, HDMI, and headphone jack, with no USB ports.
Pros
240Hz refresh rate, 1500R curved display, AMD FreeSync, Height adjustable, cheaper price tag.
Cons
Build quality, image quality, viewing angles, No USB port.
Price Trends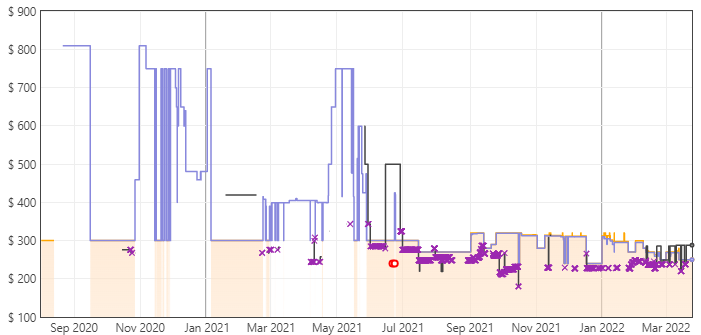 The AOC C27G2Z Price Trends show the range between 300$ to 250$.
Comparison
These are the main competitors of the AOC C27G2Z –
This is one of the cheapest 240Hz gaming monitors without a curved body, and overall it's better than their AOC C27GZ. It offers a lower price with a 240Hz refresh rate, a 27 inches 1080p display, and AMD FreeSync premium, also it has a height-adjustable same as the AOC C27GZ. The monitor looks very nice with a bezel-less design, but it doesn't have a curved display that is the bad thing about this monitor otherwise it's a perfect monitor at the budget price tag.
Read: The 4 Best 27-inch Curved Gaming Monitor
The LG 27GP750-B is better than the AOC C27GZ, It has 27 inches IPS 1080P flat display with a 240Hz refresh rate, G-Sync/FreeSync support, a fully adjustable stand, and a similar price tag, but you will get more performance and features on the LG 27GP750-B. The plus point in this monitor is that G-Sync and FreeSync are supported, with better image quality, and more adjustability features that enhance your overall gameplay experience.
The AOC C27GZ is better than the Lenovo Legion Y25-25 24 because the Lenevo comes with a similar price tag but no curved display, and not fully adjustable, don't have great picture quality. If you want a curved monitor then AOC is a good choice than Lenovo Legion Y25-25 24.
Read: AOC C32G2 Review – 1500R, 165Hz, FreeSync
Final Words
While AOC C27GZ offers a curved display other monitors don't have it at this price so this is worth it If you want a flat display then Sceptre and LG models are perfect for you as I mentioned above in comparison. No doubt as a curved gaming monitor AOC C27GZ is a very good option if you just want a curved monitor otherwise Sceptre is the best for you as this is cheaper and LG has more features and overall experience at the same price. I personally like the LG 27GP750-B as it has all features and much better image quality than any other monitor.
So which one to buy? this depends on your requirements if you want a curved gaming monitor then AOC C27GZ is the right pick, If you want a budget monitor then the Sceptre E275B-FWD240 is a very good option and If you want a balanced gaming monitor with all useful feature that gives you a perfect gaming experience then LG 27GP750-B is a better choice for you.