LG 27GR93U-B Review – If you are searching for a 4K monitor for gaming then this is a great option, It has a 144Hz refresh rate with FreeSync premium and G-Sync compatibility and also supports VESA DisplayHDR 400 for better dynamic range and dark blacks. The looks of this monitor is very similar to many LG Ultragear model so there is no new design here but the performance is top-notch.
For gamers, 4K resolution is not the first priority but if you want a 4K gaming monitor then the LG 27GR93U-B may be a good choice as there are so many options in the market but this is the newest from LG with better performance, and good image quality as well.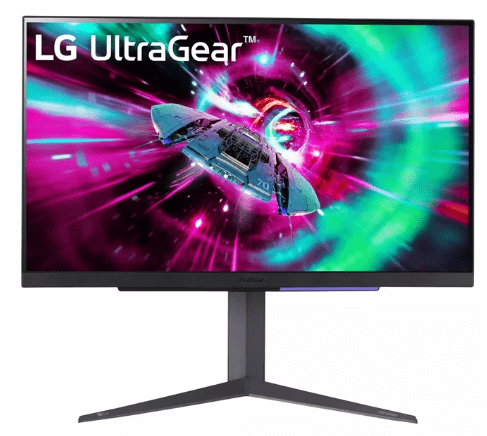 Most gaming monitors only focus on performance but this gives you a better image quality with DisplayHDR 400 and DCI P3 with 95% color accuracy it's that good as it is a gaming monitor and the color accuracy is not as impressive as other working monitors but it's okay as a gaming monitor you can't expect more color accuracy.
Let's check the tech specs of the LG 27GR93U-B:
Size: 27-inch flat
Panel Type: IPS
Resolution: 4K (3840×2160 pixels)
Adjustability: Height/Pivot/Tilt
Adaptive Sync: Yes ( FreeSync and G-Sync)
Refresh rate: 144Hz
HDR: VESA DisplayHDR 400
Connectivity: HDMI 2.1, DP, USB up/downstream, Headphone jack
Response rate: 1ms
Price: $699
Read: LG 27GR83Q-B Review – 240Hz, Decent Color accuracy
Build and Design of The LG 27GR93U-B
The body of the LG 27GR93U-B is made from a strong plastic and metal frame stand that easily handles the weight of the monitor, the stand supports height adjustments so you can adjust the angle of the monitor by using the stand to get a perfect view also you can use the swivel and tilt adjustments to get a comfortable viewing angle. The downside of this stand is there are no swivel options so you have just three options to adjust the stand.
The design of the LG 27GR93U-B is similar to many Ultragear monitors, the slim bezels look good and the V-shaped stand is also attractive, you can keep stuff below the monitor as it has very good space so that's a good thing, I like the slim body and nice finishing touch on the back.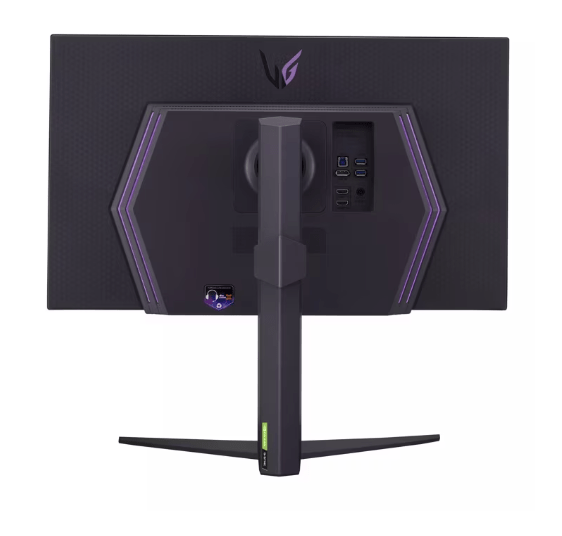 Overall looks and feel are good as this is a premium gaming monitor so you can expect high build quality and the monitor did not disappoint on build quality and design.
The weight of this monitor is around 6.39 kg with the stand and the dimensions are 24.2″ x 22.7″ x 10.0″ (Up) 24.2″ x 18.4″ x 10.0″(Down) with the stand.
Image Quality
The LG 27GR93U-B offers a 27 inches flat IPS panel with a resolution of 3840×2160 pixels and DIsplayHDR 400 for deeper blacks and overall better dynamic range that enhances the visuals with sharp blacks and you can play any HDR gaming to get a better gaming experience, It has DCI P3 95% for natural color reproduction but the overall image quality is not super impressive as it is performance focused monitor but it's okay.
Brightness and contrast are good enough to play in any environment, due to DisplayHDR 400 the brightness is good and the contrast is also good, but yes you might see the viewing angles differently but this is un-notable but yes it's available in horizontal angles. Most LG monitor has better image quality for work purpose monitor and with 699$ price tag the monitor is not as good as a working monitor but it's good as a gaming monitor. The color accuracy is slightly weaker in this monitor.
Performance of the LG 27GR93U-B
The performance of this monitor is superb, 1ms response rate and 144Hz refresh rate bringing an ultimate experience while playing games, the FreeSync/G-Sync compatibility takes this to the next level. You can play games in high-end settings without any shutter or screen tearing thanks to the high refresh rate and Adaptive-Sync technology, The graphics are super smooth and fluid while surfing any game on this monitor. It supports HDMI 2.1 connectivity so you can use PS5 and Xbox for immersive gameplay.
The G-Sync/FreeSync and 144Hz combination gives you a faster response rate so you see the visuals faster and you can handle the game with a similar speed so there is no delay on input and outputs, it supports HDR so now you can enjoy the HDR games in this monitor with more sharp and better dynamic range playback.
Connectivity
For connectivity, there are HDMI, DisplayPort, USB upstream, and audio outputs available. There is no issue with connectivity HDMI 2.1 gives you more freedom and better connectivity overall.
Pros
Fast response rate, 240Hz refresh rate, FreeSync/G-Sync, DisplayHDR 400, Adjustable.
Cons
Weak color accuracy, Swivel adjustability, decent horizontal viewing angle.
Price Trends
The lunch price is 699$, the current price is 699$ and in July 2023 all-time lowest price was 550$ on Amazon, also available at B&H Stores and BestBuy
Comparison
These are the same perfect competitors for the LG 27GR93U-B Gaming Monitor –
The MSI MPG321UR is better than the LG 27GR93U-B in all aspects, It has better image quality better HDR experience better color accuracy. The MSI MPG321UR offers a 32-inch flat 4K IPS display with a 144Hz refresh rate and G-Sync for buttery smooth gaming. The monitor supports DisplayHDR 600 for an immersive HDR gaming experience and superb color accuracy, the best part of this monitor is it has a USB Type C port and HDMI 2.1. The stand is fully adjustable so you can adjust the stand to your favorite position without any issues.
This is another great option from Samsung, the Samsung LS32BG702ENXGO has an inch 4K 144Hz refresh rate with FreeSync/G-Sync with DisplayHDR 400 for deeper blacks and better dynamic range. The performance is very good and the Odyssey series always gives you a better experience overall. The downside of this monitor is the color accuracy is not good also there is no HDMI 2.1 support and maybe you can face pixel bleeding or related issues otherwise there are no issues with gaming.
If you are looking for a budget 4K 144Hz monitor that supports HDMI 2.1 and HDR then this is the perfect choice. The price tag is very low compared to the LG 27GR93U-B. At 599$ it is a really good deal the specs are very good but just like good things it has many bad things so you have to know before purchasing this monitor the color accuracy is decent HDR is not that good also the stand is not fully adjustable. If you are ok with these downsides then you are good to go.
Final Words
The LG 27GR93U-B offers attractive specs at a very good price but there are so many options available that are better than this monitor, this doesn't mean this is a useless monitor but at the price tag it comes there are many options who comes better specs than this so before choosing this monitor you have to know the market so you can choose the best monitor at very good deal.
I will recommend the MSI MPG321UR as you will get a larger 32-inch display than the 27 on the LG model. It is the best in every area, from image quality to performance it supports HDR 600 is better than the LG model also it has a Type C port and great color reproduction at a very good price tag, so it will be a great choice alternatively you can check the Odesseys G7 this is also a very good monitor.
I hope this post helps you to know the details of the LG 27GR93U-B and whether you should buy it or not because there are some good options in the market. Bookmark this site to get similar reviews on the monitor also follow us on Pinterest, YouTube, and Facebook page.