Asus VG34VQL3A Review – Choosing a perfect monitor for gamers is always a tough task, due to increasing the technology in monitors and the demands are one of the key factors right now. Talking about the tech in monitors there are many advanced features available right now that you never thought of 10 years back like the flexible OLED panel, lightweight body, faster response rate, and much more.
More features give more options to gamers with many price ranges, and the Asus VG34VQL3A is one of the perfect options for gamers as it offers a 34-inch curved display with a 180Hz refresh rate and FreeSync Premium Pro for smooth gaming.
While most of the monitors only focus on performance the Asus VG34VQL3A offers really impressive image quality with the help of 123% sRGB coverage that produces vibrant colors and DisplayHDR 400 gives you the true blacks with better dynamic range for gaming.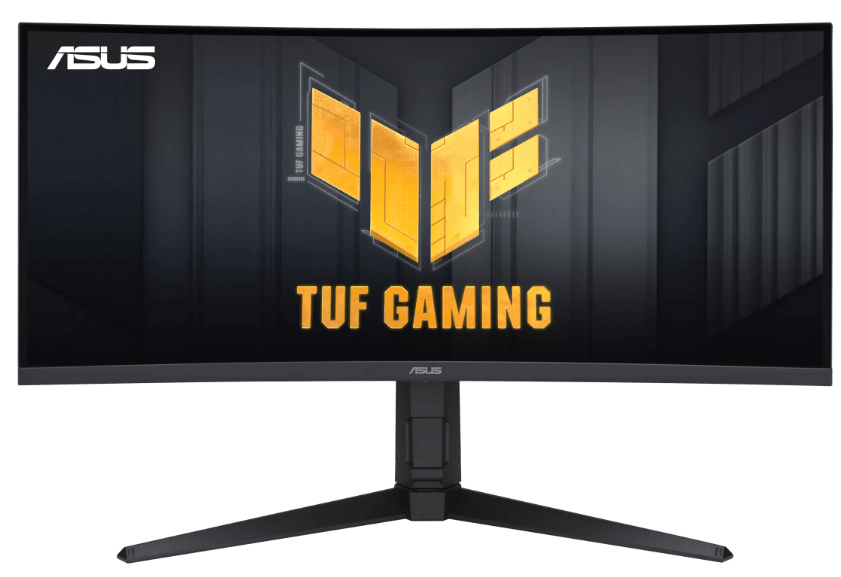 Many gaming monitors don't focus on color accuracy because they think it is only for work like graphics design, and editing but better color accuracy gives your gameplay more stunning visuals with amazing colors.
Build and Design
The body of the Asus VG34VQL3A is made from strong plastic with a V-shaped stand, due to its 1500R curved body it can capture a bit more space on your desk. Talking about the design of the Asus VG34VQL3A is similar to many Asus TUF monitors, so there is no new in design, the bezels are minimal and that looks good also it's 1500R curved so looks more attractive and the stand looks good with the V-shape design.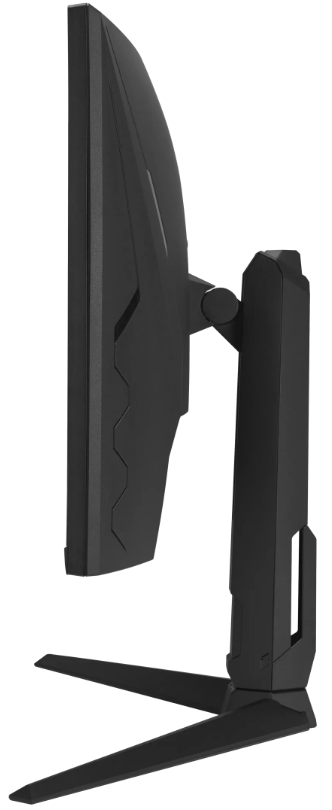 The stand supports height adjustment so you can easily adjust the height monitor also you can use swivel and tilt to get a perfect viewing angle. The major drawback of this monitor is it doesn't have pivot adjustments as its curved body pivot adjustment is not available.
The weight of this monitor is 8.1 kg with the stand, The weight is a bit heavy as it is a 34-inch curved monitor, and the dimensions are (W x H x D): 80.8 x (41.1~54.1) x 25.0 cm with the stand.
Image Quality
The Asus VG34VQL3A offers an 34 inches 1500R curved VA panel with a resolution of 3440×1440 Pixels, The Overall image quality is impressive due to the 123% sRGB coverage, and DisplayHDR 400 playback looks more stunning with better details and color accuracy. The only downside is the viewing angles are not that good also the peak HDR brightness is not like the HDR 600 monitors but at this budget price tag is all good.
Performance
Talking about the performance of Asus VG34VQL3A it's really good in terms of response rate the visuals all are very smooth and the graphics are super responsive. The 180Hz refresh rate and AMD FreeSync Premium Pro produce an amazing performance without any screen tearing, flickering, or blurry visuals. You can play HDR games with high settings because there is no lag or frame dropping while playing games.
Connectivity
The Asus VG34VQL3A comes with HDMI, DisplayPort, and USB ports with a Headphone jack.
Pros
180Hz refresh rate, FreeSync Premium Pro, 1500R curved body, Adjustable stand, and HDR 400.
Cons
Decent viewing angle, NO Pivot adjustability, Low HDR peak brightness.
Price Trends
The monitor is currently available at 399$ and the List Price was 429$ at Amazon.
Comparison
These are the competitors of the Asus VG34VQL3A gaming monitor –
The AOC CU34G3S offers a 34 inches curved display with 165Hz refresh rate and FreeSync Premium, Height adjustable, and 119% sRGB rate for great colors but if you compare it with the Asus VG34VQL3A then it lacks in HDR and the refresh rate as it has slightly low 165Hz compare to 180Hz on the LG Model, so if you have low budget then it can be great choice as it comes with a price tag of 359$.
This is another option from LG with a low price tag of 358$, It offers 34-inch 160Hz refresh rates and FreeSync premium not pro. It has an adjustable stand with HDR10 support but compared to the Asus VG34VQL3A it lacks in many areas such as the lower refresh rate and weak brightness/contrast, the good thing is the price tag.
The Samsung Odyssey G5 LC34G55TWWNXZA is also a good choice as it comes with a lower price tag of 369$, it has 34 inch 1000R curved display with 165Hz refresh rate, AMD FreeSync, HDR10, and an adjustable stand. The downside of this monitor is the lower refresh rate and decent angles.
Conclusion
The Asus VG34VQL3A is one of the best monitors in 34 inches 180Hz refresh rate segment and there are no other options in the market with similar specs so I highly recommend this monitor, but if you have a low budget then you can consider the AOC or Samsung G5 model that i shared above, as they offered at slightly low cost. If you don't have any budget issues then the Asus model is perfect for you.
In the comparison table all are in same specs if you compare it with Asus VG34VQL3A then it has a better refresh rate of 180Hz, and better color accuracy due to 123% sRGB, and HDR400.
I hope this article gives you deeper details about the Asus VG34VQL3A, to get similar articles bookmark this site also you can follow us on Facebook, Twitter, YouTube, and Pinterest.