Sceptre C345B-QUT168 Review – If you are searching for a big screen monitor with a curved body and 165Hz refresh rate then the Sceptre C345B-QUT168 is the best one to take a look, it has 34 inches 1500R curved panel with a 165Hz refresh rate, AMD FreeSync Premium. The best thing about this monitor is that you can get a monitor at the perfect price tag, but there are so many downsides and good things.
Some downsides can be digestible if you get it at a reasonable budget but some are not digestible because there are so many other options available with an overall better deal, talking about the downsides of this monitor the first you will see is the adjustability, it doesn't have height, swivel or pivot adjustable and this is digestible as it is a curved monitor so these features are not very compatible with its curved design and it's very challenging to give these features.
The Sceptre C345B-QUT168 has decent viewing angles with no HDR capabilities, so if you care about HDR then you should skip this monitor as you can't enjoy HDR gaming on this monitor. While it has nice color reproduction but not very impressive and you should not expect more from this because of the budget it cames, in this budget you have to compromise, if you are not ready to compromise then check our comparison table to see better options then this.
Build and Design
I already shared the good and bad things about this monitor, so let's go deeper with its build quality. The monitor is made from decent plastic and you can flex in some areas if you have not received the package safely it applies to every product but this monitor is a little bit weaker in build quality. The design is similar to many Sceptre gaming monitors so there is no new thing, but Yes the bezels are thin which looks nice with its V-shaped stand, and the stand perfectly fits on almost any desk size without capturing extra space.
The stand only supports tilt adjustments so there is no height adjustability, pivot, or swivel adjustability, that's the bad thing about curved monitors.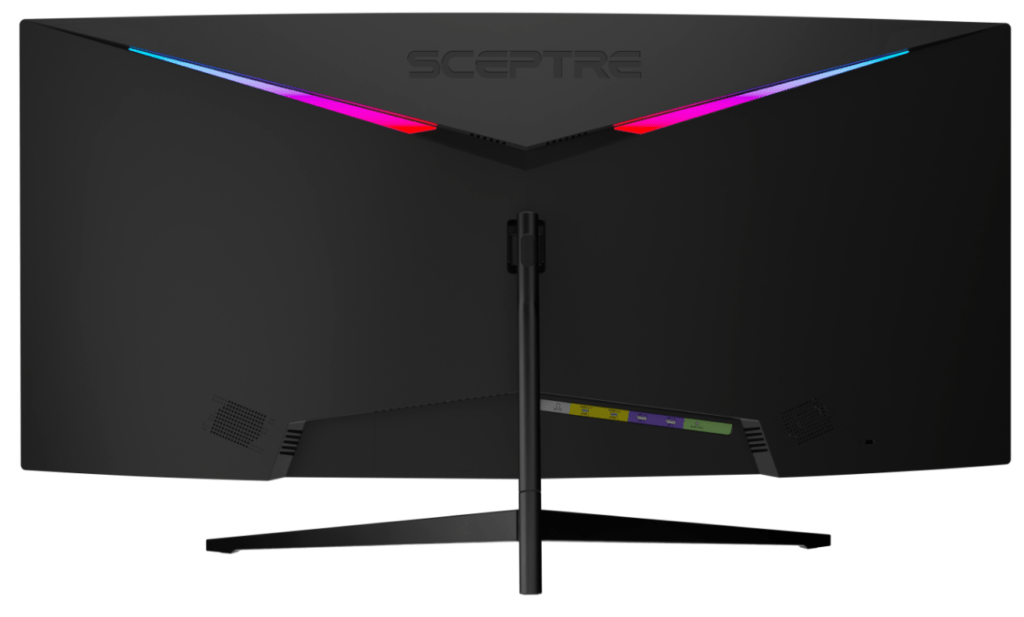 The weight of this monitor is 6.1 kg with the stand and that's very lightweight as of 34 inches curved monitor because the body is plastic that's the reason behind its low weight and that's the good thing, you can easily move this monitor to your room without heaviness like other monitor that mostly comes with a weight of 8kg average. The dimensions are 31.80″ x 17.96″ x 8.6″ inches with the stand.
Read: Sceptre C305B-200UN1 Review – 200Hz, No Fully Adjustable
Image Quality
The Sceptre C345B-QUT168 offers a 34-inch 1500R curved VA panel with a resolution of 3440 x 1440 Wide Quad HD with 99% sRGB coverage for good color accuracy. The monitor doesn't support HDR so you will miss HDRgaming on this monitor also the color accuracy is not like you can edit videos or do some graphic designing work because the horizontal and vertical angles are not optimized so you might see a lack of quality in these angles.
The overall image quality is good as a budget gaming monitor. There are no huge issues with image quality still you can get sharper playbacks due to its 165Hz refresh rate and FreeSync the overall gameplay visuals are good but not recommended for editing or any professional work where you need better color accuracy with details.
Performance
The monitor comes with a 165Hz peak refresh rate with AMD FreeSync Premium for smoother and stable visuals you can see the results are very good. The graphics are stable and very good response rate that gives you a faster farmers rate without any frame dropping or lagging while playing games on high settings. Sadly the monitor doesn't support HDR so you will miss HDR gaming on this monitor otherwise there are no big cons in gameplay performance. The 165Hz and FreeSync combination gives you a super smooth gameplay experience without any screen tearing. blurry visuals or flickering. The overall performance of the monitor is very good and justifies its price tag.
Connectivity
The monitor comes with HDMI, Displayport, and a 3.5mm audio jack, sadly there are no USB ports.
Pros
bigger 34-inch 1500R curved body, faster response rate due to 165Hz refresh rate, 99% sRGB for nice colors.
Cons
No fully adjustable, decent viewing angles, No HDR, No USB ports, and average build quality.
Price Trends
The current price of the Sceptre C345B-QUT168 is $269. the lowest price was 249 USD and the highest was 379 USD, The monitor is currently out of stock at the Sceptre store but available on Amazon, Walmart, and Ebay Stores.
Comparison
These are the main competitors of the Scpetre C345B-QUT168 –
1. LG 34WP60C-B
The LG 34WP60C-B offers a 34 inches 1500R curved display with 160Hz refresh rate and AMD FreeSync premium, It has better image quality as it supports HDR10 and the viewing angles are also very good overall this monitor is recommended over the Sceptre C345B-QUT168. This monitor is built strong and the price tag is superb.
2. Acer XZ342CU Sbmiipphx
It is also a very good choice at a very nice price tag and again it has better-built quality with better-viewing angles, The best thing about this monitor is that has DisplayHDR 400 for deeper blacks, and better dynamic range with height, swivel, and tilt adjustment and this makes it a perfect 34 inch 1500R curved monitor with 165Hz refresh rate, and this highly recommended due to its amazing price tag and superb features and better than the Sceptre C345B-QUT168 in every area.
3. Dell S3422DWG
This is one of the popular Gaming monitors from Dell, The bad this about this monitor is the 144Hz refresh rate and the high price tag otherwise all are okay, and can be a great choice, as it offers an 34 inches 1800R curved display with very nice image quality due to DisplayHDR 400. You can choose this monitor if you want a popular and trusted 34-inch monitor otherwise I will not recommend this, as it is a very old model and the price tag is high compared to other monitors.
Final thoughts
The Scepter C345B-QUT168 is a very nice 34-inch 165Hz monitor at affordable pricing but I will not recommend this because there are some good options like the Acer XZ342CU Sbmiipphx is beating in every aspect like it has better adjustability, better image quality with DisplayHDr 400, better build quality and the amazing pricing, so I highly recommend this monitor as you will get a better deal overall, also you can choose the LG model if you are an LG fan otherwise this is a very good choice.
I hope this article helps you to know more about the Scepter C345B-QUT168 and its competitors, My target is to give you the best knowledge that helps you pick the product for your needs and budget, If you like this piece of content do share and bookmark this site to get quick access.