How to enable dark mode in facebook lite app for Android smartphone. Recently Facebook lite app getting a dark theme over there lite app,
For Android users so in this post you can learn how to enable dark mode on your favourite Facebook lite app within few seconds.
Like facebook lite many other popular app getting dark mode in thare platform so this is very good feature for Android users,
Because many people surfing facebook till midnight and they're eyes arw getting red colour by cause of blue light of the phones screen.
If you surfing a dark mode app in the night then you get more comfortable with the mobile screen and avoid some blue light with
Also Read: Get Dark Mode in Twitter Android App
The help of Dark mode present on the app, If you want to know how to use the dark mode and how to enable it then below i share some simple step
For enabling dark mode on your Facebook lite app within few seconds, so read this post completely –
How To Enable Dark Mode On Facebook Lite App
1. Update Your Facebook Lite App
Firstly you need to update your Facebook lite app, for updating your app go to Google Play Store then go to install apps.
Then select Facebook lite and finally click update button. If you already do this and your app is up-to-date then go to the next step –
2.Open The App And Click The Right Toggle
Note one thing is that app must be updated because you get this feature in the updated Facebook Lite app.
So when you complete the update process then open the app and you can see a toggle in your home page right sidebar, just click on it.
3.Finally Click On The Dark Mode Option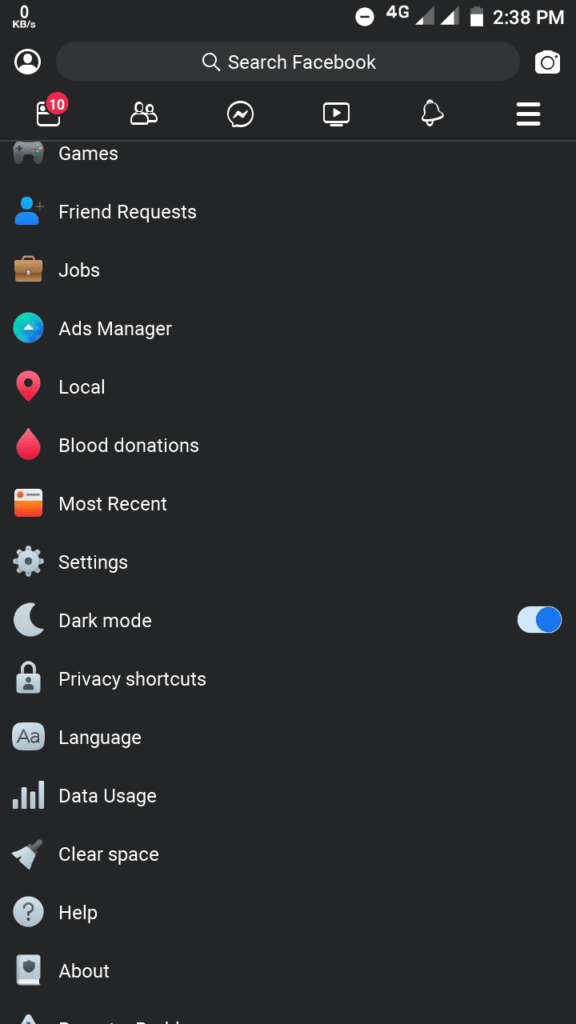 When you click on the right sidebar toggle then you can see all your settings over there and scroll the screen down and then finally you can see the Dark mode option, just enable it.
Conclusion:
In this post i shared some easy steps to get Dark Mode on Facebook Lite app for Android users, i hope this post will help you to get your questions answere.