How to enable dark mode in your Microsoft Edge browser within a few minutes, are you looking for a dark theme for your Microsoft Browser then you are in the right place.
In this post, you will learn how you can change your default white theme to the dark theme on your Microsoft Edge browser in less than 2 minutes.
What is the dark mode? The dark mode is the background of your webpage, mostly apps and software and the browser comes with a default white background but now you can change the background color to black.
In the last post, I talk about enabling dark mode in the Pinterest mobile app, this will enhance your viewing experience and save some battery for your smartphone,
Because the dark theme doesn't consume as much power compared with a white background, if you are using an OLED or AMOLED display on your device then this will plus point for your device to decrease the consumption of power.
The dark mode is beneficial for human eyes because this will reduce the blue light from your smartphone and also save battery, so let's talk about how you can use a black background on your Microsoft Edge browser.
How To Enable Dark Mode In Your Microsoft Edge Browser
Dark background only works in your Microsoft browser's tab, search bar, and settings page, it will not work on the contents of any website. To apply a dark theme on your browser first you need to update your browser if you don't have the latest version and follow the steps below –
Go To Settings
Open your browser and you can see in the right sidebar a three-dot icon, just click on this icon and you can see another option below the settings option available, go to the settings option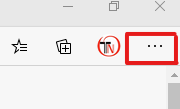 Go To Appearance
In settings you can see an option called 'Appearance' below, just click on this option

Select Dark Option On the Theme Option
When you click on the appearance option in the settings, now you can see the default theme option over there, and finally, change it to the dark option.

Conclusion
In this post we talk about how to enable dark mode on the Microsoft Edge browser within a few minutes, If you like this post then don't forget to get the latest post notification in your mail by subscribing to our newsletters, Share your thoughts in the comment section below.