Shutterstock price India, detailed review of Shutterstock in 2022. Images are very important to all types of work, entertainment, and other purposes. If you run a website, YouTube channel, online or offline both businesses,
education relates, arts and design-related, and lots of areas that need stock photos, info graphics, and stock videos for their projects, so this type of website provides stock images for every type of project and works for you.
Today images are a very demanding item for every type of business or project, If you are a student and you are working on a project, when you need a virtual background for your online meeting so you need stock photos for work,
a business that runs online or even offline needs to find the best stock photos for advertisement purposes, and the entertainment industry needs for marketing and other stuff.
If you are a blogger or YouTuber you need some stock photos for your content, If you run digital marketing services then you must have stock images for your campaign.
Stock image website helps you to get a brand new image for your project, and Shutterstock is one of them. Why Shutterstock is the best platform for stock images and videos? well, many people say that Shutterstock offers high pricing but in reality, if you compare this website to any other website all confusion was solved there.
Shutterstock Price India In 2022
If you want to buy stock photos for your project, firstly you need to decide what is your requirements for projects and then select the plans on Shutterstock. If you need some images then a single-user plan is best for you, but if you are working with your team on big projects then you can choose enterprise plans according to your requirements.
In India, if you are purchasing a plan from Shutterstock then you have to pay Rs. 373.78 per image by today's currency exchange price*. If you purchase a single-user subscription then you have to pay Rs. 3,735 monthly for 10 branded images.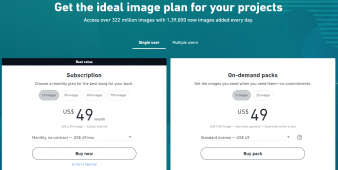 If you run a company and you need a multi-user plan then you can choose from there, you can contact Shutterstock for custom plans for your requirements.
In India, you have to pay Rs. 28,878 for 2 users and in this subscription you will get 750 images per month. You can also purchase an on-demand subscription for your projects. You can contact with Shutterstock team for your custom plan.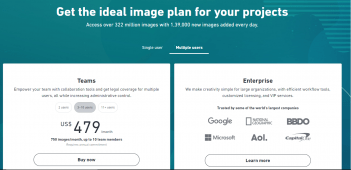 Compare these prices to other websites you can see the difference, Shutterstock is a trusted website, that provides the best photos for every category that you need. If you find alternatives to Shutterstock then these are options to create your own design.
Why Shutterstock Is The Best Platform For Stock Images?
The Shutterstock contributors, who provide the images on Shutterstock, their photos are approved by the team very carefully because Shutterstock doesn't compromise with the quality of images and videos. So you will get full creativity and a brand new image for your project. If you are a photographer then you can also make money from Shutterstock, So how does it work? let me explain-
If you are a passionate photographer and you have great photography skills, then Shutterstock is only for you, You need a contributor account on Shutterstock and start uploading images and when a user downloads your photos you will get paid.
If you want to make money by selling your photos on Shutterstock then firstly create a contributor account, you can create a contributor account, then select which types of photos you upload on Shutterstock.
And finally, start uploading images on the platform, you can check your performance and improve your profile by regularly uploading images.
Conclusion
Shutterstock is the best platform that provides stock photos for every type of project, If you need stock photos you need to buy a subscription plan according to your requirements. In this post, we have discussed the price of Shutterstock stock photos in India, and give detailed explanations and reviews of the prices of different types of subscriptions and their prices with the comparison.
Also Read: How To Share Your Photos To Another Gmail User