Asus VG248QR Review – Are you looking for a monitor? Buying a monitor depends on many factors — personal preference and purpose buying also work when deciding the best one. Here we have reviewed the Asus VG248QR, considered one of the best gaming monitors. Let's know about the monitor from the below parts.
Key Features
Aspect Ratio: 16:9
Resolution: 1920×1080 FHD
Screen Size: 25 inches
Panel Technology: TN panel
Refresh rate: 165 Hz
Response Time: 1 ms
Contrast Ratio: 1000:1
Brightness: 350cd/m2
Built-in Speakers: Yes
Stand Height: Yes
Stand Tilt: Yes
The Asus VG248QR has excellent features that make it perfect for a gaming monitor or other professional tasks. Some of the exclusive features of the Asus VG248QR include a high refresh rate, superior build quality, low response time, fantastic display, etc. You get a full review of the Asus VG248QR, keep reading on this.
Overview
The Asus VG248QR comes with a TN panel that makes the monitor for gaming use. The 23.6-inch display with 1080p native resolution is ideal, especially for gamers. The most decent feature of this monitor is its faster response level and good refresh rate.
However, the TN panel may not provide you with exactly the picture quality that the IPS screen offers.
The 16.9 million colours can be best emphasised with a TN screen limited to a 170-degree horizontal angle and 160° horizontal angle, giving you enough space for gaming purposes. But for professional editors, this may not be quite.
The TN panel is white cheaper, but it has managed some extra features so that you can enjoy your viewing experience. To know detail about it, you should come up with the full review written below:
Read: ASUS VG279Q Monitor Review
Build and Design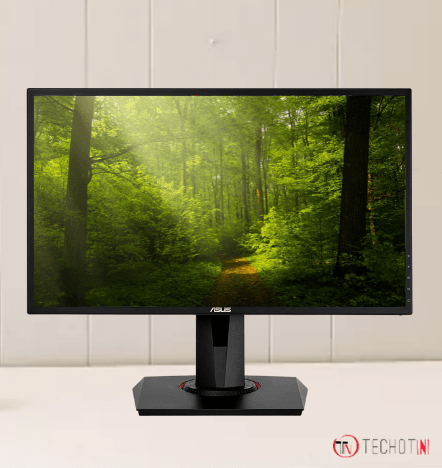 The Asus VG248QR has a stylish outlook compared to others in the market. It comes with thin bezels that enhance the display viewing area. It has a joystick that you can use to access its OSD menu. Generally, the OSD menu had four buttons on the backside of this monitor screen.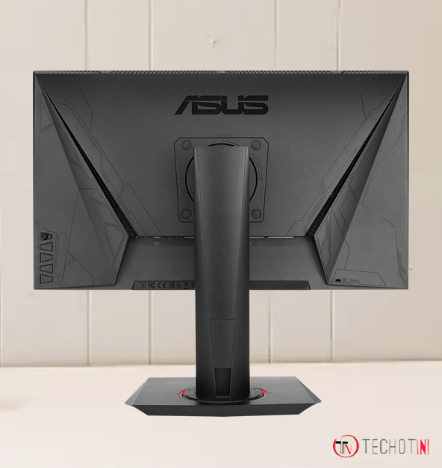 The matte finish on the back of the monitor gives it a classy look easy to wipe. Overall the impressive design of the Asus VG248QR will give your living space another charm. 
Image Quality
The Asus VG248QR is a 24-inch full-screen monitor based on the TN Panel. The monitor can cover 99% sRGB colour gamut and has a great capability to support 8-bit colour depth via dithering. This feature gives the monitor a vibrant detailing.
However, there are rumours about the TN panel that it can't deliver good colour accuracy. Some of those words are true also. If you are looking for a monitor for photo editing, movie watching or anything else that needs good picture quality, this monitor is not for you. The TN panels are widely used for gaming, as it has great features that make the monitor ideal for gaming. 
However, navigating through its setting is easy. In that case, you can use the following location to get fantastic picture quality:
Saturation: 55-57
Contest: 74-77
Brightness level 44-54
If you are using an NVIDIA graphic card, make sure you have set your gamma level comfortably. The setting may vary from one monitor to another, but you can also set the measures to another.
The monitor comes with 350 nits of brightness which make it convenient to use even in a well-lit room. It has problems from narrow viewing angles. 
Performance
The 24-inch TN panel has a maximum resolution of 1920×1080p with a moderate refresh rate of 144Hz. The backlight is 350 cd/m2. The answer is perfect for competitive gamers, and it doesn't put eyestrain when used for a long time. The monitor's pixel density allows you to see images in decent size. 
The Asus VG248QR model predicts 99% sRGB colour space that gives you a brilliant user experience. The screen has some picture inaccuracy problems. Still, it can be fixed by using a colourimeter. The Asus monitors generally have three picture modes to set one as per your choice. 
It has the highest contrast ratio of 1100:1. But when selling on this set-up, you can lose dime backlight reachability. It will not affect overall picture quality, though.
The responsiveness of that monitor is quite good, which is 1ms. Such a good response won't blur the posture and produce ghosting. 
Some of the users have stated its poor image quality. However, you will get an OSD menu with the minute that can correct the flaw. In that case, calibration is also necessary to adjust the picture as per your need. The model is a bit old in the market. So, you can check its alternative options also. 
Pros
165Hz refresh rate
Wide FreeSync support
Fantastic calibration.
OSD is quickly accessible
GSync compatibility.
Cons
The viewing angle is not good.
Price Trends
CHECK THE CURRENT PRICE ON AMAZON
Comparison
There are some alternative options for the Asus V248Q4. Here are some of them discussed with a quick comparison. Let's find them below:
The BenQ GW2283 is better than the model Asus V248Q4. For the Asus one, you can find a quite larger screen compared with BenQ GW2283. But BenQ GW2283 offers you the same resolution that Asus affords you. The only difference is that the BenQ GW2283 has an IPS screen with exquisite picture quality that the Asus V248Q4 can't.
The BenQ GW2283 comes in a variety of sizes for this model. So, you can choose one as per your wish. For true gamers, the Asus V248Q4 can work well, as it offers a 165 Hz refresh rate. But for basic office work, the BenQ GW2283
The brand Philips doesn't need any introduction. Still, some of the features of Philips 246E9QDSB can challenge Asus V248Q4. In this product, the screen is HD IPS, so you can expect better quality than Asus V248Q4. Like the above, it also has a variety of sizing.
But the Philips 246E9QDSB model only has a 60Hz refresh rate which is not suitable for professional gamers. The flicker-free technology will keep your eyes safe, and the frameless design gives your interior another level of charm. 
The Sceptre (E255B-FWD168) is also a similar item that matches the Asus v248Q. It has a 25″ widescreen that the Asus V248Q4 also has. The refresh rate of the same monitor is 165Hz, which makes it ideal for gamers. It has a built-in speaker that enhances your viewing experience and listening.
If you are looking for a monitor, especially for games, this one will not be ideal. However, it also provides a blue light-free picture that protects your eyes from any radical damage.
The ViewSonic VX2768-PC-MHD is another important brand in the world of monitors. It is also provided with almost the same features like low response rate, high refresh rate build quality, etc., that Asus VQ4824 do. Gamers can find it quite beneficial for them. The price of the monitor is quite higher than the Asus Model. 
It is provided with a 1500R curved screen that adds an exquisite touch to your desktop. The screen is quite sleet and made with premium plastic. Thus it ensures you the durability that the Asus also does. 
The AOC 24G2 is also an exclusive gaming monitor that you can avail of. The first thing to notice in this model is its frameless design. This frameless design gives it a unique look. It is equipped with a 144 Hz refresh rate, which is quite a bit lower than Asus VQ4824.
With all the aspects, it can be said that the Asus model is much more appreciated than the AOC model. The response time is also 1 ms, and the Asus model also has the same response time. You can do thorough market research before choosing between them. 
Thoughts On Asus VG248QR
For experiencing fast-paced play, the Asus VG248QR can be an ideal choice as it is designed well with all the gaming features. The other attraction of Asus is its simplicity, functionality and build quality. In this model, Asus will not disappoint you. Some other features that can amaze you include its GSync compatibility along with NVIDIA's certification requirements.
We have given you a detailed review of the Asus VG248QR. Buying a monitor sometimes depends on personal preference and requirements. If you are quite happy with this model, check the similar items given above. Let's decide what the core purpose of buying a monitor is. If this is for gaming, choose something with a higher refresh rate, like the Asus VG248QR.