Dell S2721DGF review – Choosing a monitor for your core purpose is one of the daunting tasks that you need to perform very carefully. In this article, we will provide a full review of Dell S2721DGF. So, you can decide whether you should go for it or not.
Key Features
Aspect Ratio: 16:9
Resolution: 2560×1440
Screen Size: 27 inches
Panel Technology: IPS Panel
Refresh rate: 165 Hz
Response Time: 1 ms
Contrast Ratio: 1000:1
Brightness: 360cd/m2
Built-in Speakers: No
Stand Height: Yes
Stand Tilt: Yes
The Dell S2721DGF is a nano IPS monitor based—onsite exclusive features such as 2560×1440p resolution, 165 Hz refresh rate, and others. If you are looking for a gaming monitor with a higher refresh rate and a great solution, then this monitor is one of the best choices for you. 
Features
The Dell S2721DGF is one of the best monitors in recent days. The monitor is well appreciated for gaming purposes and streaming. Nowadays, getting a 165Hz monitor has become essential to PC gaming.
Our best pick, the Dell 27 monitor is packed with AMD FreeSync Premium and certified GSync support. Hardcore gamers can also find it helpful to get plenty of options from its OSD menu. The 165 Hz refresh rate with low input lag can make your experience better than ever. 
In one word, the Dell 27 packs all the features that can make anyone absolutely amazed. Even the accurate color delivery of the monitor is sure to get something worth its value. Another enticing thing about this monitor is its value which is a great fit for every pocket. 
Read: AOC CQ27G3S Review – 165Hz, Adaptive Sync, 1000R
Build and Design
The Dell S2721DGF has a classy new look that can amaze everyone. The monitor has a fantastic combination of matte black and gunmetal designs. The monitor is bezel-free and offers you a better viewing angle from its IPS screen. For this monitor, Dell has improved its footprint more than the previous models. In that case, the people who have less space or need to open multiple monitors at the same time can be beneficial. It has a 27″ widescreen with a complete stand, so glass desk users will also find it useful.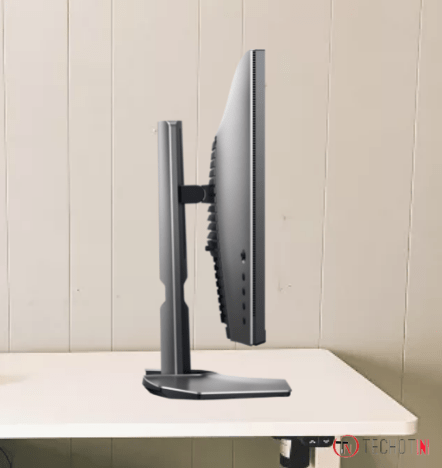 Still, there are no negative reviews about this product's build quality. The Dell S2721DGF is designed with plastic panels that feel thick and durable. Even when you will be using it with a tight grip, it will not be a problem for you. The stand of the monitor also comes with a slight wobble which makes the design unique. 
The model is designed with some vents at its rear which is also surrounded by the LED strip. This design helps the monitor to breathe so it can be operated for a long time. 
Read: Acer ED270R Review – 165Hz, No Fully Adjustable
Image Quality
The Dell S2721DGF has sub-par contrast that makes black dark grey in a dark room. The local dimming feature is also available on this HDR screen. But the result can be best implemented when the brightness is at its max. Accessing local dimming features is also easy. You can turn on it automatically and also off it. 
The monitor can cover 98% of its DCI-p3 color space which is also equal to 135% sRGB. The result comes as more vibrant and vivid. Especially, the red and green lights are best reflects on this screen. You can expect over-saturated color when watching the sRGB content here.
One drawback is that the monitor's OSD setting doesn't come with any sEGB clamp. So you can not customize the color output for the sRGB content. For this purpose, using a colorimeter can be a good idea.
You should not miss the WQHD resolution of the same monitor. The 2560×1440 pixel provides you with a high pixel density that makes your picture look more clear. The 178° wide viewing angle makes it easy to see pictures from every angle. The 400 nits brightness is adequate for an IPS display as per some users.
Performance
As this is a WQHD model, you can expect the right balance of sharpness and visibility in its picture. Some users have started about its massive drop in FPS. You will notice it better when shifting from 1080p for higher GPU requirements.
The most important feature of this model is 99% coverage of DCI-P3 and 199% of sRGB. This feature aims to provide you with vibrant color every time you use it. However, you can also calibrate the Dell S2721DGF to get better color output. For gaming, you don't need to calibrate, but for professional editing, it could help you. 
The maximum brightness of the model is 375 cd/m2 which is adequate for every user. The lack of HDR performance may disappoint you. The brightness reaches 405 cd/m2 and the HDR mode is active.
But it can put you on eyestrain. So, you are recommended to make the set to a 960:1 contrast ratio in 50% brightness. Since the model is equipped with IPS technology, the greyish poke on the screen will never leave you.
The monitor is FreeSync premium featured but also GSync compatible. The low input lag of the same monitor is 4ms. It comes with a 165Hz refresh rate that provides a smooth viewing experience.
Read: Dell U4919DW Monitor Review
Connectivity
Like other premium gaming monitors, it also has several connectivity options such as two HDMI 2.0 ports, a 1.4 display port, a 3.0 quad USB, a 3.5 mm headphone jack, etc. 
Pros
It has a wide color gamut
Quick response time and speed
Free async with up to 165Hz refresh rate
Full economic stand.
Cons
No sRGB gamut clamp.
Price Trends
Check the price on BestBuy.com
Check the price on Walmart.com
Comparison
Most probably, you are convinced with the latest features of Dell S2721DGF. But if you want to get similar options for the same purpose, look below.
The LG 32QN600-B comes with a 32″ display that makes your experience bigger. It comes with a QHD IPS display panel with 2560×1440 p resolution, the same as our Dell 27. The sRGB color reproduction is more in Dell 27, whereas the LG 32QN600-B offers 99% of coverage. Both of these monitors can be used for gaming. Stop, the LG offers a widescreen, so it can be used for trading and streaming purposes also. 
The Asus TUF (VG27AQL1A) is another immersive monitor that you can choose for gaming purposes. Like Dell 27, you can also expect better picture quality in this monitor as it comes with the same integrated IPS technology. It also covers 130% of the sRGB color gamut resulting in oversaturated imagery. The 27″ inch widescreen also offers a 178° viewing angle that helps you see better images from every corner. If you are a bit conscious about your budget, then the Asus TUF (VG27AQL1A) can be an ideal option for you.
Acer is another brand that offers exclusive monitors at an affordable range. This monitor is ideal for its color-critical work. Still, the users mostly prefer its WQHD monitors with 2560×1440 p resolution. It supports GSync which makes your experience better. The refresh rate is 144 Hz in this monitor, which is quite less than the Dell 27. However, it can also suit your purpose as it offers all the exclusive features that you can expect from a gaming monitor.
There are a variety of gaming monitors that you can find on the market. Then, the AOC 27G2 is one of them. It offers you an IPS panel display that you will also get from Dell 27. Like Dell 27, it gives you the same feature as GSync compatibility. But the refresh rate in this model is 144Hz, whereas the Dell 27 is 165 Hz. The resolution is also 1960× 1080 FHD, lower than AOC 27G2. So, for gaming purposes, the AOC 27G2 will not beat the Dell 27 model. 
Thought on Dell S2721DGF
The Dell S2721DGF has everything to offer you. Whether you need it as a home setup, office setup, or simply for the gaming setup, the sleek design of the monitor can rock your space as well. This monitor is ideal for gaming as it has almost every feature that a gaming monitor should have.  Apart from that, this monitor can also give you a better streaming experience with high pixel density and color accuracy. If you want an all-purpose monitor on quite an affordable budget, then this monitor can rock. 
From the detailed review of Dell S2721DGF, you will find this monitor every detail. Here similar items are also given that can give you major options to choose from. Hope you enjoyed the review. Just stay muted to get another monitor review also from us.