The 6 Best Monitor for Final Cut Pro X- When you think about Apple's video editing software there is no comparison with other software, Very smooth and you can edit your video very fast because the rendering of the video is fast compared with other software.
If you using a MacBook to edit your video then you realize that you need a bigger screen to edit your video, It's comfortable to view every element while editing the video.
There are lots of benefits to using an external monitor on your MacBook, and in this post, you can find the perfect monitor for Final Cut Pro X.
Choosing a perfect monitor is very difficult, and I am here to help to choose the right product that you will use for a long time,
I choose different types of Monitors that are compatible with macOS, The First is Ultrawide, If you want an ultrawide curved monitor for your MacBook then you can choose, a 4k monitor and a normal monitor,
so you can choose according to your requirements and within your budget.
The 6 Best Monitors for Final Cut Pro X
There are many options in the market in the market but I choose the perfect combination with your MacOS, and give you a better environment for the Final Cut Pro X,
These are the Top 6 monitors for Final Cut Pro X –
1. LG 34WN80C-B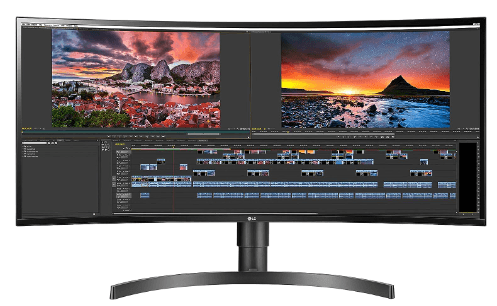 This is a 34-inch ultrawide monitor with a 21:9 screen ratio, a screen resolution is 3440*1440 Pixels. The display is supported by an sRGB 99% color gamut with HDR 10 capabilities. The monitor is perfect for editing and great for Mac devices and comes with a Type-C port so this is pretty nice. If you are looking for an ultrawide monitor then this is perfect for you.
2. LG 27UN850-W
This is the 27-inch LG 27UN850-W, The monitor is 4K (3840*2160), You can enjoy the 4K content on this monitor, and perfect for Editing 4K videos, with type-c connectivity. If you are looking for a 4K monitor for your MacBook then this is the right choice, The display quality is amazing with a borderless experience.
3. Dell U3818DW
This is The Dell U3818DW with an immersive 37 inches ultrawide curved display (3840*1600), A Bigger screen is very good for editing videos, and the monitor comes with Type-C connectivity so you can easily connect with your MacBook, This is the perfect choice if you are looking for the ultrawide setup.
4. Dell UltraSharp U2720Q
This is a great monitor for editing. The monitor comes with a 27-inch 4K UHD display with a 3840*2160 resolution. The design of this monitor is very simple and has thin bezels. Great for productivity and editing with Type-C connectivity. This is a compact monitor so this covers a small space in your setup.
5. Samsung S65UA
The Samsung A650 monitor with HDR 10 supports and comes with a 100Hz refresh rate screen, Display quality is amazing with 1 billion colors, making it finer with a bondless design, You can use the Type-C port to connect your Mac devices. This is perfect for video editing.
6. Samsung Business CH890
Another option from Samsung is a Great design with smooth performance that comes with a 100Hz refresh rate. This is the 34-inch WQHD (3440*1440) Ultrawide curved monitor with USB Type-C connectivity. A very slim design with a massive display makes it perfect for productivity and multitasking monitors and best for editing with this big screen and better refresh rate.
Conclusion
These are the top 6 monitors that you can choose by features and budget, I hope this post helps you to choose the right monitor. If you like this post then share this and don't forget to join the newsletters to get the latest post notification in your inbox.