DooGraphics Review – When it comes to design any banner, Infographics, YouTube thumbnail's, Visiting cards, Blog post banners any many more like this, you are going with Photoshop or another software.
But Photoshop is consuming lots of time to create a perfect design for your need, So there is a brand new software to help you to create amazing graphics with minimum time.
DooGraphic.com is a great tool to create amazing infographics within few minutes, and everyone loves this software.
If you are a professional designer, running a company, or managing small businesses, you need software that helps to create amazing graphics with including all your needs.
Every businesses are now online and promote their work, services, products to the audience, For taking your product or a service to targeted audience you need a perfect graphic to explain your product or services in the small infographics.
In this digital world, graphics are more important than the text formats because viewers are changing the way of consumption of any knowledge, any information online.
Infographics attract customers more than a text format advertisements, If you want to grow your business then you need a software that helps you to design a perfect graphics, and for this DooGraphics is best for you.
Why I am saying that DooGraphics.com is the best graphic designing tool, you have tons of options in the market but how this software totally different from others, and what benefits you can get with this amazing software.
Why DooGraphics Is The Perfect Online Graphic Designing Software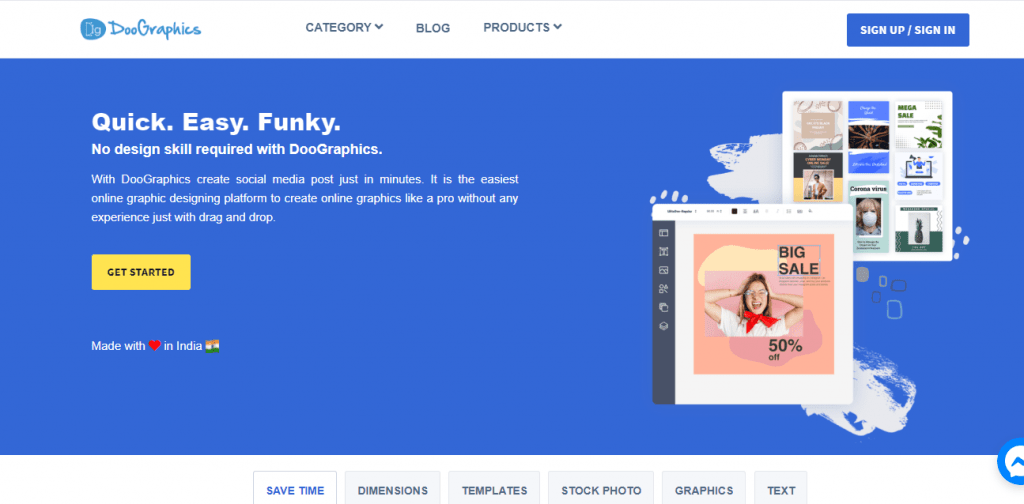 This software is brand new and made in India. The team behind this software is so inspiring, They are working hard without proper infrastructure.
This tool will be a rival of Canva and Snappa in the coming years. What do I love about this software? you don't need any extra technical knowledge to create graphics,
the tool is easy to use, the features on this tool are amazing compared to the available tools in the market.
There are many temples available for creating a quick design, You can design Facebook post, Facebook ads, Instagram Post, Flyers, Pinterest Design, YouTube thumbnail's and many more categories are available in this software.
You can choose custom dimensions according to your need, Cropping images, Remove background any image, Adding elements, Text, and you will get tons of font that offer in this software.
How To Create Amazing Graphics With DooGraphics
To create graphics you need to visit their official website – Doographics.com, and create account and select a templet and start designing, you can add text, fonts, background, layers and
great thing is that you can get stock images included in this software so you don't need to finding high resolution images from another platform.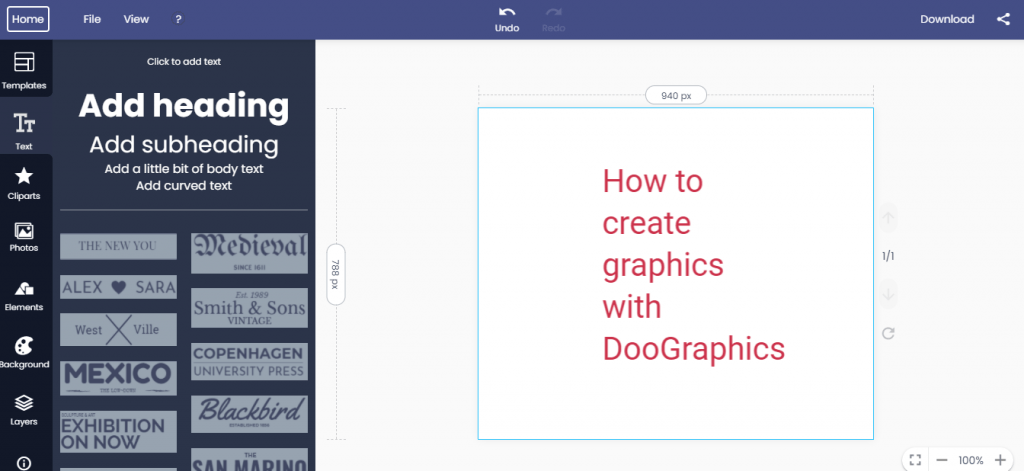 When your work is done you can download your design or you can directly share to other platforms like, Facebook, Instagram, Twitter, etc.
The tool is very powerful and completes the needs of a designer perfectly. I really like this software because if you compare this tool to Canva or Snappa then you can know about the differences.
Well, many improvements need like – Exports files from Google Drive, Dropbox, Facebook, Instagram because this is more convenient to get your images without going to the next window,
I hope this will improve in the coming days, but ya overall this software is amazing for designers for creating quick designs for their need.
Canva Vs DooGraphics Which Is Great
Well, We know that Canva is great tools with great features but DooGraphics is amazing when it comes to the pricing, Everyone can't get the full benefits of Canva because of the Pro plan,
and the pro plans of Canva are Higher than DooGraphicsm, Now DooGraphics offers free of cost design but coming days they are lunching a plan but at very low prices.
If you want to get the photos in Canva then you can get some images free but the quality images are pro, and the pro plans are a bit high, But if you compare the pricing then DooGraphics is the better choice.
Conclusion
If you are looking for any software that help you to create great graphics then the DooGraphics is only for you, Easy to use, powerful features without paying much. You can design everything in this software without taking so much time. So visit their website and start designing now, and if you have any queries regarding this tool then comment down below or you can directly contact me on social media handles.