How to create a Pinterest pin on Canva – Pinterest is the best place to engage your audience and get massive conversion rates on product sales and you can target your audience through Pinterest marketing.
For building a target audience on Pinterest you have to create beautiful infographics to increase the conversion rate through your pins.
Pinterest pins are a very high conversion rate this reason why Digital marketers recommended using Pinterest in your business.
Let's go the main point, how you can create beautiful pins for your profile, For creating pins, I recommended using Canva because this tool gives you more flexibility to create an engaging infographic,
You can get lots of templets to create blog banners, Posters, Presentation, Social media design, and much more, and this tool will help you to create catchy pins for your Pinterest profile.
How To Create Attractive Pinterest Pins On Canva
In Canva you will get two plans first is free and paid, In the free plan, you can get limited stock photos, Elements, you can't download custom sizes images from here, you can't resize your image and also you won't get transparent background features.
So these are top features not available on free plan, but if you are beginner then you can choose free plan but if you are running a business then paid plan is great for you.
If you still confusing about the price and comparison then you can read this post – Canva Pro Price and Review.
Firstly you need to create an account over there so you can create an account from here. after creating an account you can buy a plan or just choose the free plan and get ready to create your Pinterest pin.
Select Blank Or Choose A Template
After creating account, search for Pinterest pin, next step is to choose a template or you can choose blank template.
The default size is for the Pinterest pin is already set by default you need to just select a template for your pin category, like food, Yoga, Health, Tech, News, and another type of template or choose the blank template.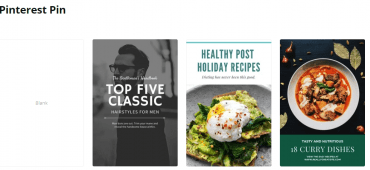 Design Pin According To Your Requirements
After selecting the template your next step is do choose your background for your images, you can use photos or add elements to the phot.
You can get all these options on the left sidebar so in the sidebar you will get all option to add Images, Elements, Background, Text, Videos, or you can use your own photos to your image.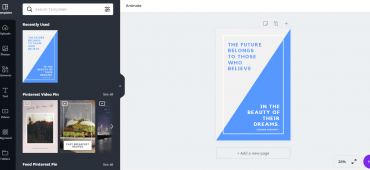 For uploading your photo you can see on the left sidebar upload icon, just click on that and select your file and upload them on the Canva dashboard.
Write a text on your image, you can select the colour of your text, resize the text by clicking on the text and you will get an option on the bottom to change the font of your text, color, space between letters, bold them you can add a list.
Add Your Own Sort Video To Get Maximum Engagement
If you are selling a product through your Pinterest pins then make sure to add some unboxing and real-life videos on your pins so this increases your chances to sell your product very fast.
Videos are a great way to boost your pins, or if you don't have video then create some GIF and add to your pins.
While creating your pins make sure that use an eye-friendly color otherwise user gets frustrated on your pins if you using a hard color or bold the text. This type of exercise not getting much conversion rate you have to think about your audience.
Add simple text on your pins don't use big headings and write too much text on your pins, make your pins clean and readable.
Optimize Your Pin
Optimise means all the text and background media and headings and if you add any buttom on your pin so arrange all these thing. Use a simple and eye friendly background image.
If you are using GIF then make sure The GIF background is clean and viewable so the user can easily understand what is your product or service is about.
Must Read: How To Increase Pinterest Followers In Just 5 Days
You can solve any problem in our everyday life so users can be imaging the thing and get easily satisfied with your pin and chances to click on your pin
Conclusion:
Now people are coming to Pinterest and explore the platform, and this the chance for you to get traffic from Pinterest. In Pinterest, you have to create user-friendly pins to get maximize your engagement on your Pins so in this we discussed how you can create beautiful pins by using Canva.