We know that social media has many bad sides and bad impacts on our lives, In this post we are talking about the positives of social media platforms and this is a very important thing to see the positive side of social media.
Every day in our life social media is now part of our lifestyle, if you are a Digital influencer you know all these things very well, and also know the trolling on social media handles.
When you open Facebook, Twitter, Instagram, and now the trending app TikTok, you can see many good posts and many bad-type posts on your dashboard, but the bad things most of the time impact your mind.
What is the positive effect on our lives with the help of social media? If you really want to know the positive effects of social media then you can see all big brands and companies, they are growing because of social media platforms.
Positives Of Social Media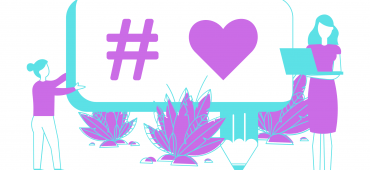 If any new company comes up and wants to share its product or services, what do you think about how it can sell its services or product? Now offline marketing is a little bit difficult to tackle any competitors from these types of marketing.
In this case, social media is the best solution for marketing any type of service or product.
If you think that the old marketing strategy can grow a new brand or company so I think this is not the right solution,
you have to think as a new generation and there are social media can help to grow any type of small brand, company, or even a small services
because social media connects every part of the world, you have just to target your audience and social media platforms will help you to grow your brand very easily.
Many positive effects of social media like this, below you can know more positive effects of social media platforms.
Connect With New People
This is the main focus of every social media platform, you can connect with new people and share your thoughts together. Why you are not trying to meet a new person and share and give some knowledge to a new person?
Must Read: How To Be Safe From Online Dating Scams
For your business or any other thing, you can get help from a specialist. Social media is not just to explore the world you can grow your life with the help of these platforms, think about it.
Increase your chances of making new friends on social media with an eye-catching avatar. A cool avatar maker app helps ensure that your social media profile stands out from the rest. With the best avatar maker app, you can design the coolest avatars that would attract and engage every person you connect with on any social media platform.
Express Your Problem
What do you think about Twitter? I think Twitter is the best platform to express your problem to the world.
If you purchase a product online and found a defective product then you can directly share your problem with the eCommerce company,
This is the fastest way to express your problem. This is an example that how you can connect with big authorities on Twitter.
If you have any passion so you can share your passion with the world, and you can be popular with just a single click with the help of social media platforms.
You can build a brand with your passion and build a company with your single passion and earn money from this. so this is the benefit of social media platforms to grow yourself.
Learn New Things
Social media is the best way to learn new things, like how-to guides you can find on YouTube. You can find useful how-to guides on Pinterest.
There are many platforms available that give you to learn new things and also share new things with your audience.
Making Money From These Platforms
If you are a social media addict, so don't worry about the addiction, make your addiction a good earning source.
If you are addicted to uploading photos and pictures on Instagram then accept sponsorships from various brands and promote them to your Instagram handle.
You have to build an audience and then promote a brand or product through your photos or videos and make money.
Promote Your Own Work
If you want to promote your business or any type of part-time creativity so you can do this and get massive sales. If you are a freelancer and want to promote your work on social media, then this is a very good idea to get a new project.
So these are the Positives of social media, Social media has many positive effects on our lives, and I can't explain all those things in a single blog post so connect with me on my social media handles below to get more information and tips to grow your business with me.
Conclusion:
In this post we have discussed the positive impact of social media platforms, I hope I answered all of your queries if not, or make some changes in this post then you can comment below to get in touch with me. Use social media as a good way and grow your personal life with these great platforms.