LG 27GR83Q-B Review – What is the most important thing about a gaming monitor? the answer is performance and other useful specs like the adjustability of the stand, and connectivity. For gamers higher refresh rate monitor is a top priority as it produces faster graphics without any frame drop, so the LG 27GR83Q-B is one of the best choices for a higher refresh rate segment.
In this post, I will share the in-depth details of the LG 27GR83Q-B and also share some other alternatives that you can check as there are many options in the market and you have to know whether this monitor justifies the price tag or any other monitor available with better specs and good price tag so all thing will be cleared in this post.
Talking about the specs of the LG 27GR83Q-B, It has a 27 inches flat QHD IPS panel with a peak 240Hz refresh rate and G-Sync compatibility, also this monitor has Display HDR 400 for a more enhanced HDR experience, adjustable stand, and HDMI 2.1. It has some downsides like there are no swivel adjustments so you can only use the height, tilt, and pivot adjustments.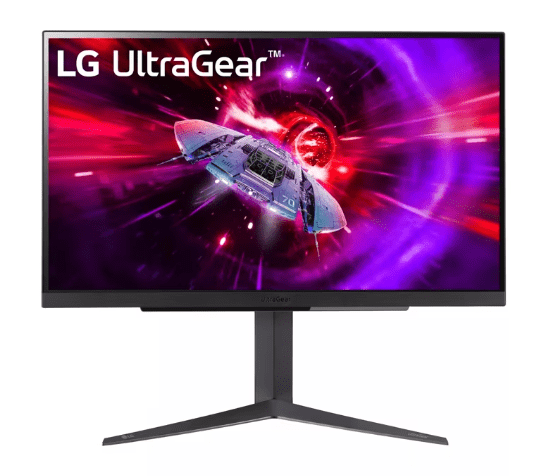 CHECK THE LATEST PRICE ON AMAZON
Also, the color accuracy is not impressive at all, which means color reproduction is not good in this monitor as this comes with a $399 price tag you can expect this, so let's deep dive into the details of this monitor.
What about the Build quality and design of LG 27GR83Q-B
The build quality of the LG 27GR83Q-B is solid with the familiar LG UltraGear design, the body is made from strong plastic and the V-shaped stand looks good with slightly taking space on the desk but you can keep accessories and extra stuff on the side of the monitor because there is some much space on both sides so there are no issues.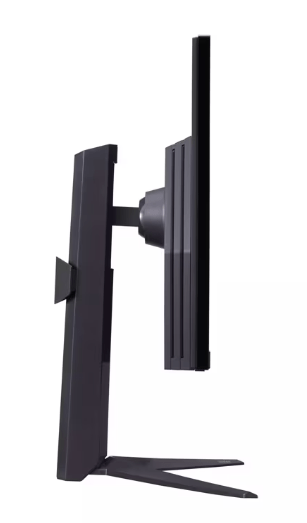 The monitor is disappointing in swivel adjustability, however, there are no issues with adjustability because there are height, pivot, and tilt adjustments available but if you are frequently using the swivel adjustments then definitely you will miss as many other LG models already have this within the same budget, so LG should add swivel adjustability because it's not an ultrawide or big screen monitor, that's the negative thing about this monitor.
The weight of this monitor is 6.2 kg with the stand, which is heavy I would say as it is 27 inches monitor, without a stand the weight is 4.3 kg. The dimensions are 24.2″x 22.7″ x 10.0″ (Up) 24.2″ x 18.4″ x10.0″(Down) with the stand.
Image Quality of the monitor
The LG 27GR83Q-B offers a 27 inches flat IPS panel with a resolution of 2560 x 1440 pixels, 95% DCI-P3 colors, and VESA DisplayHDR 400 that provides a better dynamic range but lacks the color accuracy as it has decent color accuracy that is disappointing otherwise there is no big issues on image quality. The HDR peak brightness is not as impressive as other HDR 400 monitors. Overall the image quality is good but impressive and you can see the quality difference in the dark background.
The graphics are smooth and responsive due to its adaptive sync and 240Hz refresh rate. For gaming monitors the image quality is always average except for some monitors that provide excellent image quality and do not compromise the image quality.
Performance of the LG 27GR83Q-B monitor
Talking about the performance of the monitor, the 240Hz refresh rate and FreeSync premium/G-Sync give a shutter gameplay experience with minimal lag and a faster response rate the visuals feel very smooth and responsive. This is a gaming monitor so the specs are top-notch and the results are also very good. There is little disappointment in HDR gaming as the colors are not that super vibrant so it lacks that accuracy, also the HDR peak brightness is okay, and you can see these small differences in dark scenes.
You can play heavy games on high settings without any big issues you will enjoy the smooth gameplay and there is no screen tearing, flickering, or blurry visuals, the FreeSync/G-Sync and 240Hz combination provides super smooth graphics with faster response time.
Connectivity options
Connectivity There are so many options including the Display Port, HDMI, USB upstream, and downstream, and audio jack. The monitor supports HDMI 2.1 so you can use this monitor for PS5 and Xbox for a better experience.
Pros
240Hz refresh rate, Adaptive Sync, DisplayHDR 400, HDMI 2.1, and adjustable stand.
Cons
No Swivel, Decent color accuracy, weak HDR peak brightness.
Price Trends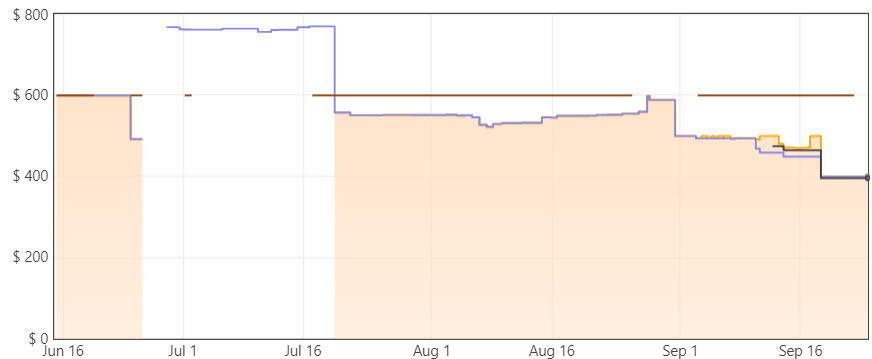 The LG 27GR83Q-B is now the lowest price at Amazon, also available at Bestbuy and B&H Store
Comparison
These are the main competitors of the LG 27GR83Q-B Monitor –
The Acer XV272U W2bmiiprx is better than the LG 27GR83Q-B, It has a fully adjustable stand and much faster response time, the only downside is the HDMI 2.0 otherwise there is no negative thing in this monitor. The best thing about this monitor is the price tag is less than the LG 27GR83Q-B, and it makes it overall a good deal.
This is another great option from MSI, It has a 27-inch QHD display with a 240Hz refresh rate with G-Sync, DisplayHDR 400. The stand is adjustable so you can adjust the height of the monitor to your favorite angle also you use a USB Type C port for faster data transfer which is a plus point in this monitor and the price tag is very good.
If you have a tight budget and are okay with a 1080p resolution panel then this is a very good option, besides resolution, it has a 32-inch 1500R curved display, and many gamers like a curved display rather than a flat display. The 240Hz brings super fast performance and great image quality with 123% sRGB coverage and the most important thing the price tag is very low so it's a great deal for a 240Hz 32-inch monitor with a 123% sRGB rate.
Final words
The LG 27GR83Q-B is an inch 240Hz monitor with a great gaming experience but there are many options available with better specs and better value and you should check those monitor like the MSI G274QPX and Acer XV272U W2bmiiprx which offers great specs at very good price tag. I hope this post helps you to choose the right monitor you are looking for, Bookmark this site to get similar articles.