Sceptre E275W-19203R Review – If you are looking for a budget monitor with good image quality then you are in the right place, in this post, I am sharing the details of the Sceptre E275W-19203R the budget 27-inch monitor. Sceptre is a very good monitor brand with many options from budget to high-end monitors for work and gaming with a very attractive price tag, so is Sceptre E275W-19203R good for you? let's answer this.
For normal tasks and work the Sceptre E275W-19203R is a good choice this is not a gaming monitor so I will not recommend it to gamers, if you are a working professional or just want a decent budget monitor then it's a great choice.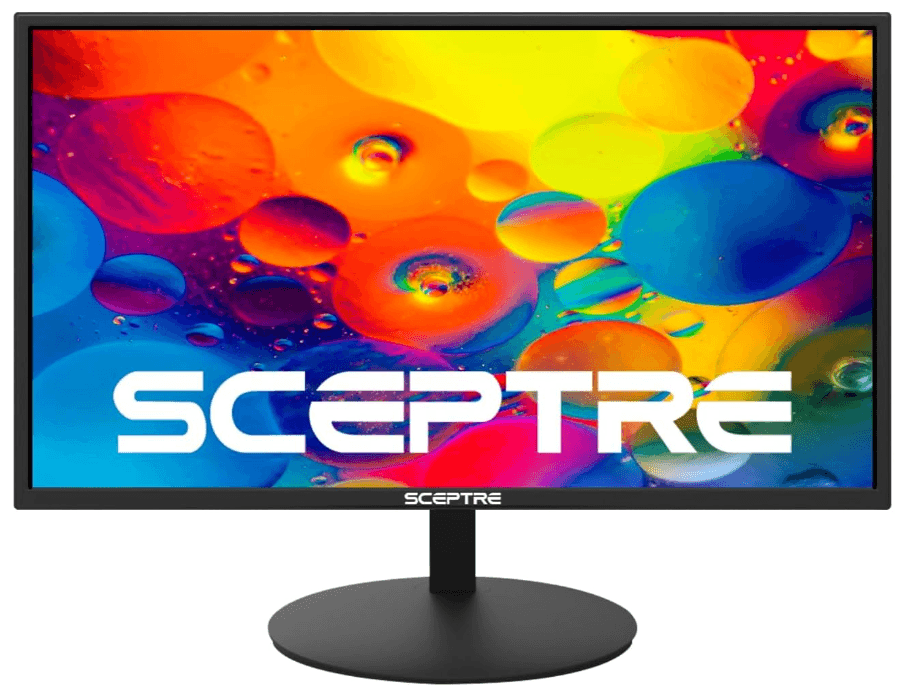 The Sceptre E275W-19203R offers an 27 inches 1080p VA display with poor viewing angles and low contrast/brightness balance, it has 94% sRGB coverage, a 75Hz refresh rate that is enough for work and normal tasks, a VESA mount, and a tilt-adjustable stand that is a little disappointing because adjustability is a crucial feature for work and it doesn't support height adjustment, pivot or swivel.
Build and Design
The body of the Sceptre E275W-19203R is made from plastic including the circular stand, the frame is not that attractive it's normal old fashion and the stand is very small and doesn't take too much space on your desk so it's good thing and it means you can keep extra accessories and other stuff below the monitor without any space consumption issues.
One more thing I like about this monitor is the compact design with a lightweight body that's really good for carrying it from one desk to another desk without the feeling of heaviness, it supports VESA mount so can attach a stand or wall mount but the stand is really bad iw ould say for working monitor height adjustability is one of the important features and this monitor lacks also it doesn't have swivel and pivot adjustments only supports tilt adjustment with a limited degree.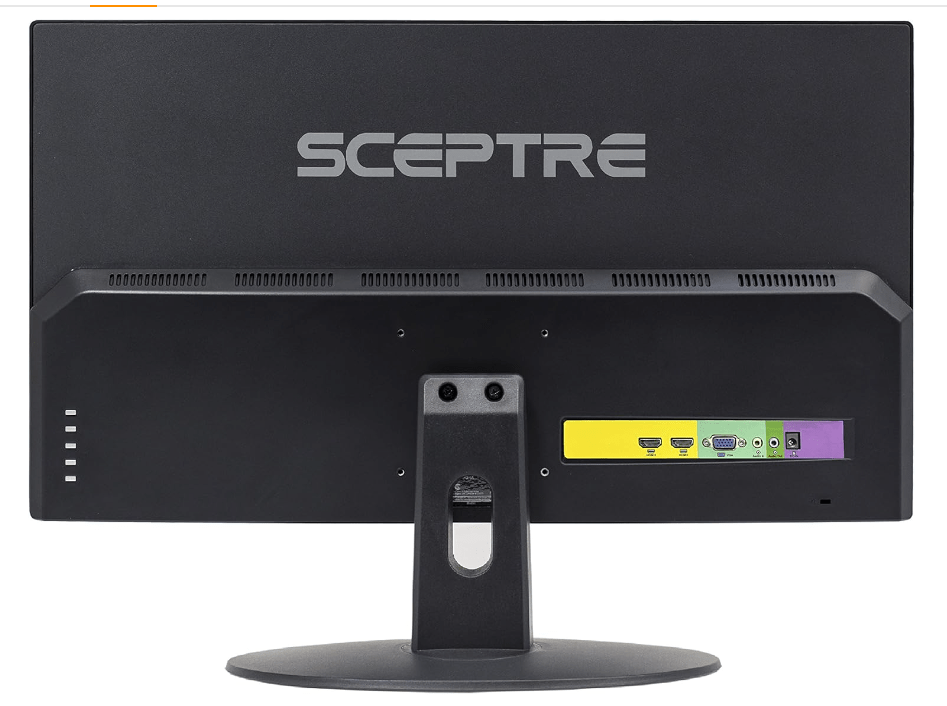 The overall build quality is okay and the design-wise there is no new thing just old fashioned but it's ok for normal uses and at this $109 price tag. The weight of this monitor is 3.95 kg the stand is very lightweight and the dimensions are 24.51″ x 17.46″ x 8.06″ with the stand.
Image Quality
Talking about the image quality of the Sceptre E275W-19203R, the 27-inch flat VA panel with a resolution of 1920 x 1080 Pixels that supports 94% sRGB coverage and overall image quality is okay not so good at this price tag. The horizontal and vertical viewing angles are weak and the brightness/ contrast are not optimized it does not mean that you will see very bad playback it's minor but you can see in a dark room.
I think from a budget price tag it is okay but there are many other options available at this price tag with better image quality and adjustibility so if you want to know those monitors go to the comparison table to get all the details.
Performance
The Sceptre E275W-19203R supports a 75Hz refresh rate and there is no FreeSync/G-Sync, it's not for gamers at all. The frames are not that fast due to a decent refresh rate and no FreeSync/G-Sync, This can handle normal tas and work. The refresh rate is slightly good for working monitors at this price tag otherwise many come with a 60Hz refresh rate which is very low. I think it's OK for daily tasks and office work there are no issues with work but not for gaming. This is good for data entry, entertainment, CCTV cameras, for office work, you can edit videos on this monitor but there is no professional-grade color accuracy.
Connectivity
For connectivity, there are HDMI, VGA, and audio jack. sadly there is no USB and Displayport.
Pros
Compact and lightweight, 75Hz refresh rate.
Cons
Connectivity, No fully adjustable, weak viewing angles with decent image quality.
Price Trends
CHECK PRICE ON SCEPTRE STORE AND NEWEGG.COM
Comparison
These are the main competitors of the Sceptre E275W-19203R –
It offers an 27 inches full HD IPS display with 100Hz refresh rate and FreeSync support, It has a faster response time than the Sceptre E275W-19203R and is overall better in all specs, it has better display quality with better gaming capabilities at a very low price tag so it is the best option you can take. You can play games on this monitor without any issues.
If you are looking for high-end color accuracy with FreeSync support then this is the best option, It has 27 inches display with a 75Hz refresh rate, FreeSync, and 124% sRGB coverage for amazing color outputs, you can play lightweight games on this monitor but the image quality is top notch. The price tag is also very good and overall better than the Sceptre model.
The AOC 27B2H  is another great choice and better than the Sceptre model, It has 27 inches display with a 75Hz refresh rate, and 103% sRGB for great color accuracy, the price tag is the same as the Sceptre model but it has better image quality and overall a better option, so you can check this if you want better image quality at the same price range.
Final Words
The Sceptre E275W-19203R comes with a very attractive price tag with a 75Hz refresh rate and decent image quality but there are some other options available at the same price range, If you are looking for a better image quality monitor then you can go for the Philips model otherwise the Acer model is the best for you as you can play games at high settings and gives you super-fast response rate without any screen tearing or flickering. So I will recommend the Acer model for gaming and Philips for image quality you can choose according to your requirements and budget. I hope this post helps you to choose the right monitor for your needs.