The MSI Gaming GS63 Laptop review – Are you guys in search of a thin, powerful gaming laptop for a long time? MSI gs63 gaming laptop is the best choice you can go for it. MSI is the most trusted name in gaming and eSports and this brand is a reputable brand with a lot going for it in its lineup of gaming laptops.
If you're a gamer who's in it for a good time, you're sure to love all the bits and pieces that are sure to enhance the gaming experience. The build and design are very very durable and tough as it is made out of magnesium-lithium alloy. This is the new technique MSI has used to ensure that your laptop looks beautiful and long-lasting as well.
There is signature a backlight or backlit logo at the front. That MSI dragon logo attracts gamers and to look more beautiful. So, overall it's a very good gaming laptop. This Laptop is well known for its gaming and productivity. you can purchase it for enhancing your gaming skills and for long durability.
Keep reading the article to know more about the MSI gaming gs63 Laptop.
Features
Model-GS63
CPU- Intel Core i7-7700 HQ 76.
GPU- NVIDIA GeForce GTX 1950 (2 GB GDDR5) 108.
Display- 15.60 inch
Full HD (1920×1080), IPS
HDD/SSD- 1TBSSD+ 1TB HDD ,7200rpm
M.2 slot- M.2 SSD slot.
RAM – 16 GB DDR4, 2400 MHz
Battery- 65 wh, 3- cell
Weight- 1.86 kg (4 Lbs)
Operating system- windows 10
Hard disk- No
Audio- Dual 2 W speakers
Camera- front-facing 720p
Touchpad- Precision
Read: The Ultimate Gaming Monitor For PS5
Overview
MSI gaming gs63 Laptop has a more impressive design than other laptops. it is specially designed. this gaming laptop is a 15.6 inches screen that has a high-resolution rate.
On the right side of the laptop, there is a USB to thunderbolt, an HDMI port, a Mini Display Port, and a charging port.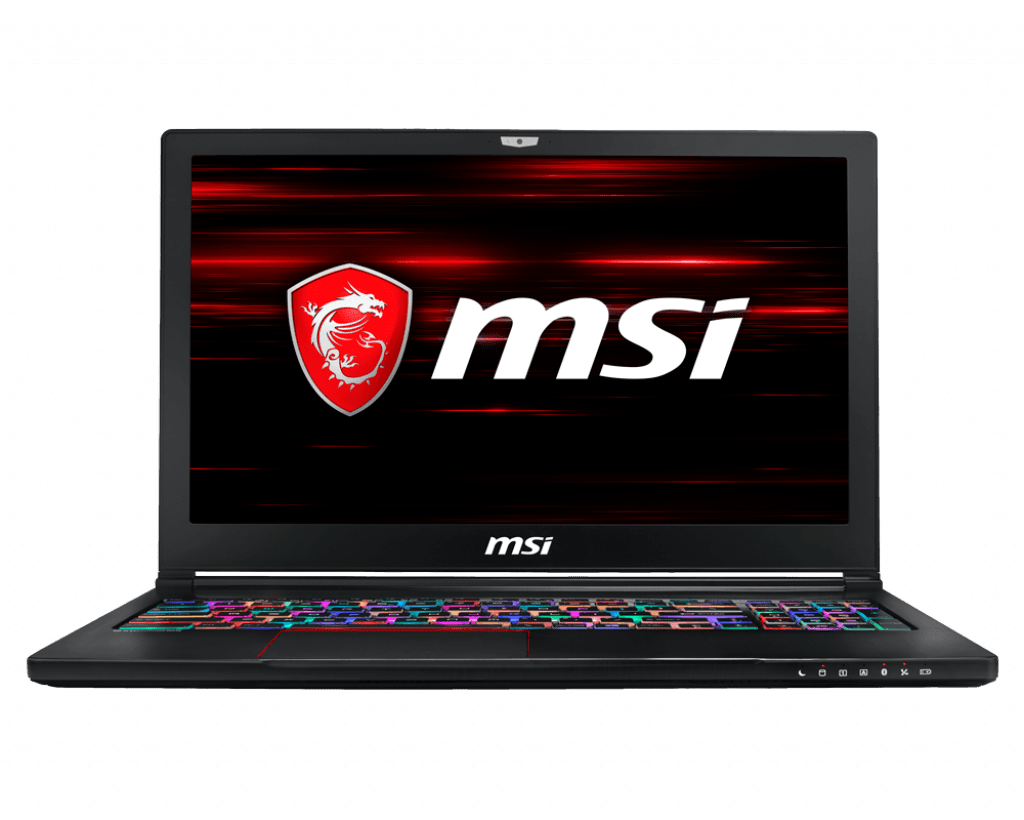 There are exhaust vents that are also available for hot air to come out. At the same time, a power button is also available. There is a logo of MSI dragon in front of the laptop which makes it more attractive and beautiful in look.
This gaming laptop is thin, slim, and light in weight as compared to other gaming laptops. The weight of this amazing slim gaming laptop is 1.86 kg. This laptop is 21.7 mm thick which makes it look more attractive. Two 2 W speakers on the bottom of the laptop near the edges. Brightness is also excellent, gamers will enjoy will gaming.
Build and Design
Let's come forward at the back we don't have much but a beautiful red and black design with stealth branding and a few more vents as well. Now, this clearly signifies that this is a very very serious gaming laptop.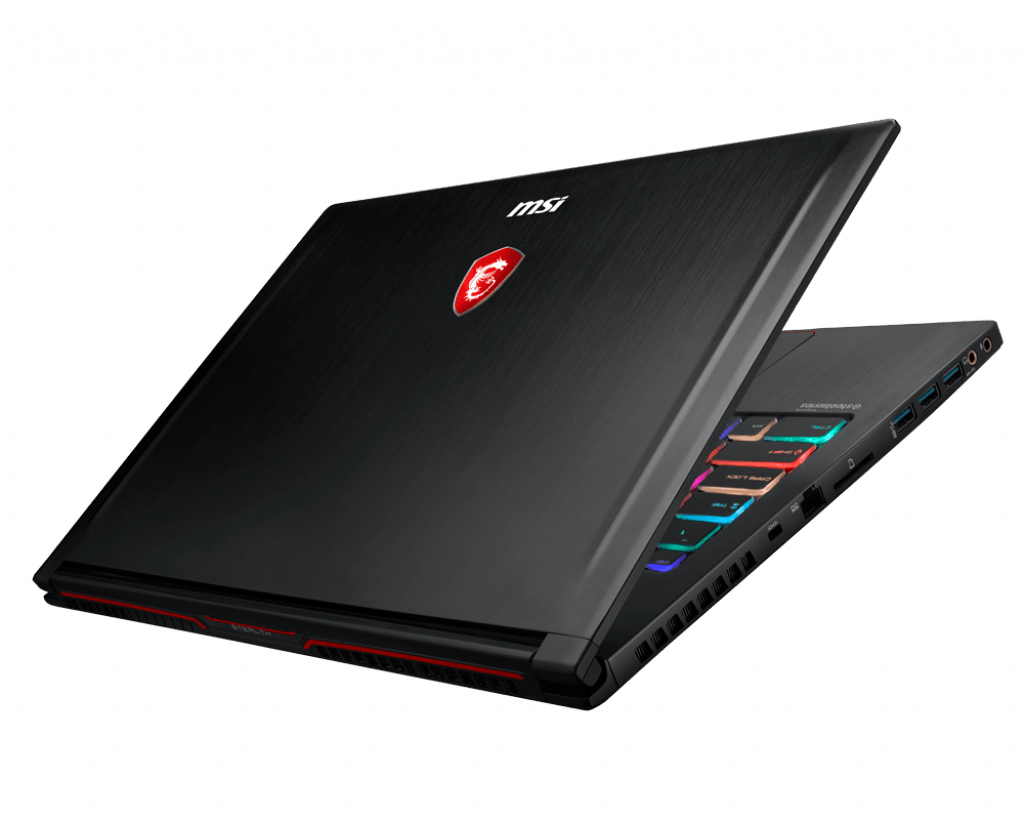 If we move towards the left we have a lot of busy i/o going on we have a DAC with two 3.5 mm porks, USB 3.0 ports, an SD card reader, and a Gigabit LAN. MSI believes in giving complete connectivity when it comes to gaming needs. Awesome display, with very thin bezels with good resolutions.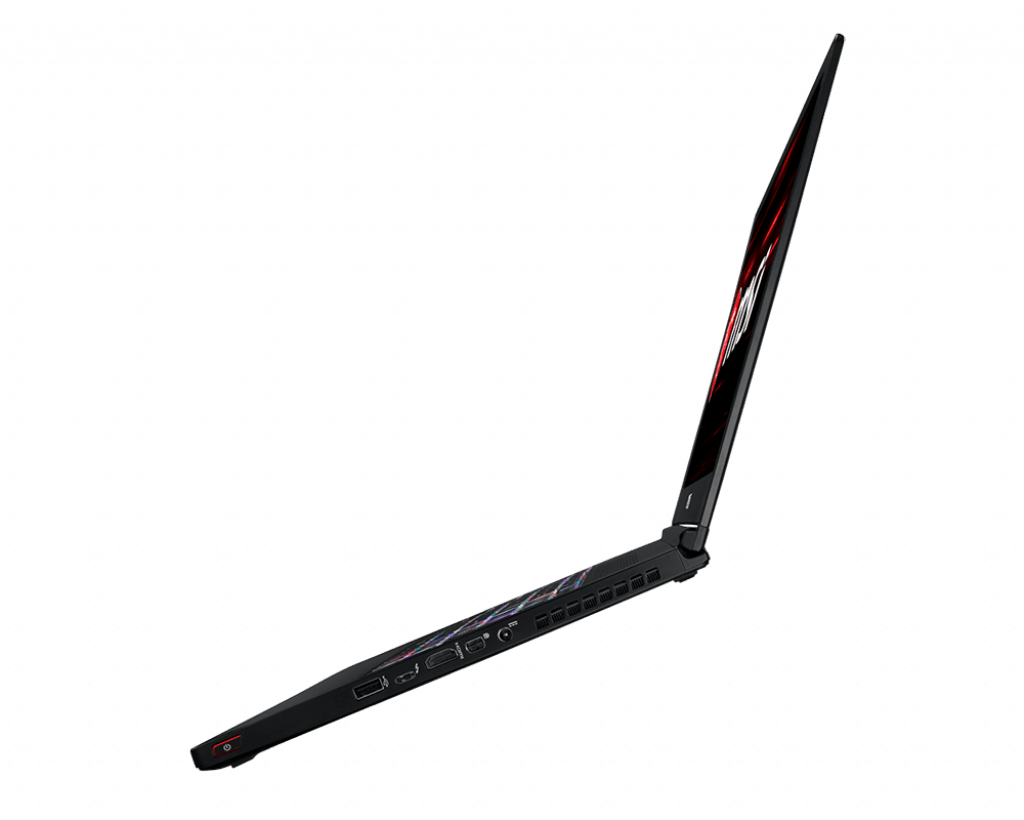 If we take about the keyboard, there is a steel series keyboard, we have a dedicated number pad and at the same time, we have RGB means we can play in dark without missing out on decisive moments when we are gaming. Silver lining keyboard with a steel series. That means the keys are tactile And a single-color backlight keyboard with red color backlight.
It is a 15.6 inches laptop, still, it doesn't have a full-sized keyboard. The buttons are bigger and of which the typing experience becomes amazing. The trackpad is slightly small but most gamers use a mouse with a laptop while gaming. There is RGB mode at the same time the tactile feedback is very very satisfying. There are 2 pretty loudspeakers and they work well. The sound quality is pretty good but it could have been better.
Read: External Monitor For MacBook Pro – 5 Picks
Specifications
Let's talk about specifications because that's what matters on a gaming laptop now.
It comes with a Core i7 processor 7700 HQ to be precise with a cooler boost Trinity mechanism. when there is a need the fans will start going faster which will mean more efficiency. The pixel density of this laptop is also high. This Laptop also has an amazing viewing angle and gaming angle in which gaming enjoy while playing. Now coming to storage it supports MDOT to slot at the same time we can connect a SATA drive.
65 watts of battery is what this laptop carries we can easily gain 4.5 or 5 hours of battery backup. if we go for a maximum backup of 7 hours depending on usage..this laptop comes with dynamic version 2.0 which gives an extremely good audio experience. The display is covered in an anti-glare coating so you don't have to look at yourself when the game is loading. MSIs have tools for freeing storage and memory A free bloatware is present which Can be uninstalled and cleaned up in a few minutes.
Performance
We can use a game capture for better output. After using game capture we will get around 60-70 FPS and the gaming will be very smooth. And there is a single PC stream, we can see the stream on phone. If we talk about games like GTA V.we will get 70-80 FPS off-stream we can play valiantly, this depends on the server still it gets 130-140 FPS. As soon as the CPU temperature reaches 70-75. The clock speed decreases. this is a thin gaming laptop and it has a single fan module.
so, they have locked its temperature. But there is no issue with performance. The gaming will be very smooth. Overall performance is good and optimized. There is a 3050 graphics card with 4 GB RAM and that too with 40W TGP but the performance is one-sided.
If you are somewhat more than a casual gamer, This laptop can be a good choice for you. This is no touch display nor does the screen lay completely flat. Performance is amazing as expected, and for gaming, it includes some 2D titles and Microsoft's latest Crackdown 3, which runs flawlessly.
The laptop is famous for its beautiful outlook and durability. There are pros as well as cons to buying this laptop. Buying this amazing laptop is the best decision for gaming purposes. It is the best laptop at an affordable price for gamers.
Productivity is at its best because MSI is a brand that brings the best to the public. This is high performance and thin laptop at the same time. So, college and school students are attracted the most to it. This laptop is good for college work also, you can do anything as the processor is powerful. There are pros as well as cons to buying this laptop.
If we talk about heating issues. There are no worries about it. As for build quality, they never have had any heating issues. They are probably cooled like other gaming laptops. It is the best laptop in this price segment for gaming. This gaming laptop gets pretty good ratings and reviews. So, its features satisfy after reading it you can buy it at an affordable price.
Pros
The MSI gs63 gaming laptop has a very beautiful outlook.
There is a dragon logo of MSI that attracts people.
This laptop enhances the performance of gamers.
This laptop has a high-resolution rate.
The build quality of the laptop is unique.
This laptop has an excellent full HD display.
it has the perfect GPU and CPU combo
Cons
This laptop battery lasts for 4 hours. might issue with battery life but as we know gaming laptops are not known for their battery.
speakers could have been better. the sound will be a little unclear when you're in a noisy area.
A "2k" may have been better.
Read: The 5 Best Monitor For Xbox Series X
Price Trends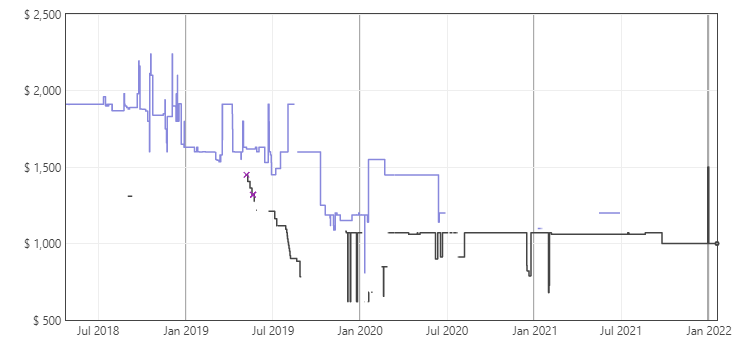 Comparison
Let's compare the MSI GS63 gaming laptop with the other laptops and differentiate their features from their alternatives.
GS63 Laptop vs Acer Nitro 5(2021)-
Acer Nitro 5 is good for gaming purposes like an ms63 gaming laptop. The Os of ms63 is windows 10 and Acer Nitro 5 is Windows 10 home. Ms63 has 1.86 kg while Acer Nitro 5 has 2.30 kg which means ms63 is easily carried by college and school students also, Both are designed for gamers. Both gaming laptops have smooth touchpads. Acer Nitro 5 is expensive but both are good choices for gaming purposes.
GS63 laptop vs Dell Inspiron 14(5410)-
Dell Inspiron is a line of consumer-oriented laptops manufactured and sold by Dell. Both Dell Inspiron and Ms63 are affordable. The display size of the Dell Inspiron is smaller than the ms63 gaming laptop. The display resolution is the same for both laptops. SSD of GS63 is 256 GB and Dell Inspiron has 128 Gb. Dell Inspiron is easily carried as compared to now the choice is yours.
Thought on MSI GS63 Gaming laptop
After reading the reviews, it is clear that the MSI GS63 gaming laptop is the best choice for gamers. This gaming laptop carries better features that are efficient for gamers. you are recommended to buy this gaming laptop if you have a good time gaming and want to enhance your gaming. it's designed to match the pace of excellent gamers.
The article also describes the alternative to this gaming laptop, so if you're not satisfied with the features of the GS63 laptop you can buy another.