Acer Swift 3 SF315-41G-R6MP Review – Every laptop is designed for the fulfillment of the needs of targeted customers. Your dream laptop depends upon your recruitment from it. We have provided a detailed review of Acer Swift 3 SF315-41G-R6MP. It contains a detailed analysis of every aspect you should know before purchasing it. For more details, continue reading below.
Key specification
Screen size: 15.6 inches / 39.62 cm.
Weight: 2.19kg
Dimension: 14.56 X 10.04 X 0.74 inches
Processor: AMD Ryzen 7 Quad Core 2700U
Ram/ Storage: 8 GB DDR4 Ram/ 256GB SSD
Operating system: Windows 10 Home (Upgradable to Windows 11)
Battery life: 5 hours
Display technology: LCD
CPU speed: 3.8 GHz
Acer Swift 3 SF315-41G-R6MP is an excellent laptop enriched with various amazing specifications. It has a durable and compact body. Moreover, it also has a great battery backup. This device has various amazing features like an HD webcam, fast processor, long battery life, amazing display quality, high-quality stereo speakers, and many more. For further details read the full review below.
Acer Swift 3 SF315-41G-R6MP laptop supports high-end gaming. However, due to the limited screen size, your gaming experience would be limited. To enhance your experience you can consider a budget gaming monitor and connect it to the Acer Swift 3.
Also Read: MSI Gaming GS63 Stealth 8RE Laptop Review
Overview
Acer Swift 3 SF315-41G-R6MP comes with the brand name Acer. It belongs to the Acer series known as the Acer Swift series. Acer Swift 3 has an LED backlight display with 15.6 inches of full HD IPS widescreen. Moreover, this device has a sturdy and durable body weighing 2.19 kg.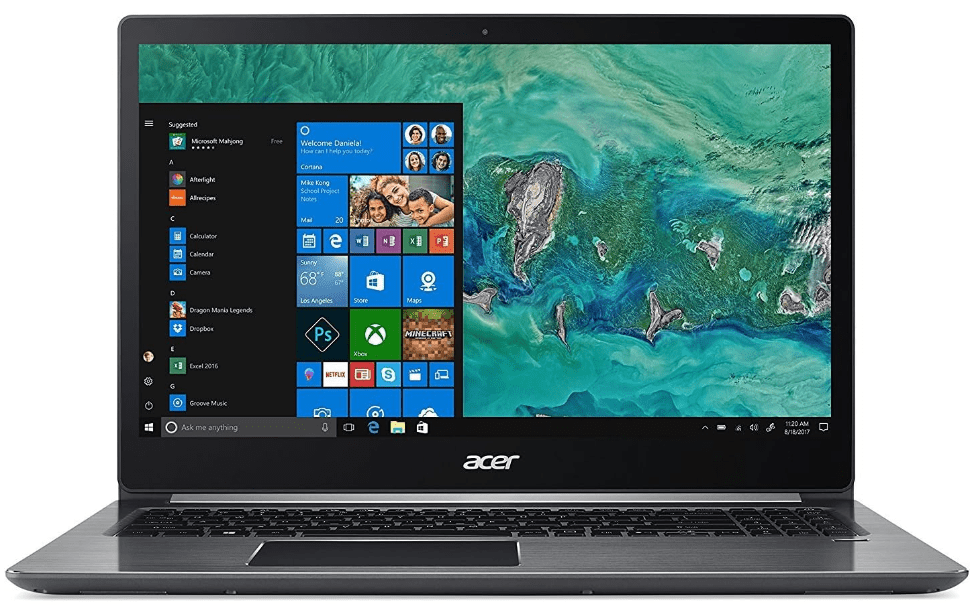 It is very well-designed and comes with various security features like a fingerprint scanner and a screen password. These features make it secure.
You will get an SSD storage of 256 GB in it. Apart from this, it is filled with a RAM of 8 GB. This feature ensures a smooth and powerful experience. It has great sound quality due to its dual stereo speakers.
It is one of the best laptops for video conferencing due to its HD webcam and great sound system. Apart from this, it is capable of recording video at 720p resolution. The processor of this notebook is very powerful as it has AMD Ryzen 7 Quad-core 2700u.
Along with this, it carries an AMD Radeon RX 540 graphical processor and 2GB of graphic memory. All such features make its performance top-notch.
You will get a smooth standard notebook keyboard in it. This device operates with an operating system of 64-bit on Windows 10 Home Basic. It is a slim laptop weighing 2.19kg.
The laptop comes with an amazing battery life of nine hours, It gets its power supply from a 65W AC Adaptor. You will get ports in it for an SD card reader, USB 30 and 20 slots, and jacks for headphones and a microphone.
Built and Design
In the last couple of years, Acer has become one of the best-emerging companies in the world. It stepped up with an amazing Swift 3's laptop. The exterior of this Acer Swift 3 SF 135-41G-R6MP laptop made by Acer is aluminum coated With an excellent brush finish.
There is no comparison between this laptop and any other laptop in this range as it comes with an excellent look. It also has a cool-to-the-touch metal feel Which makes it feel luxurious.
This laptop comes with a 15.6-inch display which is not expected in this price range. The ratio of the screen to display is very which enhances the looks of the laptop. If we look at the keyboard we will see that in this model the company has offered a number pad squeezed on the right. In this laptop, the power key is a part of the keyboard.
On this laptop, Acer has introduced a backlight system which is great to see but it is not tired of Trackpad. The trackpad is huge and has an excellent smooth finish. The thickness of this laptop is 0.75 inches which is perfect concerning the price. Overall Acer Swift 3 SF315 Is a well-designed laptop with all the new technology and design.
Read: The Best Ethernet Cable for long-distance | 300 ft, 200 ft,100 ft
Image Quality
The picture quality offered by Acer Swift 3 SF315 Comes with a resolution of 1080*1920. The display of this Acer Swift 3 notebook has Corning Gorilla Glass protection. Moreover, the picture quality is much better than any other laptop in this price range. Anyone can easily run this laptop at 100% scaling.
This laptop does not have any high-resolution issues like any other laptop. The brightness of this laptop is a little less than other laptops which makes it a little challenging to use this outdoors.
The saturation level is also good in this laptop. Acer Swift 3 laptop comes with a great RGB balance which increases the image quality of the laptop.
Read: The 8 Best 144Hz Monitors for Gaming
Performance
The Acer Swift 3 laptop comes with a 15.6-inch display And has great processing power to run all the Multimedia on the laptop. It comes with dedicated graphics Which facilitates excellent gaming. Acer Swift 3 notebook is powered by Ryzen 5 2500U APU.
The CPU of this laptop consists of four core processors with a 2GHz base lock. While using the laptop, you will see that the system runs very smoothly. The laptop has more than enough power to run.
Connectivity
It has USB Type A and C Ports, HDMI, and an audio jack.
Pros
Stylish and compact design
Have All-aluminium layer
Good IPS display
Strong low-volt chip
Excellent cooling effect
High-quality fingerprint reader
Cons
RJ45 port missing
Mediocre battery life
PWM is present
Price Trends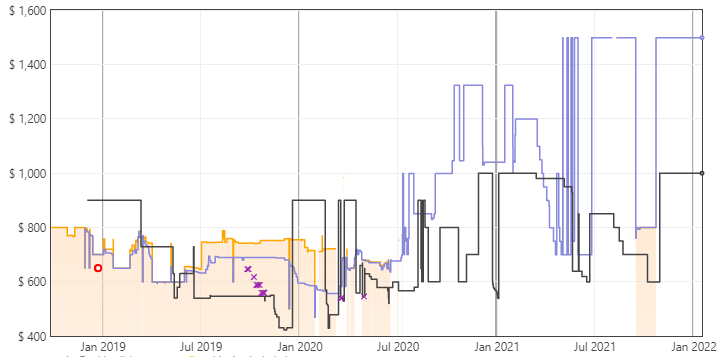 Comparison
Here are some other alternatives for the Acer Swift 3 sf315-41g-r6mp laptop. These are the top alternatives to Acer Swift 3 laptops available in the market. we have discussed this comparison based on a few factors. The comparison is given below.
Both of these laptops come with various dissimilarities. Acer Aspires 5 comes with 4 GB of RAM whereas Acer Swift 3 comes with 4 GB of RAM. This difference in RAM impacts the smooth running of the laptop. Apart from this, Aspire 5 runs with a comparatively weak CPU speed of 3.5 GHz whereas Swift 5 is loaded with a powerful CPU speed of 3.8 GHz.
Both laptops vary in display technology too. In Acer Aspire the display is made up of LED technology, whereas in Swift 5 LCD technology is used. In simple terms, LCD is considered better than LED. This provides Swift 3 an upper hand in display technology. The Swift 3 comes with a hard disk space of 256 GB whereas the Aspire 5 has only 128 GB of hard dish storage.
However, Aspire 5 is more lightweight than Swift 3. It has a body weight of 3.97 lbs whereas Swift 3 has 4.63 lbs. A lightweight laptop is preferable as it is easy to carry.
These two laptops are considered among of top laptops in their price range. However, there is various dissimilarity between the two of them. On one side Acer comes with an AMD Ryzen processor whereas LG is loaded with Intel i5. Both of them contains different graphics
card. The screen size of Acer is 15.6 inches which is bigger as compared to LG's 14-inch screen size. The laptop from LG is very lightweight as compared to Acer Swift 3. Acer comes with a body weight of 4.63 lbs whereas LG Gram 14 has only 2.2 lbs weight. This shows that a laptop from LG is easy to carry.
Read: Dell P2422H Review – A Perfect Monitor For WORK?
Dell is a well-known brand for laptops. Dell XPS 13 carries differences from Acer Swift 3. Dell XPS 3 comes with a small screen size of 13.3 inches. Whereas, Acer Swift 3 is enriched with a greater screen size of 15.6 inches. It helps the user to enjoy the big screen. However, this feature leads to an increase in the weight of the Acer Swift from 3 to 4.63 lbs. On the other hand, the Dell XPS 13 has only 2.91 lbs.
Dell XPS 13 enjoys an upper hand in terms of battery life. It provides an astonishing battery life of 15 hours to its users. Whereas Acer Swift 3 provides only 9 hr of battery life. Moreover, the CPU speed of the Dell XPS 13 is higher than Acer's laptop.
Lenovo Ideapad 330 is a laptop designed for gaming purposes. Acer Swift 3 carries numerous differences from this laptop. The Acer provides stereo speakers whereas the Lenovo is equipped with a dual speaker. Apart from this, the Acer Swift 3 is more secure than the Lenovo Ideapad 330 due to the presence of a fingerprint scanner.
Lenovo Ideapad 330 is loaded with slightly faster RAM than Acer Swift 3. However, in terms of battery life, Acer enjoys the upper hand. In Acer Swift 3 you will get 9 hours of battery life with a fast power supply of 65 W. On the other hand, Lenovo only provides 5 hours of battery life with a slower power supply of 45W.
Ryzen 7 vs. Intel i7 12th gen processors
Certainly, I'd be happy to provide a comparison between the Ryzen 7 and Intel Core i7 12th-generation processors.
Performance:
Both Ryzen 7 and Intel Core i7 processors offer high performance suitable for various tasks including gaming, content creation, and productivity. The specific performance of each model can vary, so it's important to look at benchmarks for the exact models you're considering.
Architecture:
Ryzen 7 processors are developed by AMD and are based on their Zen architecture. Intel Core i7 12th-generation processors are based on Intel's Alder Lake architecture. Both architectures incorporate improvements over their predecessors, with higher core counts and enhanced efficiency.
Core and Thread Count:
Ryzen 7 processors often feature higher core and thread counts compared to their Intel Core i7 counterparts. This can be beneficial for multi-threaded applications, allowing for better multitasking and performance in tasks that can utilize multiple cores.
Clock Speeds:
Clock speeds can vary within each processor lineup. Generally, Intel CPUs tend to have slightly higher single-core clock speeds, which can result in better performance for single-threaded applications. Ryzen processors, on the other hand, offer competitive multi-core performance.
Integrated Graphics:
Many Intel Core i7 processors come with integrated graphics, which can be beneficial if you're not using a dedicated graphics card. AMD's Ryzen processors, while having improved integrated graphics in their newer models, might still fall behind Intel in this aspect.
Thermal Design Power (TDP):
Ryzen 7 processors typically have varying TDPs, depending on the specific model. Intel's Alder Lake processors are designed to be more power-efficient compared to their predecessors, resulting in potentially lower TDPs for similar performance.
Compatibility:
When choosing a processor, it's important to consider compatibility with your motherboard. Ryzen processors require AM4 socket motherboards, while Intel Core i7 12th-gen processors use the LGA 1700 socket. Make sure your motherboard supports the specific generation and model you're considering.
Pricing:
Pricing can vary significantly depending on the specific models and current market conditions. In general, Ryzen processors have been praised for offering competitive performance at a more affordable price point, but you should research the pricing of the exact models you're interested in.
In conclusion, both Ryzen 7 and Intel Core i7 12th gen processors have their strengths and weaknesses. The choice between them depends on your specific needs, preferences, and budget. It's recommended to look at benchmarks and reviews for the exact models you're considering to make an informed decision based on their performance in the tasks you'll be using them for.
The downsides of AMD Ryzen Processors
Certainly, here are some potential downsides or limitations of AMD Ryzen processors:
Single-Core Performance: While Ryzen processors offer excellent multi-core performance, they sometimes lag behind Intel's counterparts in terms of single-core performance. This can affect applications and games that rely heavily on a single core.
Gaming Performance: In certain gaming scenarios, Intel processors have historically performed slightly better due to their higher single-core clock speeds. While this gap has narrowed with newer Ryzen generations, Intel still holds a slight advantage in some titles.
Integrated Graphics (older models): Ryzen processors used to have weaker integrated graphics compared to Intel's offerings, which could be a drawback for systems without dedicated graphics cards. However, newer Ryzen processors have improved this aspect significantly.
Compatibility: While the AM4 socket for Ryzen processors offers great compatibility, it might require a BIOS update on older motherboards to work with newer processor generations. Additionally, some motherboards might not support the highest-end Ryzen CPUs.
Memory Latency: Ryzen processors, especially in earlier generations, had slightly higher memory latency compared to Intel counterparts. This could affect performance in certain memory-intensive tasks.
Power Efficiency (older models): In some cases, AMD Ryzen processors could have higher power consumption and heat generation compared to equivalent Intel models. This has improved with newer processor generations.
Availability and Pricing: During certain periods of high demand or low production capacity, AMD Ryzen processors might experience shortages or increased prices. This can make them less attractive when compared to more readily available options.
Less Mature Optimization in Some Software: Certain software, especially older applications or specialized software, might be better optimized for Intel processors due to their historical dominance in the market. This could result in slightly lower performance on Ryzen processors in such cases.
Overclocking Headroom: Some Intel processors, particularly those with "K" or "KF" designations, have been known to offer higher overclocking headroom compared to Ryzen processors. This might matter to users who are interested in pushing their CPUs to their limits.
Perceived Brand Loyalty: While not a technical downside, there's a perception among some users that Intel processors are still the preferred choice due to brand loyalty or historical familiarity, despite the advancements in Ryzen processors.
It's important to note that the downsides mentioned can vary depending on the specific models and generations of Ryzen processors. AMD has made significant improvements with each new iteration, addressing many of these limitations. When considering a Ryzen processor, it's essential to evaluate your specific needs, usage patterns, and the strengths of the particular model you're interested in.
Some Normal laptop problems
Acer laptops, like any other brand, can encounter various problems over time. Here are some common issues that Acer laptop users may experience and steps to troubleshoot them:
Slow Performance:
Close unnecessary background programs and browser tabs.
Run a malware scan to ensure your laptop is not infected.
Consider upgrading RAM or switching to a Solid State Drive (SSD) for improved performance.
Overheating:
Ensure proper ventilation by using the laptop on a hard, flat surface.
Clean the laptop's vents and fans to remove dust and debris.
Consider using a laptop cooling pad to help dissipate heat.
Battery Life Problems:
Check for battery-draining apps or processes in Task Manager.
Adjust power settings to optimize battery life.
If the battery is old and no longer holds a charge, consider replacing it.
Display Issues:
If the screen is blank, try connecting the laptop to an external monitor to check if the problem is with the laptop's screen or graphics card.
Update graphics drivers and adjust display settings as needed.
Wi-Fi Connectivity Problems:
Restart your router and modem.
Update Wi-Fi drivers on your laptop.
Check if the issue persists on other devices to determine if it's a network problem.
Keyboard or Touchpad Issues:
Check for physical damage to the keyboard or touchpad.
Update or reinstall the keyboard and touchpad drivers.
Check if an external keyboard or mouse works properly to identify if it's a hardware or software issue.
Audio Problems:
Ensure that the audio is not muted and the volume is turned up.
Update audio drivers and check for audio settings.
If there's no sound at all, it could be a hardware issue with the speakers or audio jack.
Blue Screen of Death (BSOD) or Crashes:
Note down the error message displayed on the BSOD for troubleshooting.
Update graphics, chipset, and other drivers.
Run Windows Memory Diagnostic to check for RAM issues.
Software or Operating System Errors:
Use Windows' built-in troubleshooting tools to diagnose and fix software problems.
Perform a system restore to a point when the laptop was functioning correctly.
As a last resort, consider reinstalling the operating system.
Hardware Failures:

If you suspect a hardware issue (e.g., motherboard, hard drive, RAM), it's best to contact Acer support or a professional technician for diagnosis and repair.
Remember to back up your important data regularly to prevent data loss when troubleshooting and repairing laptop problems. If the issue persists and you're unable to resolve it, reaching out to Acer customer support or a qualified technician may be necessary for more advanced diagnostics and repairs.
Thoughts on Acer Swift 3 SF315-41G-R6MP
Acer Swift 3 SF315-41G-R6MP is in best-in-class laptop. This device comes with various wondering specifications. It comes with security features like a fingerprint sensor and Corning Gorilla glass. Apart from this, it offers a smooth-running experience and fast charging. This laptop is considered for both gaming and office use.