LG 32UQ85R-W Review – If you are looking for 32 inches 4K monitor that offers great image quality with better productivity then the LG 32UQ85R-W might be a good option for you. Before choosing this monitor read this article completely to get all information about this monitor and the market as well.
For creators and professionals bigger display is always a good thing for maximum viewing space that helps you view and manage multiple tabs comfortably. Also for editing and graphics design better color accuracy is must needed thing on any monitor,
for all these things the LG 32UQ85R-W a perfect for many users, also it has a USB Type C port for faster data transfer and the adjustable stand gives you a comfortable viewing angle, so it's a complete package but there is some point that you should avoid this monitor,
Just like the HDR peak brightness and contrast are not balanced, viewing angles are not that accurate in some cases and there are no swivel adjustments in this monitor, the most important is the price tag is really high, so you can get many other options in the market with a better deal overall.
There are many other good options in the market with a better price tag and overall experience so check our comparison table to get an overview of the market.
Read: LG 49WQ95C-W Review – 144Hz, Type C, Weak HDR
LG 32UQ85R-W Review
The LG 32UQ85R-W offers a 31.5 inches flat 4K IPS display with AMD FreeSync support, It has VESA-certified HDR400 for better color output and enhanced visuals. The build quality is good and the 60Hz refresh rate is enough for multitasking capabilities but sadly not for high-end gaming that you will miss.
The USB Type C port and on-screen control are good for working professionals, as of work monitor has all essential features except the swivel adjustments, and better HDR performance otherwise there is no major complaint about this monitor but for gamers, it is not perfect for users who wants a high-end gameplay experience.
Build and Design
The body of the LG 32UQ85R-W is made from strong plastic with nice finishing touch on the back, very similar to many other LG models, the build quality is good and the curved stand offers height adjustment, tilt, and pivot but there is no swivel adjustability.
The design of this monitor is similar to many LG Ultrafine models, so there is no unique design, the bezels are thin and good for the work environment, if you are using swivel adjustments frequently then you will definitely miss this monitor, and suggest you check another monitor.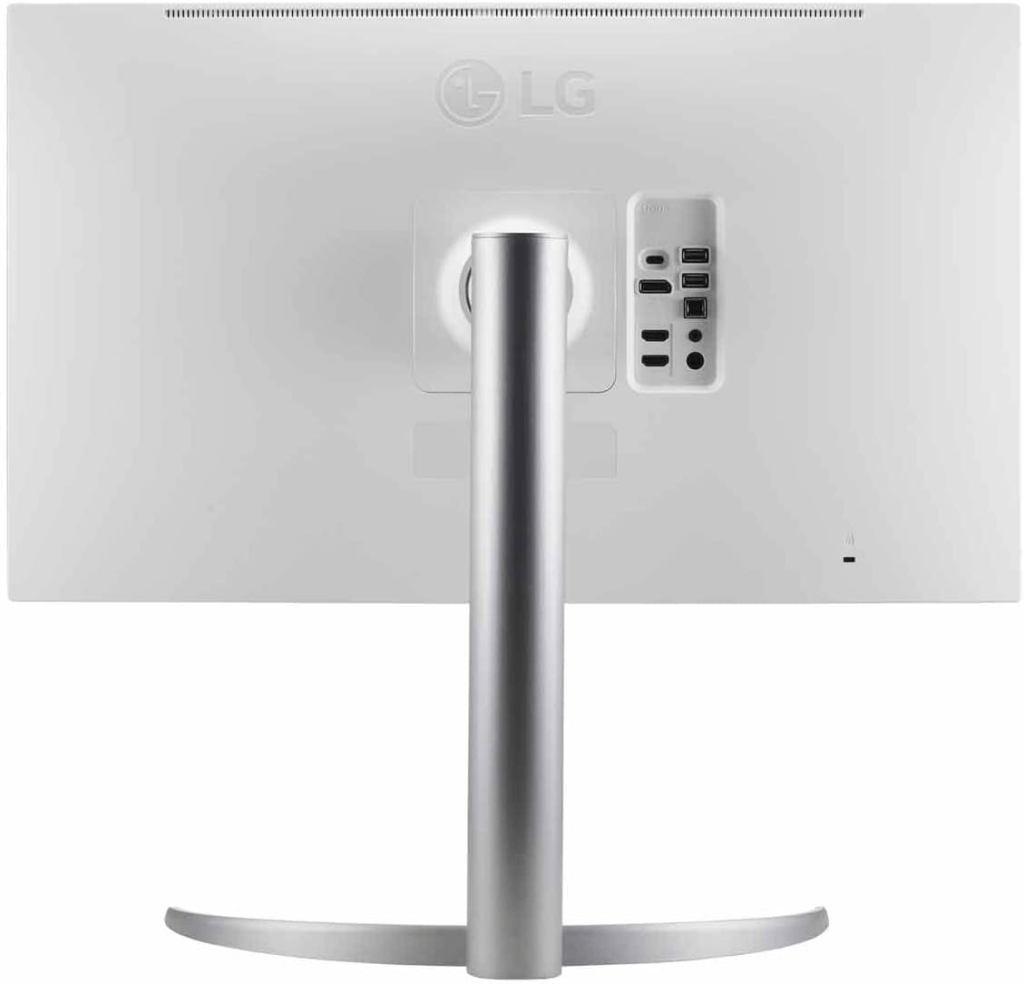 The weight of this monitor is around 6.98 KG with the stand, feels as lightweight as the big 31.5 inches display. The dimensions are 28.1″ x 24.7″ x 9.4″ inches.
Image Quality
The LG 32UQ85R-W offers a 31.5 inches flat IPS panel with a resolution of 3840×2160 pixels, It supports DisplayHDR400 for better dynamic range and sharpness. The color reproduction in this monitor is good and great for content creators but needs some improvements in overall HDR performance like the HDR peak brightness needs more stability while playing HDR content, also the contracts are not that balanced otherwise there are no major issues.
Read: Asus ProArt Display PA278QV Review
Performance
Performance wise the monitor is decent, it has a 60Hz refresh rate and AMD FreeSync supports, for multitasking and productivity work is no problem but when you play some game you might encounter less smooth visuals due to its low refresh rate, so it's not for high-end gameplays you can play lightweight games with minor issues.
Connectivity
The monitor comes with HDMI, DisplayPort, USB Type C port, and audio ports.
Pros
4K, FreeSync, USB Type C port, DisplayHDR400.
Cons
Low HDR peak brightness, no swivel adjustments, decent viewing angles.
Price Trends

CHECK THE PRICE ON THE B&H STORE
Comparison
These are the top 3 monitors that deserve more than the LG 32UQ85R-W –
The LG 32UN880-B is better than the LG 32UQ85R-W, it has 31.5 inches 4K HDR10 display with a USB Type C port and a fully adjustable stand so you can change the viewing angle of the monitor to any angle you want, the most important price tag is low, and reasonable so it's a great choice.
The GIGABYTE M32U is one of the perfect monitors on the market because if you are a gamer then you will love it and also if you are working professional then you will also love it, It has 32 inches 4K 144Hz refresh rate, FreeSync support, DisplayHDR400, USB Type C port, 123% sRGB rate for amazing color accuracy. It has all features that you want on the monitor and the price tag is also very good and low than the LG model.
This is another great monitor from LG, the LG 27UL850-Whas a 27 inches 4K HDR10 support display with a USB Type C port, so if you are wondering to check any better alternative then this is a perfect choice but in HDR performance the monitor is decent so choose carefully. The price tag is also low compared to the LG 32UQ85R-W.
Final Words
The LG 32UQ85R-W is a really good monitor but the price tag is not justified and there are many good options in the market, so if you wondering to purchase this monitor then I will suggest the Gigabyte M32U, it has the most balanced specs and works for any situations so go for it, or if you don't have high budget then go for the LG 32UN880-B. I hope this post helps you choose the right monitor for your need. Bookmark this site to get the latest update and reviews.