MSI Optix G32CQ4 Review – Gamers always look for a better screen size monitor so they can get maximum and comfortable viewing space while playing games, also the curved display provides a better viewing angle and gamers prefers curved panel rather than flat display. Before choosing a monitor always check the build quality so you can ensure that the body of the monitor is strong,
and gives long uses, adjustability is also a critical point to checking whether it is fully adjustable or not. Second the image quality of the monitor, is it proving good colors, less shutter, flickering, and blurry visuals, and the Dynamic Range capabilities.
The viewing angles of the monitor are another important point, especially for curved monitors. The third point that you should check is the performance of the monitor, like refresh rate and stability without any lagging or frame dropping, or connectivity issues.
The last point you have to check is the pricing and market overview, is there are good options available then this or not, it is value for money or overpriced, so these are the most important points you should check before buying any monitor.
Read: MSI G2712 Review – 170Hz, 101% sRGB, No Fully Adjustable
MSI Optix G32CQ4 Review
Talking about the MSI Optix G32CQ4 then it has 31.5 Inches 1500R curved VA panel with a 165Hz peak refresh rate and AMD FreeSync Oremium for smooth gameplay, and 114% sRGB coverage for better color accuracy. The downside of this monitor is the stand is not fully adjustable it's only tilt adjustable also there is no HDR in this monitor so you will miss HDR gaming on this monitor.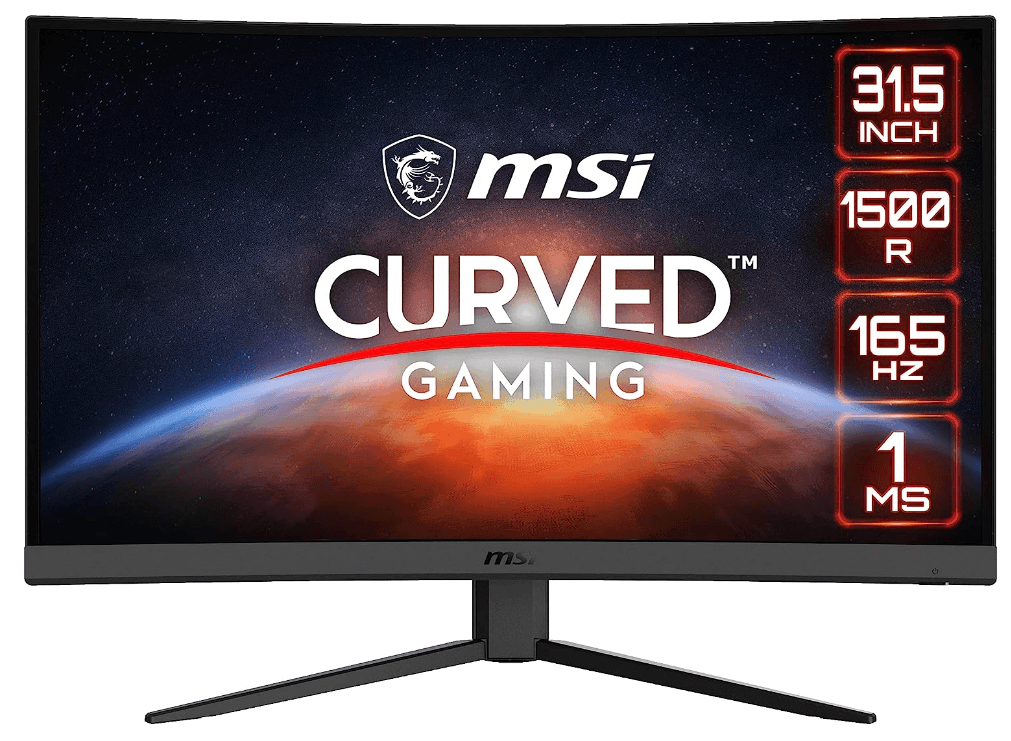 There are many options available in the market with better specs and lower price tags, so check our comparison table to know the market closely. The MSI Optix G32CQ4 is a really good monitor but lacks some basic features like a fully adjustable stand and HDR at this price tag.
Build and Design
The body of the MSI Optix G32CQ4 is made from strong plastic with a nice finish on the body, which looks great, also the bezels are very slim. The build quality of this monitor is very good. The V-shaped stand fits perfectly on any size of a desk, there is no issue with space consumption. You can keep accessories or other stuff below the monitor if you want.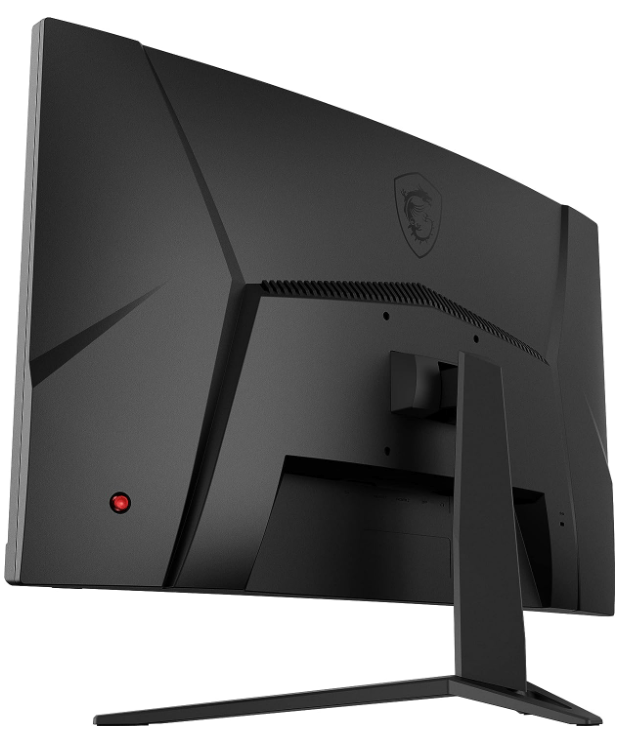 The stand offers only tilt adjustments, so you can't adjust the height of the monitor to the best position also there are no swivel or pivot adjustments so this is a major drawback of the monitor.
The weight of the monitor is 6.4 kg with the stand and the dimensions are 27.93 x 20.06 x 9.80 inches with the stand, the weight of this monitor is impressively good otherwise a 32 inches curved monitor is usually very heavy in weight.
Image Quality
The MSI Optix G32CQ4 offers a 31.5 inches 1500R curved VA panel with a resolution of 2560 x 1440 Pixels, It has a 114% sRGB rate for amazing colors that looks vibrant but there is no HDR certification in the monitor. The brightness and contrast are good but not balanced in some science especially when you play dark playbacks. The Viewing angles are okay. Overall image quality is good as of gaming monitor below 300$ price tag but there are so many options available in the market.
Performance
While playing games or working on this monitor you will not feel any performance-related issues, due to its 165Hz refresh rate and FreeSync Premium combination everything feels smooth and stable. You can play high-end games without any screen tearing, flickering, or blurry visual issues. So performance wise the monitor did a great job just missing the HDR gaming otherwise there are no issues at all.
Connectivity
The monitor comes with HDMI., Displayport, and Earphone jack, so there are no USB ports.
Pros
fast response rate, 165Hz refresh rate, nice build quality, 114% sRGB coverage for vibrant colors.
Cons
No Fully adjustable stand, No USB ports, No HDR.
Price Trends
CHECK THE PRICE ON AMAZON CHECK THE PRICE ON NEWEGG CHECK THE PRICE ON MICROCENTRE
Comparison
These are the top 3 competitors of the MSI Optix G32CQ4 –
The Sceptre E325B-QPN168 offers a 32 inches flat display with a 120% sRGB rate and 144Hz refresh rate, It has FreeSync premium and a height-adjustable stand so you can adjust the height of the monitor, and also support VESA certified DisplayHDR 400 for deeper blacks and better dynamic range. The downside of this monitor is the display is not curved and 144Hz refresh rate but the pricing is amazing.
The Odyssey series is a popular gaming monitor from Samsung that everyone loves, It has 32 inches curved display with HDR10 supports, 165Hz refresh rate, and AMD FreeSync Premium for a flicker-free smooth gaming experience without any screen tearing, or frame dropping. The response rate is good also the build quality and designs are awesome.
The AOC CQ32G2S comes with a 32 inches 1500R Curved display with 120% sRGB coverage, 165Hz refresh rate, and a height-adjustable stand so you can adjust the monitor to your favorite viewing position. The downside of this monitor is not having HDR, which means you will is HDR gaming but otherwise it has all features that give you a stable performance for any task such as gaming or content creation.
Final Word
The MSI Optix G32CQ4 is a very nice monitor with great build quality and performance also the image quality is superb but it doesn't have fully adjustable and HDR so if you are thinking to choose this monitor you can check its competitors, I think AOC CQ32G2S and Samsung Odyssey LS32AG550ENXZA is better than this monitor.
I hope this post helps you to choose the right monitor for your need, bookmark this site to get monitor reviews and tips and tricks articles.