Viewsonic VX3276-2K-MHD Review – Working monitors are always a tuff choice, before choosing a monitor always check the price tag and other specs that fulfills your requirements. The Viewsonic VX3276-2K-MHD offers a 32 inches flat IPS display with a 75Hz refresh rate and 102% sRGB rate for fantastic color accuracy that makes this a perfect choice for editing and graphics designing.
The image quality is excellent and perfect for work, the downside of this monitor does not have a fully adjustable stand, it has only a tilt-only stand, and for working professionals, a fully adjustable stand is a very good thing to get a comfortable position viewing position.
Before buying this monitor check the other competitors to get the best deal, If you want content creation to monitoring with less price tag then this may be a good choice for you otherwise there are so many options in the market.
One more downside of this monitor is there is no USB Type C connectivity and HDR supports so you can't enjoy the HDR playbacks In this monitor, also this is not for gaming. You can't play heavy games on this monitor due to its low 75Hz refresh rate mad No FreeSync/G-Sync compatibility.
Read: LG 32UP83A-W Review – 4K, Type C, HDR10, FreeSync
Viewsonic VX3276-2K-MHD Review
The Viewsonic VX3276-2K-MHD comes with a 32 inches flat IPS panel with a 75Hz refresh rate and 102% sRGB coverage for super vibrant colors. The design of this monitor is very nice and the slim bezels look impressive the V-shaped stand is small and fits perfectly to any desk size without capturing extra space, but the stand is not fully adjustable which will disappoint you, also the type c port and FreeSync is not availovke in this monitor.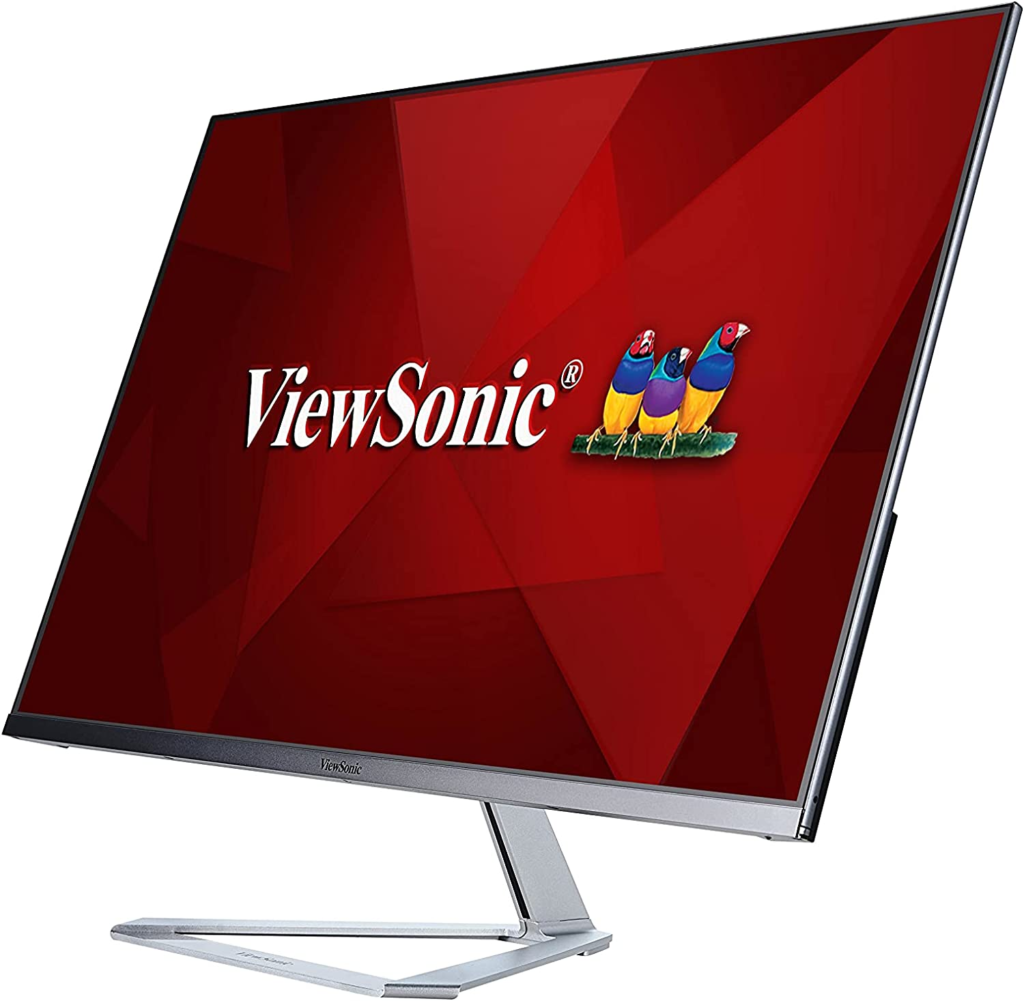 The price tag of this monitor is huge if you compare it to another monitor in this segment, I personally did like this monitor at below the 300$ price tag because there are so many options with better options and perfect specs for your need. For detailed information check our comparison table.
Read: The 5 Best Monitor For MacBook Pro
Build and Design
The body of the monitor is made from plastic that feels sturdy and the bezels are extremely slim that look gorgeous, the triangle shape small stand handles the weight of the monitor perfectly without capturing too much space on your desk. The downside of this stand is it only supports tilt adjustments so there are no height, pivot, or swivel adjustments.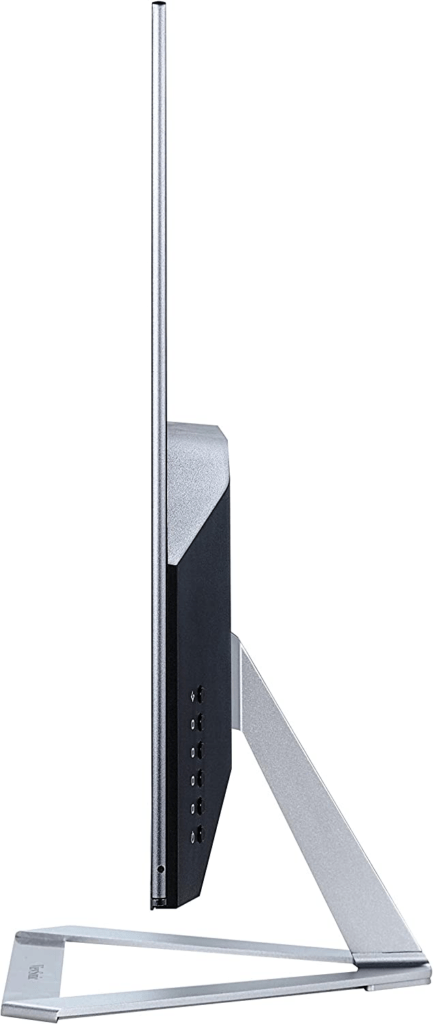 As for the working monitor, it really disappoints with the adjustability of the stand, otherwise, there are no big issues with the build and design.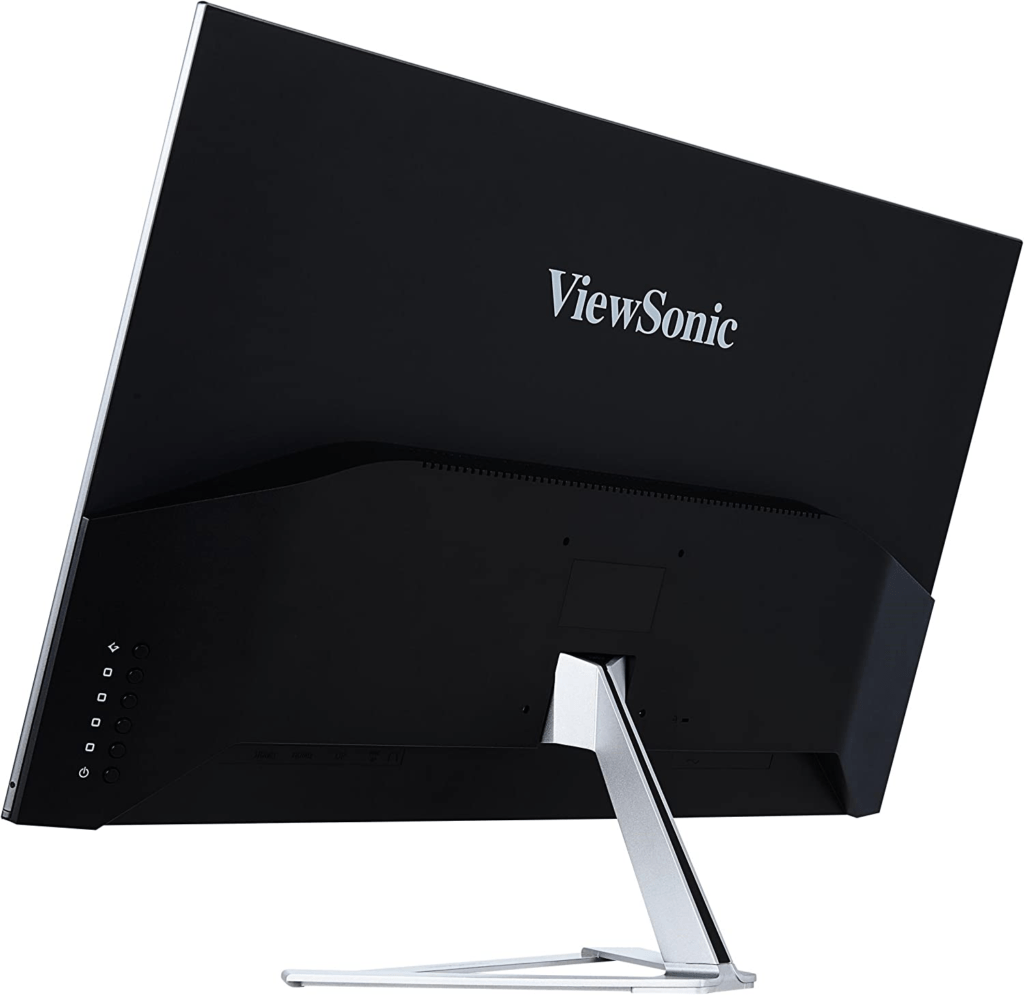 The weight of this monitor is around 6.2 Kg with the stand and the dimensions are 28.1 x 19.8 x 9.1 inches with the stand.
Image Quality
The Viewsonic VX3276-2K-MHD has a 32 inches flat IPS panel with a resolution of 2560 x 1440 pixels, the overall image quality of this monitor is excellent and perfect for content creation, as it supports 102% sRGB coverage with 10-bit color reproduction, the downside is the monitor doesn't have any HDR certification so you can't enjoy the true HDR experience in this monitor. Also needs improvement on viewing angles for horizontal and vertical angles.
Performance
Talking about the performance of this monitor then not amazing for gamers due to its decent 75Hz refresh rate there is no FreeSync or G-Sync technology to boost up the visual smoothly and handles the flickering, screen tearing, and blurry visuals issues but for multitasking and work the monitor is good and there are no issues with the performance.
Connectivity
The monitor comes with Displayport, HDMI, and a 3.5mm audio jack, it doesn't have USB Ports.
Pros
102% sRGB coverage and 10-bit color outputs, frameless design, lightweight.
Cons
NO fully adjustable, No HDR, and a decent 75Hz refresh rate also No USB Ports, No FreeSync/G-Sync
Price Trends
CHECK THE PRICE ON VIEWSONIC.COM
Other Options
These are some good options that you can choose from –
1. LG 32ML600M-B
The LG 32ML600M-B offers a 32 inches flat display with HDR10 support, It has a 75Hz refresh rate that is sufficient for multitasking and other work but not for gaming as it doesn't have FreeSync/G-Sync and the 75Hz is not enough for most gamers. Talking about the display of this monitor then it's awesome.
2. LG 32MP60G-B
This is another option that you can choose from, The LG 32MP60G-B has a 31.5 inches Full HD panel, with AMD FreeSync and a 75Hz refresh rate that makes it possible to play some lightweight games on this monitor. The color accuracy and performance of this monitor are impressive as the price tag is very low.
3. AOC C32G2
If you want a gaming monitor in the same price range as the ViewSonic model then this is the perfect choice for you, It has a 32 inches 1500R curved display with a 165Hz refresh rate, FreeSync, and a fully adjustable stand that you can change the angle of the monitor but adjusting the height of the monitor, using tilt and swivel adjustments.
Final Verdict
The Viewsonic VX3276-2K-MHD is a good option for content creation, it has big 32 inches display and amazing color accuracy but the monitor is not that perfect that you can use for gaming, so there are some options available in the market that you can choose from, like the LG 32MP60G-B, it has a perfect monitor with satisfied specs. If you want more gaming capabilities the AOC C32G2 is the right choice. I hope this post helps you to choose the right monitor for your need, let's bookmark this site to get updated information on the latest monitors.