Acer Nitro KG241Y Sbiip review – Many gamers love small screen monitors and if you are one of them then the Acer Nitro KG241Y Sbiip is a great option, It has a 23.8 inches display with 165Hz refresh rate, and AMD FreeSync for smooth playback. Most gamers want a bigger screen but for a bigger display, you need a high budget so,
if you don't have a higher budget and want to experience the true gaming experience with super fast visuals and a fast response rate. Then this is perfect for you. The price tag is impressive at this level of performance, design-wise nothing new very similar to other Acer models.
The biggest downside of this monitor is the stand isn't fully adjustable so you can't adjust the height of the monitor to your favorite viewing position, you can use tilt adjustability to get the best angle otherwise there are no height, swivel, or pivot adjustments in this monitor that is the wrong thing about this monitor.
Read: Asus VG32VQ1B Review – 165Hz, HDR10
Acer Nitro KG241Y Sbiip review
The Acer Nitro KG241Y Sbiip is one of the cheapest 165Hz monitors in the market with amazing response time and decent image quality, with limited adjustability. The best thing about this monitor is the super fast 165Hz refresh rate that makes everything smooth so you can see less blurry or flickering visuals, another good thing is the weight of this monitor is super lightweight so moving from one corner to another is super easy.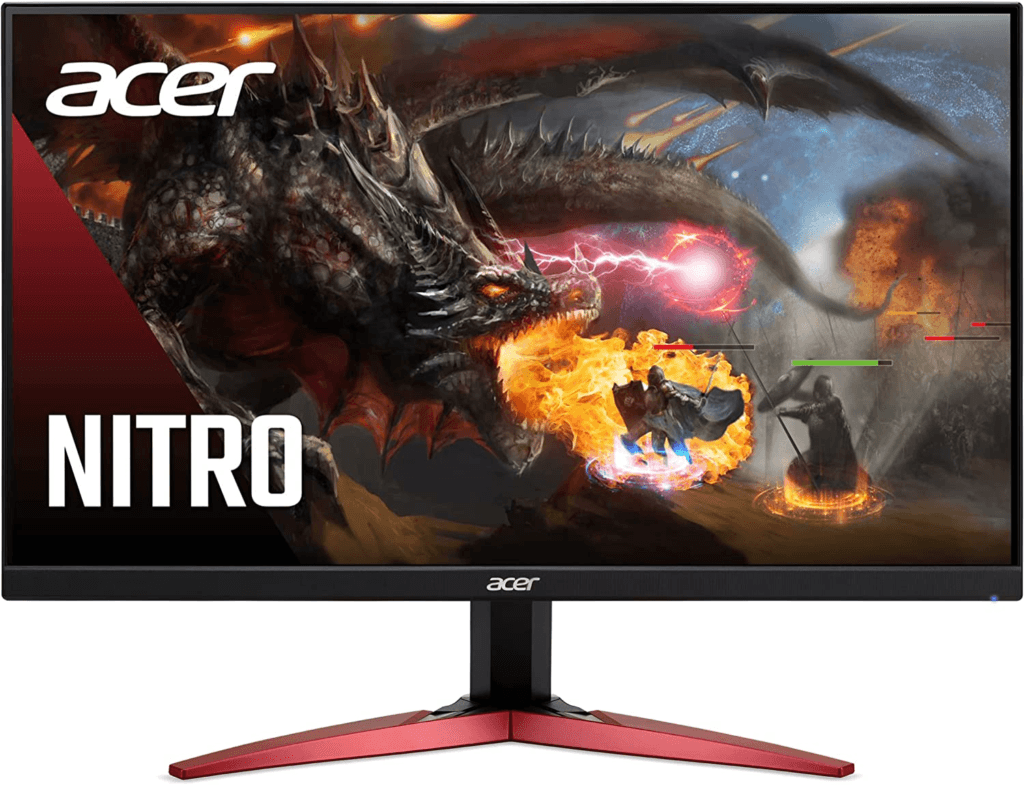 AMD FreeSync technology brings more stable graphics without any screen tearing or lagging issues, it perfectly matches the refresh rate and the results are very responsive. The lunch price is 179$ but you can get this at 119$ at Amazon, that's an amazing deal. Because of this price range, you will not get a 165Hz, AMD FreeSync monitor.
Build and Design
The body is made from decent plastic with thinner bezels on 3 sides except for the lower side. The design is very similar to many other Acer monitors, The wide V-shaped stand takes up a bit of space on your desk and it doesn't support all other adjustments like height, pivot, and swivel.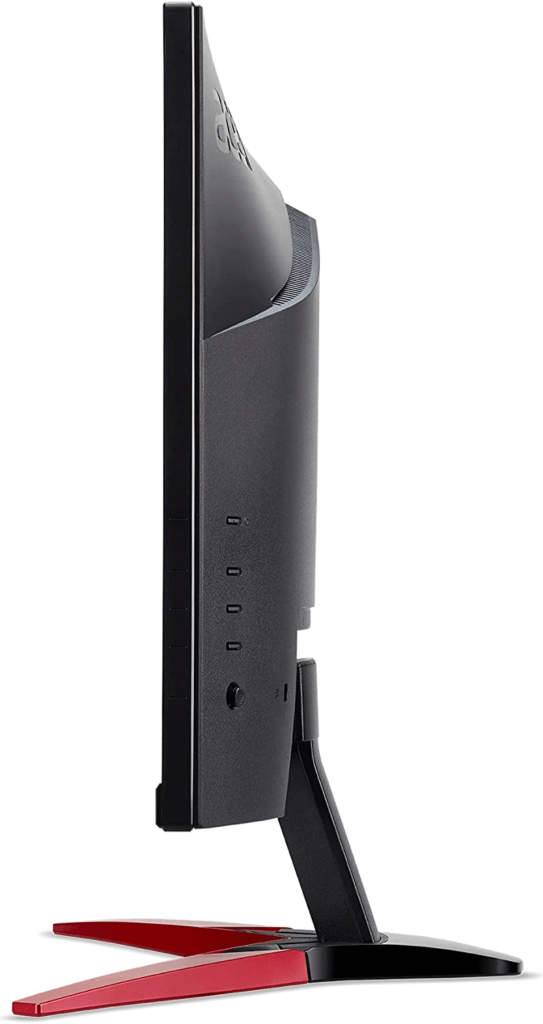 The adjustability of the stand is the most crucial feature on a monitor, you can get the best position you want and it helps to play gaming sessions without feeling any fatigue so this monitor lacks this feature. So you can't adjust the right of the monitor Also you can't change the orientation of the monitor by using a swivel or pivot adjustability.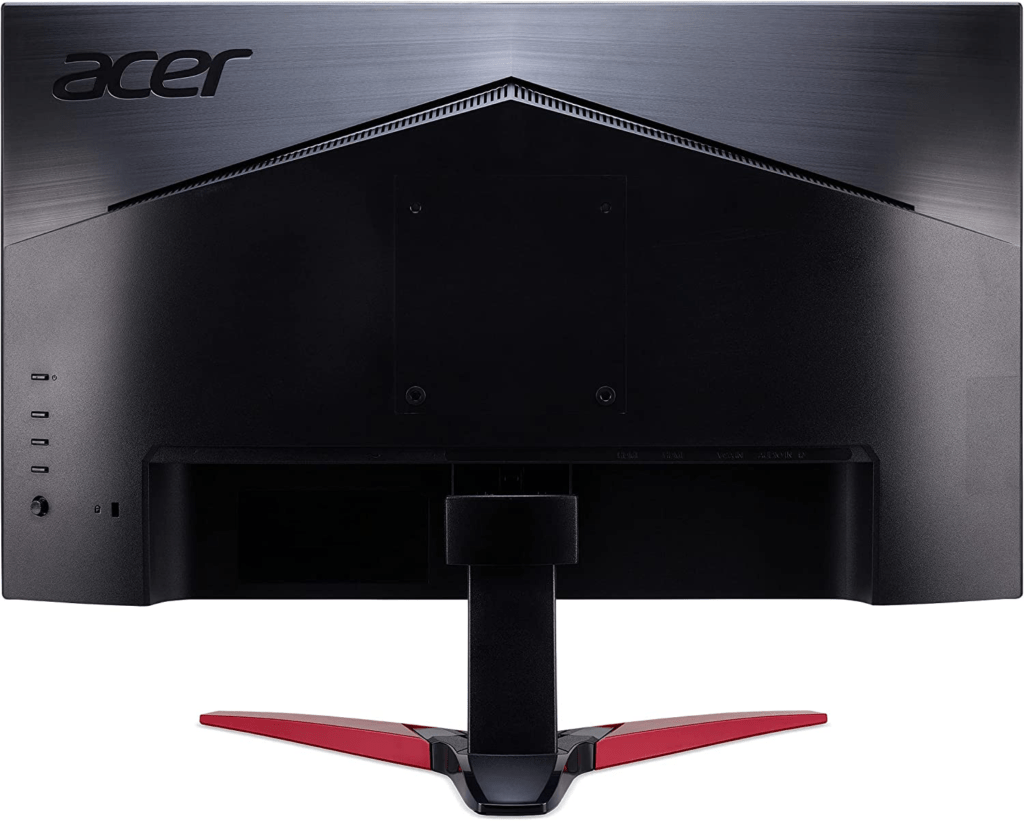 The weight of this monitor is 3.20 kg which is very lightweight and the dimensions are 540.3 (W) x 414.1 (H) x 189.0 (D) mm with the stand.
Image Quality
The Acer Nitro KG241Y Sbiip offers a 23.8 inches flat TFT display with a resolution of 1920 x 1080 pixels, the image quality is decent with its normal brightness and the colors are oaky. You can't accept more from this monitor as it is focused on performance so there will be some price cuts on build and image quality but it;'s ok for a gaming monitor below the 200$ price tag.
Performance
Talking about the performance of the monitor then it's amazing the combination of AMD FreeSync and 165Hz refresh rate the content looks stable and responsive, so you can play this monitor with high game settings to get maximum output. Sadly you will not get better HDR playback on this monitor because it doesn't support HDR.
Connectivity
The monitor supports DisplayPort, HDMI, and audio outputs, there are no USB Ports in this monitor.
Pros
smooth visual due to a higher 165Hz refresh rate, and fast response rate.
Cons
No fully adjustable, no USB Ports, and decent brightness.
Price Trends
Comparison
These are the main competitors of the Acer Nitro KG241Y Sbiip –
The AOC C24G1A is better than the Acer Nitro KG241Y Sbiip, It has 24 inches 1500R curved display with a 165Hz refresh rate, AMD FreeSync Premium, Height adjustable stand which is a really good thing in this monitor, and the price tag is also a very impressive and overall value for money monitor.
This is another great monitor from Sceptre, It has 27 inches IPS display with 99% sRGB coverage, supports 165Hz refresh rate, and AMD GreeSync gives a mind-blowing gameplay experience. The best about this monitor is the image quality and performance are both great and very balanced, the downside of this monitor is the stand is not fully adjustable.
The ASUS VG248QG is one of the popular 165Hz refresh rates monitors in the market with amazing performance as it supports G-Sync technology, also the stand is fully adjustable and the 24 inches display is really nice for gamers. The downside of this monitor is price tag is a little high compared to other monitors.
Conclusion
The Acer Nitro KG241Y Sbiip is really nice monitor at below 150$ but I will recommend the AOC C24G1A because it has better image quality and better adjustability, also Scptre is another good if you want a big 27inches or if you have the budget then you can get the ASUS VG24QG as it has all features and capabilities of a gaming monitor.