Asus VG32VQ1B review – If you are searching for a curved gaming monitor with monster performance then the Asus VG32VQ1B is perfect for you, It has 32 inches 1500R curved display with 165Hz peak refresh rate and AMD FreeSync Premium for flicker-free visuals.
The monitor supports HDR10 for deeper blacks and vibrant colors, which is very good but the stand of this monitor is not fully adjustable it only allows you o tilt and swivel the display. There is no height and portrait adjustability.
There are many other options available in the market with the best specs and cheaper price tags, so this monitor is not listed as value for money, due to its high price tag compared to many other monitors.
Before choosing this monitor please check our comparison table to get all details about the market, so you can choose the right product that offers value-for-money specs.
Read: LG 27UN850-W Review – 4K, USB Type C, Adjustable
Asus VG32VQ1B Review
The Asus VG32VQ1B offers a 32 inches curved panel with AMD FreeSync Premium, 165Hz refresh rate, and HDR10 for great colors. The design is very similar to many other Asus monitors, the build is ok there are no major changes in the backside.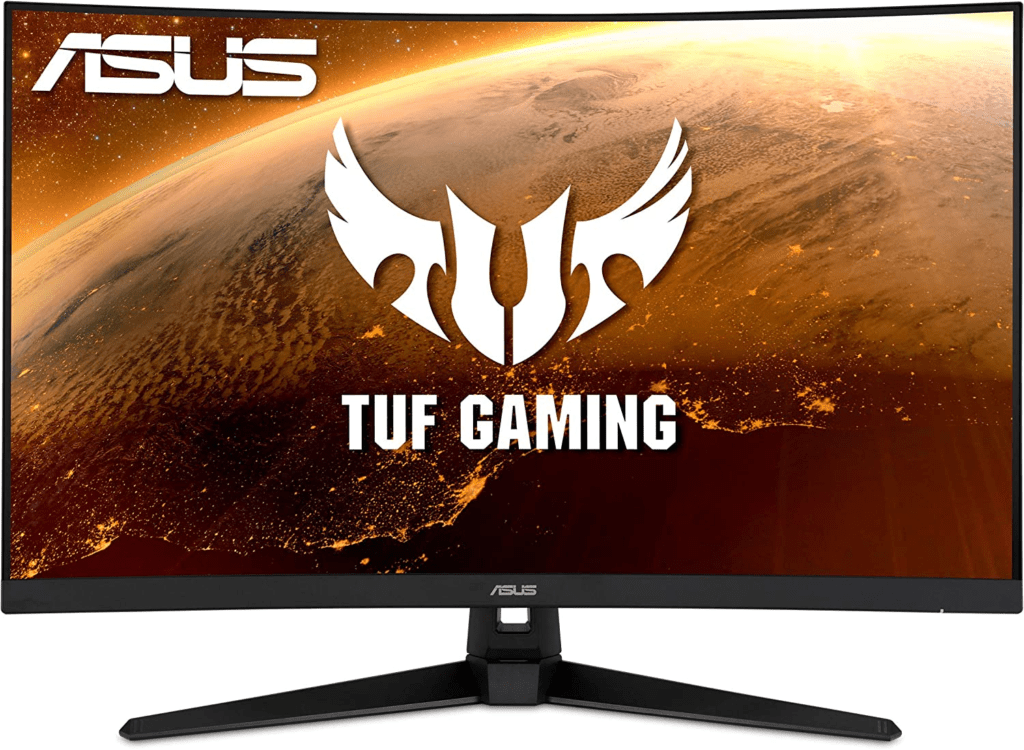 The monitor supports HDR so you can play HDR gameplay with much better colors and brightness, there are some weaknesses in the viewing angles and the contrast is not that balanced with brightness, and you can see the difference in the darker environment.
Build and Design
The body is made from plastic with a similar design to many Asus monitor models, The 1500R curved body looks great and the bezels are thin. The bad thing about this monitor is that stand is not fully adjustable stand you can't adjust the monitor to a comfortable position, it only offers tilt and swivel adjustments.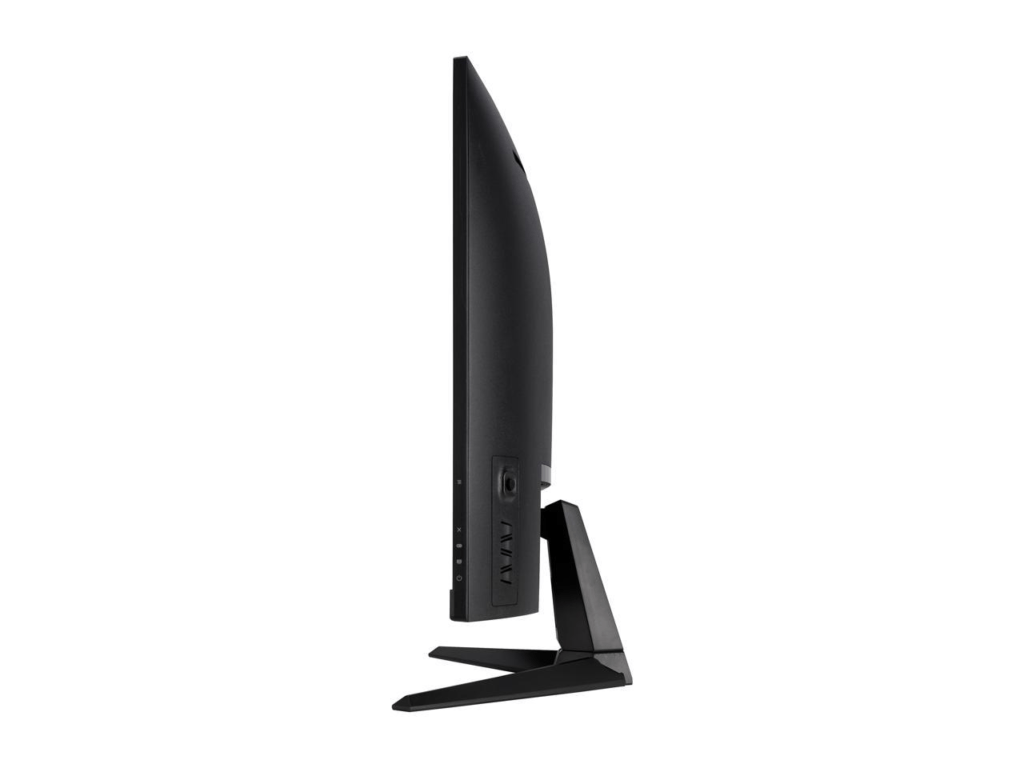 As a gaming monitor adjustability is one of the major things to consider while purchasing a new monitor and this model doesn't have a fully adjustable stand,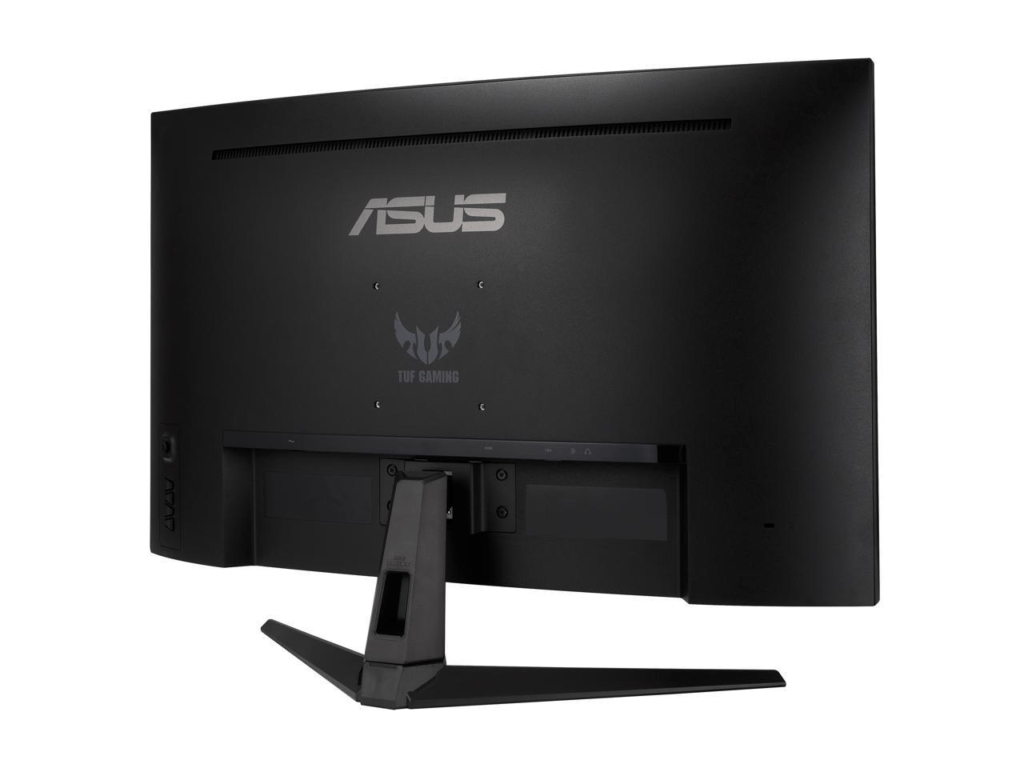 The weight of the monitor is around 5.35 Kg, and the dimensions are 610.34 x 475.16 x 213.77 mm.
Read: Dell P2422H Review – A Perfect Monitor For Work
Image Quality
The Asus VG32VQ1B comes with 32 inches 1500R curved display with a resolution of 2560 x 1440 pixels, The display supports HDR10 for deeper colors and high dynamic range, you can play HDR games on this monitor without any issues. The overall image quality is good but the viewing angles are not impressive and the contrast is not balanced with brightness in some rare cases.
Performance
It has a maximum 165Hz refresh rate with AMD FreeSync for smoother graphics and the response rate is really good and stable, you can play heavy games on this monitor without any issues such as screen tearing, flickering, or blurry visuals. Performance wise there is no problem.
Connectivity
The monitor comes with HDMI, DisplayPort, and audio output, there is n USB ports.
Pros
1500R curved display, 165Hz refresh rate, AMD FreeSync Premium, HDR10.
Cons
Not fully adjustable, has Weak viewing angles, No USB Ports, Price tag.
Read: Asus VG328H1B Review – 165Hz, Not Adjustable
Price Trends
Comparison
These are the main competitors of the Asus VG32VQ1B –
The AOC C32G2 is better than the Asus VG32VQ1B, It has 32 inches 1500R curved display with 165Hz refresh rate, AMD FreeSync Premium, and also has 123% sRGB rate which is impressive on a gaming monitor. The stand is fully adjustable and you can change the viewing angle of the monitor to a comfortable position. The best thing is the price tag is low compared to the Asus model.
This is another great monitor from Sceptre, It has 30 inches 1800R curved HDR display with AMD FreeSync premium, and a 200Hz refresh rate, The monitor offers DisplayHDR 400 capabilities for deeper blacks and high dynamic range. The stand offers only tilt adjustments, so there is no height and pivot adjustability.
If you don't have the budget then the Sceptre E255B-FWD168 is perfect for you, It has 25 inches flat display with a 165Hz peak refresh rate, AMD FreeSync Premium, and 106% sRGB rate for more natural colors. The lightweight body and the stand supports height, swivel, and tilt adjustments. The most important thing is the price tag is very low.
Conclusion
The Asus VG32VQ1B is a very good monitor with nice image quality and performance but there are many good monitors in the market you should check them because the price tag really matters when you purchase a monitor, The AOC, and Sceptee models are very good at a reasonable price tag so these are better than the Asus model.