BenQ MOBIUZ EX2710U Review – If you are looking for a 4k gaming monitor with a 144Hz refresh rate and AMD FreeSync then the BenQ MOBIUZ EX2710U is perfect for you. It has a 27 inches IPS display with HDR10 and DisplayHDR 600 support for exceptional HDR playback, the 144Hz refresh rate gives you a great gaming environment with its sharp 4K resolution.
The features of this monitor are impressive as you can't see any 4K 144Hz combination with HDR supports but it has some downsides like it doesn't have a USB Type C port and pivot adjustability, and decent color accuracy so if these are coming to this monitor it will become one of the best monitors in the market.
If you are a gamer and want a better resolution monitor with a 144Hz refresh rate, then this is the best choice but before choosing this monitor check out our comparison table to get a better overview of the market so you can get better deals.
is 4k 144Hz good for gaming? yes it is great for gaming and also you can use it for work but sadly this monitor doesn't have a Type C port and better color accuracy so you can use this for editing, graphics designing, and other artwork.
Read: BenQ MOBIUZ EX2710 Review
BenQ MOBIUZ EX2710U Review –
The monitor comes with a 27 inches flat 4K IPS panel, supports HDR10 and VESA DisplayHDR 600, AMD FreeSync Premium Pro, and 144Hz peak refresh rate, and the stand supports height adjustability with swivel and tilt adjustment it doesn't support pivot. Performance wise the monitor is excellent and smooth due to the high refresh rate and FreeSync combination, also the monitor supports G-Sync technology to bring more stability to graphics.
For data transfer and better connectivity Type C port is the best feature for this monitor but not available, for gaming there are no issues, the graphics are very smooth and stable, and no shutter lag, or screen tearing issues.
Build and Design
The body of the BenQ MOBIUZ EX2710U is made from strong plastic, feels sturdy and the bezels are minimal that enhancing the book of the monitor, also the v-shape stand looks nice with the unique design. The stand is adjustable and you can adjust the height of the monitor to a comfortable position also you can change the angle of the panel by tilting and swivel adjustments.
The stand doesn't offer pivot adjustability so keep it in mind if you want a fully adjustable stand monitor then you can see other options. Overall the build and design of this monitor are awesome except for the pivot adjustments.
The weight of the monitor is 8 kg with the stand and the dimensions are 16.6 – 20.6×24.0x9.9 inches.
Image Quality
The BenQ MOBIUZ EX2710U offers amazing image quality, It has 27 inches IPS display with a resolution of 3840×2160 pixels, and it comes with HDR10 also supports DisplayHDR 600 for a maximum 600 nits peak brightness in HDR playback. The visuals are sharp and vibrant due to 4K resolution and 98% P3 colors, you can play HDR games on this monitor without any issues but there is a need for improvement on color accuracy for graphics designing and content creation work.
Performance
Talking about the performance then defiantly the monitor is just amazing with a 144Hz refresh rate and FreeSync Premium Pro that brings fluid response time, stable graphics, and overall you will get better gameplay sessions in this machine. There are screen tearing, flickering, or blurry visuals on playback, you can play long hours of gameplay without any performance issues.
Connectivity
The monitor comes with HDMI 2.1, DisplayPort, USB 3.0(Downstream), USB Type B,(Upstream), and audio output, there are no USB Type C ports.
Pros
4K, HDR10/DisplayHDR 600, FreeSync premium pro, 144Hz refresh rate.
Cons
No Type C port, decent color accuracy, no pivot adjustments.
Price Trends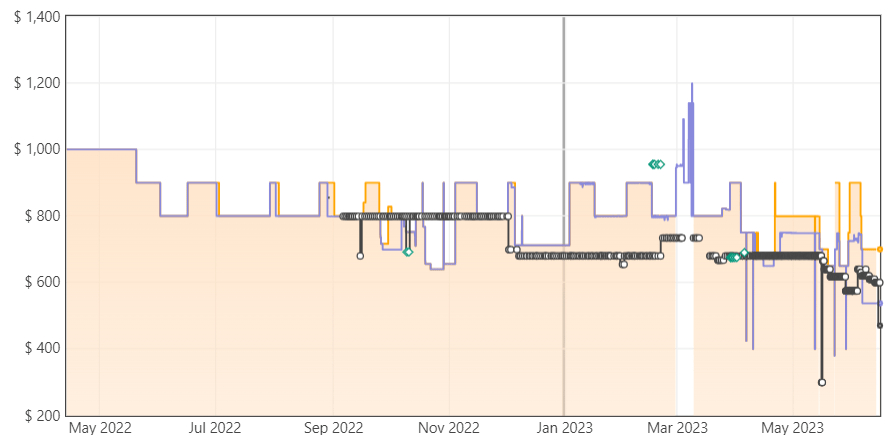 Comparison
These are the main competitor of the BenQ MOBIUZ EX2710U –
The GIGABYTE M32UC is better than the BenQ EX2710U as it offers 32 inches curved 4K UHD display with a 144Hz refresh rate, FreeSync supports, DisplayHDR 400, 123% sRGB rate, and USB Type C port. The downside of this monitor is not have swivel and pivot adjustments it has height and tilt adjustments. So if you want a slightly large curved display with deeper blacks and a fast response rate this is the best option at below a 600$ price tag.
The Asus VG28UQL1A is another great choice in the 4K 144Hz segment, It is the most popular in this category. It has 28 inches flat IPS panel with DIsplayHDR 400, 120% sRGB coverage, HDMI 2.1, G-Sync compatibility, and a fully adjustable stand you can get this at 599$ price tag, the downside of this monitor does not have a USB Type C port as competitors offer this range.
The offers a big 31.5 inches flat IPS panel with 4K UHD resolution, It has FreeSync, 144Hz refresh rate, HDR10, and USB Type C Port, The stand support height is adjustable so you can change the height of the monitor to your favorite position also you can use tilt and pivot adjustments to get the comfortable viewing angle.
Conclusion
The BenQ MOBIUZ EX2710U is the perfect monitor for those who are looking for a 4k 144Hz refresh rate and DisplayHDR 600 for deeper blacks that are great for dark rooms, but it has some of the cons like no Type C port, and better adjustment so you can choose its competitors at very low cost compare to this monitor such as the Gigabyte M32UC.
If you want better adjustability to stand then you can go for the LG 32UQ750, which list at 596$ price tag. I hope this post helps you to choose the right monitor for your need, let's bookmark this site to get quick access to your browser.