PHILIPS 346E2CUAE Review – There are a few monitors in the market that offer seamless gaming with an amazing working experience and the Philips 346E2CUAE is one of them. It has a massive 34-inch VA panel with a 100Hz refresh rate with AMD FreeSync Premium, Also the panel supports 121% sRGB coverage for better color accuracy and the USB Type brings faster connectivity.
This monitor can be used for gaming as well as content creation, editing, and other office work. Due to its big 34-inch display, you can multitask with more viewing space on the screen Also the image quality is great which is perfect for graphic designing work,
While it has many good things it has some bad things as well like the stand of this monitor only supports height and tilt adjustments so there are no swivel and pivot adjustments, and there is no HDR in this monitor so you will miss the true HDR playback.
One more thing is the horizontal and vertical viewing angles are not very impressive, so need some improvements. Besides these things, the monitor is excellent at below the $500 price tag.
Read: LG 32UP83A-W Review – 4K, Type C, HDR10, FreeSync
Philips 346E2CUAE Review
The Philips 346E2CUAE offers a 34-inch curved display with 121% sRGB rate, FreeSync Premium, USB Type C port, and 100Hz refresh rate for super-smooth gameplay visuals. The best thing about this monitor is the price tag of this monitor is impressive, as there are just a few monitors available in the market with both gaming and work capabilities with decent pricing.
The HDR is missing in this monitor and some gamers may be disappointed, also The viewing angles and the adjustability of the stand a major downsides of this monitor otherwise there is no big complaint about this monitor all are very good below the 500$ price tag.
Build and Design
The body of the Philips 346E2CUAE is made from plastic with nice-looking bezels, the 1500R curved panel gives a nice look overall. The design of this monitor is similar to a few Philips monitors, The squared shape stand perfectly handles the weight of the monitor, and due to its small size, there is a lot of space below the monitor so you can keep accessories without worrying about the space on your desk setup.
The stand of this monitor supports height adjustability so you can get a perfect height of the panel, also it has tilt adjustments to get a better viewing angle but the bad thing about this monitor is there are no swivel or pivot adjustments due to its big curved display.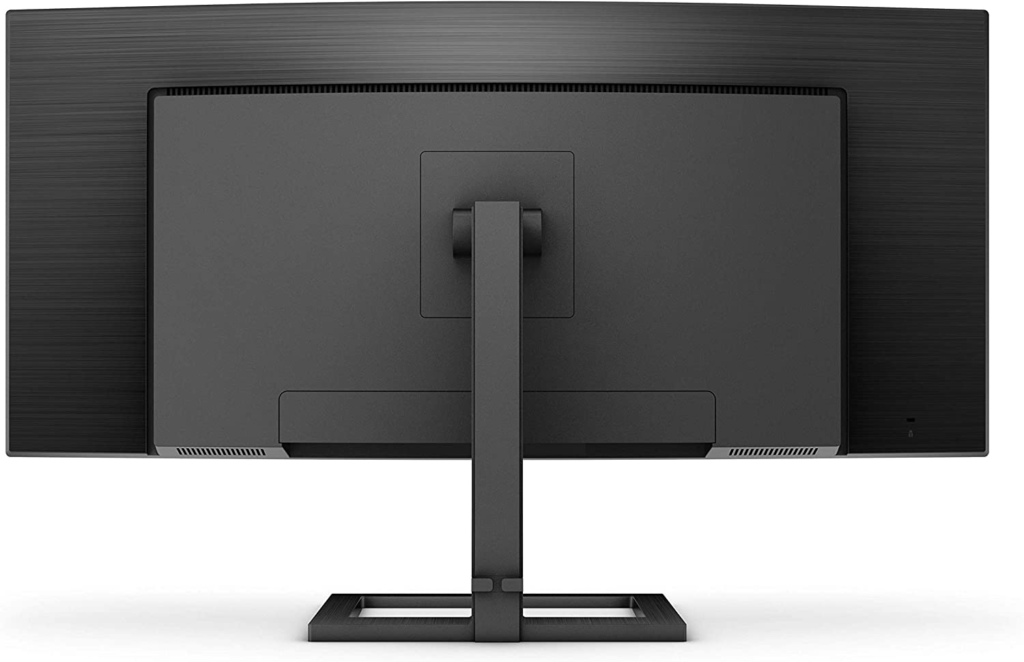 The weight of the monitor is 10.05 kg with the stand and the dimensions are 31.8 x 19.5 x 10.1 inch with the stand. Due to its big screen, the monitor feels heavy.
Image quality
The Philips 346E2CUAE has a 34-inch 1500R curved display with a resolution of 3440 x 1440 pixels, The display supports 121% sRGB coverage for better color accuracy that's great for content creation and graphics designers. The overall image quality is good but the HDR is not available on this monitor so some users might be disappointed. Otherwise, there are no issues with the image quality.
Performance
Talking about the performance of this monitor it's really impressive, due to the 100Hz refresh rate and FreeSync combination the graphics look smooth and responsive. You can play any type of game on this monitor with long gaming sessions, there is no screen tearing flickering, or blurry visuals. The big 34-inch curved display brings a more flexible view while playing angles in this monitor.
Connectivity
The monitor comes with DisplayPort, HDMI, USB Type C port, and audio output.
Pros
1500r Curved display, 121% sRGB rate, 100Hz refresh rate, USB Type C port.
Cons
No fully adjustable, No HDR, and Weak viewing angles.
Price Trends
Comparison
These are the great competitors of the Philips 346E2CUAE –
The GIGABYTE M28U is one of the best 4K 144Hz gaming monitors with USB Type C connectivity, it has DisplayHDR 400 for amazing HDR playback. The monitor offers a 28 inches flat 4K display with a 144Hz refresh rate and AMD FreeSync Premium Pro, HDMI 2.1, and 120% sRGB coverage for amazing color accuracy. The downside is the stand is only height and tilt adjustable so there is no swivel and pivot, also the price tag is a little higher than the Philips model.
If you want more performance with a 34 inches curved display alongside HDR and a USB Type C port then this is perfect for you, The LG 34WP75C-B offers a 34 inches 1800R curved display with a 160Hz peak refresh rate, AMD FreeSYnc Premium Pro, HDR10 for a better dynamic range, it supports height and tilt adjustment and the price is higher then the Philips model.
If you want 4K resolution with 144Hz refresh rate and USB Type C port then this is a great option from LG, It has a 32 inches flat 4K display with 144Hz refresh rate, AMD FreeSync Premium Pro, an adjustable stand, you can adjust the height, of the monitor also you can use tilt and pivot, there are no swivel adjustments.
Conclusion
I will recommend the Philips 346E2CUAE because, below the 500$ price tag, there is no other monitor in the market that offers this level of specs, but if you want more performance, better resolution, and HDR support then you can go for the Gigabyte M28U and LG 32UQ750. If you want a curved display with better refresh fate then no doubt the LG 34WP75C-B is the perfect option for you,
Before choosing any monitor decide what your requirements are and then finalize the budget and specs you want and then choose the right monitor. I hope this post helps you to choose the right monitor for your budget and requirements, please bookmark this site to get the latest tech stuff.