LG 27GP950-B is one of the standard quality and best gaming monitors available in the market. instead of gaming, it has various other usages. It is well known for its fast responsive factor and high resolution. It supports the NVIDIA, FreeSync, and G-SYNC variable rates technology.
So, if you are looking forward to buying LG 27GP950-B then read the below review carefully to gain more confidence about this gaming monitor. Let me know that it that how LG 27GP950-B is worth buying a monitor.
Key Features
Aspect Ratio = 16:9
Response Time = 1ms
Brightness = 400Cd/m2 typical
Monitor Size = 27
Resolution = 3840 × 2160
Panel technology = IPS
Stand height = 18.3 inches
Weight of the monitor = 5.7 kg
Contrast Ratio = 1000:1
Refresh Rate = 144Hz (160Hz O/C)
Pixel type = IPS
Curved = not curved
Tilt range = -15° to 5°
LG 27GP950-B has several cool features such as IPS pixel type, fantastic display with HDR600, ultra gear monitor, large space in comparison to other gaming monitors and offers OSD joystick, etc which makes this monitor more interesting and compatible with the new generation. It can be used for professional work also. It has mediocre contrast and is certified HDR. Let's discuss this in more detail. Keep reading the below information about LG 27GP950-B and its comparison with other gaming monitors.
Overview
LG 27GP950-B is the first ultra gear monitor which offers HDMI 2.1. It has a super high resolution of 3840× 2160 4K UHD with IPS panel technology. It has a matte black steak with red patches on its back which gives royal look and gaming vibes to the users. The weight and height of the monitor are 17.4 pounds and 27 inches. The lighting of the monitor is designed to give you a soft watch even while using the monitor for a longer time.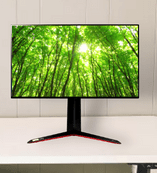 The monitor is adjustable, you can tilt it according to your comfort position. It has connectivity layout features . one of the excellent features of LG 27GP950 is that it gives you a response in only 1ms. The screen gives you a super crystal clear image and it can be used with Free sync and G- sync brands GPUs.
The model has a 160Hz refresh rate and 1000:1 contrast ratio. it offers 100% sRGB and 96% DCI-P3 for superb vibrancy. The user need not calibrate the monitor because it is pre-calibrated and has a balanced screen. So, you might have gained an idea about the monitor from the overview but the review is incomplete without the design and builds which are mentioned in the below paragraphs.
Read: LG 34WN80C-B Monitor Review
Build and Design
LG 27GP950-B looks very stunning and stylish and has a chevron-shaped stand. The back of the monitor has RGB bias- lightning. The stand of the monitor is designed in an order which takes very little space. The matte black color gives stunning look to the monitor. The adjustable stand and tilt range of the monitor is also good. it has a ring of vents at the back of the monitor. It has limited ergonomics.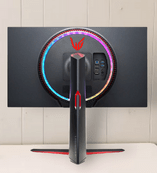 It has a very good cable management system. It's very thin in width and has a decent quality frame in it. so, the look of the monitor is very aesthetic and fascinating. The monitor can be set up in very little space and the gamer can adjust the other things besides and in front of them.
Image Quality
The screen of the monitor is 27 inches with a brightness range of 400cd/m2. The height of the screen can be pivoted and arranged. it offers vibrant colors and an sRGB emulation mode. The screen has a 178° viewing angle and 16 dimming zones and is very effective in case the image where looks dark.
They are 8 million pixels on the screen and a high dynamic range with HDR 600 certification makes teens most decent than other gaming screens. There are a number of gaming monitors available in the market but the LG 27GP950-B provides a 1,000:1 contrast ratio whereas IPS others only have ~800:1 contrast ratio.
The images won't change their angle abruptly to disturb you while gaming and its Screen is visible in the bright room as well. Overall its displays super high-quality pictures.
Image quality in a brief
Display = 27 in, 3840×2160 Pixels
Static contrast=1000
Brightness level = 400Cd/m2
Colors = 1073741824 colors
The display area in % = 93%
Peak brightness = 600 cd/m2
These features collectively give you fantastic quality pictures and the best gaming vibes.
Performance
The LG 27GP950- B sports is a 6000 HDR Certified model with an IPS panel and a 160Hz refresh rate. It gives a superfast response time, it has a backlight that gives 400Cd/m2 typical output. this monitor has higher brightness than other brands. so, if you want t to enjoy the vibrancy of the game then this is one of the best options you can go for.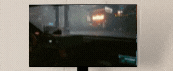 It has some cons but the pros of the monitor are much more than that. the gaming quality of the monitor is best for enthusiast gamers. it has impressive HDR gaming features. it gives a high-quality combat glare and carries peak brightness features. It is more aggressive to HDR than SDR. The image on the display remains accurate and the color gamut of SDR is incredible.
The monitor is also known as a multipurpose monitor because it proves excellent in fulfilling other professional requirements, it works smoothly, and has much more space in it. Following are some of the pros and cons of the monitor which are mentioned below.
Connectivity
The monitor comes with a DisplayPort, HDMI, USB, and Audio jack.
Pros
It s a low input lag
It has an outstanding responsive feature
It is a multipurpose monitor and has more space than other IPS monitors
It has a fan at the back to beat the heat dissipation.
Cons
It offers a low contrast rate.
LG 27GP950 doesn't have a Swivel.
Its reflection handling is quite disappointing.
Price Trends
Comparison
Let's discuss and compare other models and alternatives to LG 27GP950-B. We are not going to discuss all of them in great detail but this is just to give you a quick and simple crux about other gaming monitors.
The size of Gigabyte M28U is 28 inches while the size of LG 27GP950-B is 27 inches. Due to differences, In size, it gives you a good option to choose between them. Gigabyte has low refresh rate than LG. it's a very difficult task to decide which one is better because some say that Due to the excellent refection handling, the Gigabyte M28U is more compatible with gamers but others think that LG is better than Giga due to its faster refresh rate.
The LG 38WN95C-W is much better in some aspects in comparison to LG 27 GP950 but the former is more expensive than the latter. So, if you want to spend more on a gaming monitor then you should go for LG 38WN95C-W. The size of the screen is 38 inches which is ultra-wide and the resolution is 3840× 1600. It is very good for gaming, watching shows, or doing professional work. No doubt, it is one of the best monitors available in the LG brand. It has a high response time and max refresh rate. The radius of the monitor is 2300R which is much more than LG 27GP950-B. Hence, if you can afford the model LG 38WN95C-W then you should not think about its effectiveness twice because this is the best monitor in comparison to other gaming monitors.
LG 27GP950-B has high resolution than LG 27GL850. The latter has more reflection handling power. LG 27GP950-B has less reflection handling but it has a high-resolution screen and two HDMI ports. They are similar in size but the refresh rate of LG 27GL850 is 144Hz which is lower than the other model. Overall it depends on your choice but both of them comes under the best 10 topmost gaming monitor.
Thoughts on LG 27GP950-B
So, if you looking for a classic monitor which provides multiple platform gaming facilities highs-resolution0 is the smart choice. Its simplicity and functionality are suited for experienced and professional gamers. You will feel like you are playing in the real world due to its brightness, sound, and superb displaying quality. It has a crisp and clear IPS Panel. It gives a 4K 160Hz sight. Its features also include the HTML, 2.1 slots, and DisplayPort 1.4 with DSC due to connectivity layout. So, if you are willing to enjoy the high-quality gaming features then you should buy this monitor.
The above description will help you to choose the best monitor for yourself. It won't let you down with your gaming expectations but other options are also available for you as I mentioned above. Professionals should always monitor with a high response rate, refresh rate, and better compatibility which matches the pace of their gaming. so, another monitor might possess other characteristics but LG 27GP950-B is an excellent choice for professional gamers.