Dell D2719HGF review – Are you searching for a monitor with all features that assist you in playing games and other work? Here, look at the detailed review of the Dell D2719HGF that gives the excellent features you need at a reasonable price. Let's get detail about the monitor in further points.
Key features
Refresh Rate- 144Hz
Max screen resolution- 1920*1080 pixels
Product dimensions- 24.15 x 17.35 x 7.74 inches
Response Time- 2ms
Contrast Ratio- 1000:1
Screen size- 27 inches
Stand height-yes
Integrated speaker- yes
AMD FreeSync technology- yes
Item weight- 11.45 pounds
Overview
This monitor is designed to offer an excellent viewing experience and enhance gaming skills. It comes at an affordable price which includes all the superior features. With a 144Hz refresh rate, 2ms of response time, and 1920*1080 resolution, it will give you crystal clear image quality with smooth movement.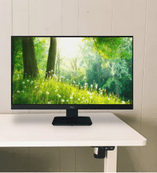 The Dells d2719hgf OSD menu will assist you in adjusting settings such as brightness, volume, color temperature, contrast, etc. It's easy to use and straightforward. However, its ergonomic features are limited to tilt functionality.
This 27-inch monitor, along with AMD technology, provides superior screen quality. The QHD Resolution feature of this monitor provides a quick view of images, and the HDMI port it offers helps you connect your laptop to a computer or other laptop.
This monitor is designed with advanced features, color technology, and motion that are important for playing action games like Apex Leader, Black Ops 4, Call of Duty, Fortnite, and many more.
The anti-glare coating helps you focus only on the game by eliminating reflection distractions. To know more about this monitor, read the full review of the monitor.
Build and Design
This monitor looks simple and attractive along with that offers vivid color. It looks professional because its thin-bezel design on its sides and top gives you sharp image quality at any angle.
This excellent feature of this monitor makes it unique from other monitors. Although the monitor looks simple and has a decent design, it gives a great gaming experience to game players.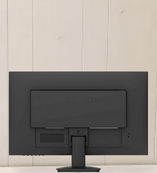 The monitor is made from durable plastic instead of so it doesn't look cheap. The back cabinet of the monitor has a matte finish. Because of these advanced features, it facilitates hanging it on your wall or placing it anywhere on a desk, as its rectangular design takes less space.
This monitor lacks the feature of height adjustment, rotation, and swivel. This monitor also has an in-build speaker that doesn't sound loud but is functional.
Read: Dell P2422H Review – A Perfect Monitor For Work
Image Quality
The Dell d2719hgf provides good image quality with its 27 inches full-screen monitor with a TN panel. The monitor can cover 99% sRGB color gamut and tends to cover 8-bit color, but the out-of-the-box accuracy is not good and easily noticeable by the expert gamer.
This is common for the monitor based on the TN panel. Hence someone looking at this laptop for photo editing or watching a movie; this monitor doesn't seem reasonable. The monitor's monitor's viewing angle is a little weak, so the gamer has difficulty playing the game smoothly and performs better.
If you want color accuracy, you have to make some settings, and you may get accuracy in color. However, the monitor at this price is better than any other monitor.
It offers a brightness level of 400 nits and has a color contrast ratio of 1000:1. To protect the eyes from color stains, drop their brightness level. The narrow view angle offers 160° vertical and 170° horizontal viewing angles.
The combination of 1080 resolution and a screen of 27 inches gives 81PPI picture density.
Read: Dell S2722QC Monitor Review
Performance
This monitor performs flawlessly and is suitable for game players. Through a 144Hz response time, you will get a buttery-smooth gaming experience. To experience the difference, play with the monitor giving 60Hz. The AMD FreeSync technology and 2ms response rate keep you busy in your gaming world, and You don't have to face lagging, stuttering, and screen tearing while playing your favorite game.
You can eliminate some of its performance flaws through the OSD menu and adjust the performance according to your need. Although it lacks some features, it will ideally serve your entertainment and gaming needs.
Read: Dell S2419HGF Monitor Review
Connectivity
The Dell D2719HGF offers DisplayPort, HDMI, USB, and audio ports.
Pros
144Hz refresh rate AMD FreeSync, Adjustable Stand.
Cons
Weak Viewing angles, no HDR.
Price Trends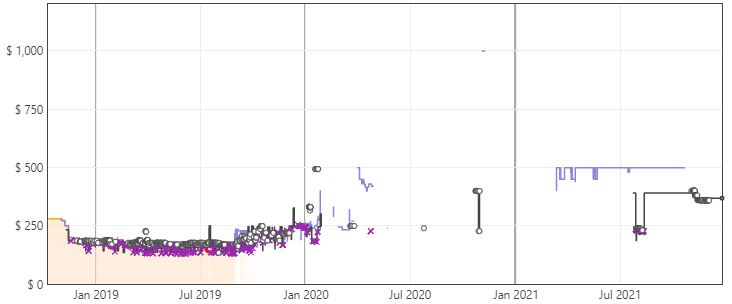 Comparison
The Dell d2791hgf has some exciting features, but another alternative is available. We have offered you some alternative options for Dell d2791hgf with comparison. Let's have a look.
Dell D2791hgf gives better brightness than Samsung C27FG70. The Dell monitor only supports NVIDIA G-SYNC technology but lacks AMD graphic card compatibility. However, with a response time of 2ms, it functions 86% faster than the Samsung monitor. The graphic color quality of the Samsung C27FG70 is better than that of Dell and offers 8-bit color depth that gives better color accuracy to the game user. On the other hand, in Dell monitors, the inaccuracy of the color is easily adjustable.
Both Dell and Samsung monitors have attractive and straightforward designs and are known for being gaming monitors. The contrast ratio of Samsung C27FG70 is 3000:1, much higher than Dell d2791hgf as its contrast rate is 1000:1.
In the world of monitoring, CRUA made her distinct identity. There are several exciting features CRUA monitors offer to users. The v-shaped stand of CRUA adjusts in a small space on your desk. The color gamut of this monitor offers a clear crystal image view with 82% DCI-P3 and 100% sRGB. Dell monitor covers 99% sRGB and provides a less precise and realistic image than CRUA 27.
Both monitors offer a refresh rate of 144hz and 27 inches screen size. CRUA provides 89° vertical and horizontal angle settings and has better ergonomic support. You can adjust the tilt and height of the handle of CRUA, which is lacking in the Dell monitor.
The Asus VG248QG has the best features that every game players need to have in it. It comes with G-SYNC technology, a refresh rate of 165Hz, a low-motion blur, and a response time of 1 ms. Although some feature of the Asus VG248QG is better, you have to pay less amount than the Dell d2719hgf. The Asus VG248QG offers a fully ergonomic stand that makes it comfortable to adjust the monitor's viewing angle; however, it is narrow. Both monitors, Asus VG248QG and Dell d2719hgf support TN panels and cover the color gamut of 99% sRGB and 8 bits of color depth.
As both monitors support the TN panel, both monitors lack color accuracy. For better color, you must make some settings to make the inaccuracy visible to the extensive game player.
Viewsonic comes under popular monitor brands. Hence don't need a detailed description of it. Both monitors are preferable for action game players. The Viewsonic has excellent features and supports FreeSync technology, giving a 1ms response rate and refresh rate of 144Hz, which Dell d2719hgf also offers. It contains more exciting features than the Dell monitor but is available at a chapter price. ViewSonic has low input lag and thus offers a seamless gaming experience compared to the Dell monitor.
Both monitors support ADM FreeSync technology and are beneficial in games and entertainment.
The Sceptre E248B-FPT168 monitor is perfect for game players. It supports IPS and has a refresh rate of 165Hz. With this monitor, you can experience a better gaming experience and quality image. However, you must pay less for this monitor than the Dell one.
The Dell D271hgf has 27 inches screen, which is later than the Scepter E248B-FPT168 monitor. Sceptre provides better ergonomic facilities and features with a 100% sRGB color gamut. Its IPS panel gives much better image quality and color accuracy, which the Dell TN panel doesn't provide.
Sceptre E248B-FPT168 is excellent for gaming and photo editing purposes, but the Dell monitor is suitable only for the game player because of its inaccuracy in image quality.
Thoughts on Dell 2D719HGF
This monitor has exciting features that make it fit for the gaming experience. As it doesn't compromise the quality, you will get it at an affordable price. With 1920*1080 pixels and 2ms response time, it works fast and flawlessly. The other things that attract this monitor are its look and attractive features.
We have given you a clear review of Dell d2719hgf. You can select the monitor as per your need and preferences. If it contains all the features you want, you can go with it; otherwise, you can check some of its other alternatives.