Asus VG249Q Review- We have reviewed details about the Asus VG249q monitor, which contains features that make it eligible to play the game. Check the detailed review below parts-
Key Specification
Screen size- 24 inches
Refresh Rate- 144Hz
Weight- 6.5Kg
Response Time- 4ms
VESA comparability- Yes (100*100)
Dimension- 21.28″ x 14.37″ x 8.57″
Panel technology- IPS (In-plane switching)
Aspect Ratio- 16:9
Brightness- 250 cd/m²
Contrast ratio- 1000:1
The Asus vg249q has excellent features, especially for gaming purposes. This affordable monitor includes features such as a high refresh rate, quick response time, outstanding display quality, low response time, comfortable viewing position, and low input lag to help you in enhancing your gaming experience. To get a full review of this monitor, continues to read it.
Overview
The Asus vg249q monitor supports IPS technology and is 24 inches in size. This monitor has excellent motion handling capacity thanks to its minimum response time and refresh rate of 144Hz. Along with 1080p resolution, this monitor has FreeSync technology. It also supports Adaptive-Sync, which assist gamer in performing and responding well while playing their game.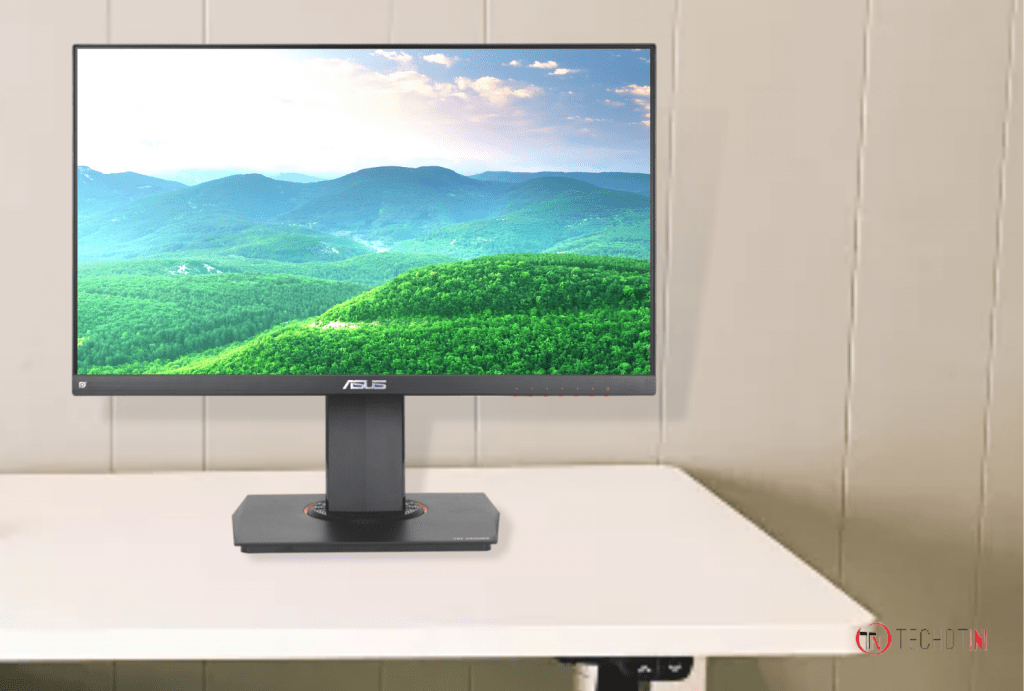 This monitor doesn't provide a multitasking feature; however, its small screen size is suitable if you have to open two or three windows simultaneously. The ergonomic feature of this monitor is terrible, and you can't keep the monitor at a comfortable viewing option. This monitor is also less beneficial for content creators because it doesn't cover all sRGB color sp, making the yellow color look inaccurate while working on it.
This monitor has a mediocre contrast ratio of 1000:1 because black appears like grey in a deep dark room. This monitor lacks support HDR, but out-of-the-box accuracy is great. The Asus vg249q SDR color gamut is great but has decent Adobe RGB coverage, making it unsuitable for a professional photographer.
Build and Design
The Asus vg249q monitor looks stylist with its Matte-finished look. Black matte chassis helps in easy cleaning of dust. The screen on three sides is bezel-free which helps the user to watch movies, play games, and do other activities without distraction. This 24-inch model is portable and takes less space on the desk.
The downfall of this monitor is its absence of a joystick. Instead of a joystick, the company offered OSD buttons. The stand of the monitor is v-shaped, and the material of the stand is generic plastic that does not seem like premium material; however, it supports the stand effectively.
However, it's classic look and decent style make your living room more attractive.
Image Quality
The Asus vg249q monitor supports IPS panel technology that provides a quality image compared to the monitor that supports the TN panel. The monitor tends to cover 100% color gamut. However, the monitor has decent SDR peak brightness.
The Asus vg249q exceeds its brightness when it reaches 295 cd/m². At 60% of brightness, the contrast ratio it's 1050:1, which seems to be great for an IPS panel, but instead of that, it fails to improve its black luminance. Instead of doing all the color settings, the image looks grey when the black image appears on display, especially at night and in the darkroom.
The monitor gives the panel uniformity, as light doesn't leak when the black light spreads. However, the corner of the monitor looks cloudy special when the screen is off. The 23.8 inches with 1920*1080 resolution gives a wide viewing angle of 178 degrees resulting in minimal distortion when you see from an extreme position.
Performance
The monitor has a 144 Hz refresh rate that gives a perfect look and a buttery smooth display view, making it perfect for the fast-paced game. The monitor features extreme low motion blur technology that eliminates motion blur and smearing with 1ms MPRT. This feature helps to provide a sharp image even if the image is in motion. That helps the gamer to respond quickly in action games.
It has flicker-free technology that eliminates the duplication of motion and helps protect from eye strain. At the Max refresh rate, the Asus vg249q gives great response time and a clear image even if the object moves faster. At the setting of 40, it gives the fastest response time, and at 100, you reach a 1ms response time; however, after all, sets, the total response time is still slower.
The Asus vg249q supports FreeSync technology, but when you are supposed to connect HDMI, its Radeon control panel will show you that FreeSync does not support the monitor. However, the overall performance of the monitor is decent at its cost and provides game players with a better gaming experience. Watching and moving this monitor is not perfect for other things like photo editing tasks.
Connectivity
The ASUS VG249Q comes with DisplayPort1.2×1, HDMI (v1.4)x1, D-subx1, audio-in ports.
Pros
Low input lag
Robust design
Affordable
FreeSync and AdaptiveSync are compatible.
Cons
Small screen size
NO HDR
Color Accuracy.
Price Trends

Comparison
There are some other alternative options for Asus vg249q available in the market. We have discussed a few of them with comparison. Let's have a look-
The Acer Nitro XF243Y pbmiiprx and Asus vg249q both support IPS panel technology and are gaming monitors. The screens of both monitors are 24 inches and have a refresh rate of 165Hz with 1080p resolution. Although they both have the feature of a gaming monitor Asus at its Max refresh rate, has a better response time. But the Asus monitor fails to give better ergonomics than the Acer monitor. You will get only tilt adjustment settings in Asus. However, Acer has better ergonomics. You can adjust the angle of the monitor's stand at your convenience. The Asus lacks HDR, while Acer has such features also.
However, as compared to Acer, Asus offer a better color gamut. The Acer has a simple design with a thin border on three sides. The stand of the monitor is a round base. On the other hand, Asus has a V-shaped stand that takes up less space on the desk.
The Gigabyte and Asus monitors have huge dissimilarities. The Gigabyte has a resolution of 1080p and a screen size of 27″. On the other hand, the Asus monitor gives a resolution of 1080p and a resolution of 1080p. The better resolution and big screen size make it suitable for photo editing and other activities, and it lacks an Asus monitor. As a gaming monitor, Asus gives excellent features over Gigabyte. As it has an excellent response time, it shows a better and quick image view of the object moving fast. The Gigabyte supports HDR, offers a wide color gamut, and gives additional features than the Asus monitor.
The build quality of Gigabyte is good and made up of plastic, but it gives a sturdy feeling. However, the Asus build quality is decent, and made has a plastic body but doesn't offer premium quality. Both monitors have a mediocre contrast ratio in which the black color gives a greyish look in the darkroom.
The Asus TUF Gaming monitor VG27AQL1A, and Asus vg249q are excellent for gaming purposes but have different features. The VG27AQL1A has a 1440p resolution and a screen size of 27 inches. On the other hand, vg249q has a screen size of 24 inches and a resolution of 1080p. However, VG249Q delivers better gaming features because of better response time. The VG27AQL1A has better ergonomic features that offer a better viewing angle, but the Asus vg249q has a limited ergonomic feature that gives only tilt adjustment facilities.
Both monitors have a V-shaped stand and are thin and made of plastic, giving sufficient space to place some objects in front of the monitor. The Asus TUF Gaming VG27AQL1A has a great color gamut and supports HDR, although this feature is absent in vg249q.
The MSI Optix G27C6 is one of the well-known brands of monitors and supports gaming features. Both MSI and Asus have similar refresh rates and 1080p solutions. But the MSI supports the VA panel and has a screen size of 27″, while Asus supports the IPS panel, which is better than the VA panel and has a screen size of 24″. Due to faster response time, Asus work better than MSI monitor. The MSI works better in the darkroom, and the image appears black in a dark room that lacks an Asus monitor as the image looks gray.
Both monitors support flicker-free technology and protect your eyes from strain. The ergonomic features of MSI Optix are good and provide adjustment quality which is the absence of an Asus monitor. You can only tilt the monitor.
Thoughts on ASUS VG249Q
The Asus vg249q is best for the gamer who wants an IPS panel and a refresh rate of 144Hz. This budget provides better image quality; the pixel response time is not good. The limited connectivity option is the drawback of this monitor. However, the monitor's build design, image quality, and performance make it suitable for a gaming monitor.
We have given a clear review of the monitor. Before deciding to buy the monitor, you can look at other options available in the market.