LG 32UN880-B Review – If you are looking for a 4K monitor that is capable of great color reproduction and overall great multitasking capabilities then the LG 32UN880-B is perfect for you, In this post, I shared the details of the LG 32UN880-B.
If you are wondering about buying this monitor then please read this post till the end, the monitor has a 31.5 inches 4K display with a 60Hz refresh rate, and a USB Type C port for seamless connectivity, also it supports HDR10 for better dynamic range and the fully adjustable stand gives you more comfortable viewing position.
Just like it's a good thing it has many bad things like the HDR peak brightness is not that great so you can't get the true HDR experience in this panel, and the contrast is also not very optimized.
Read: Dell P2422H Review – A Perfect Monitor For WORK?
LG 32UN880-B Review
The LG 32UN880-B offers a big 31.5 inches flat IPS panel with a 4K resolution, HDR10 support, and nice color accuracy that can help while video and photo editing stuff, the build and design of this monitor are very similar to many other LG models, so there is no new design.
The good part of this monitor is the stand is fully adjustable and you can change the viewing angle of the monitor to any angle you want without any issues, the current price tag is around 500$ and this is great for content creation but not for gaming, and true HDR playbacks otherwise there is no major issue on this monitor.
Read: The 14 Best Working From Home Monitor
Build and Design
The body of the LG 32UN880-B is made from plastic, and the bezels are thin and look very similar to many LG ultrafine models so from quality the monitor did a great job, the stand of this monitor is the major key feature of this monitor, you can now adjust the height of the most, you can change the angle of the monitor by tilting, swivel, and pivot adjustment but also you can extend/retracted the stands to an optimal viewing position so this is a great thing about this monitor.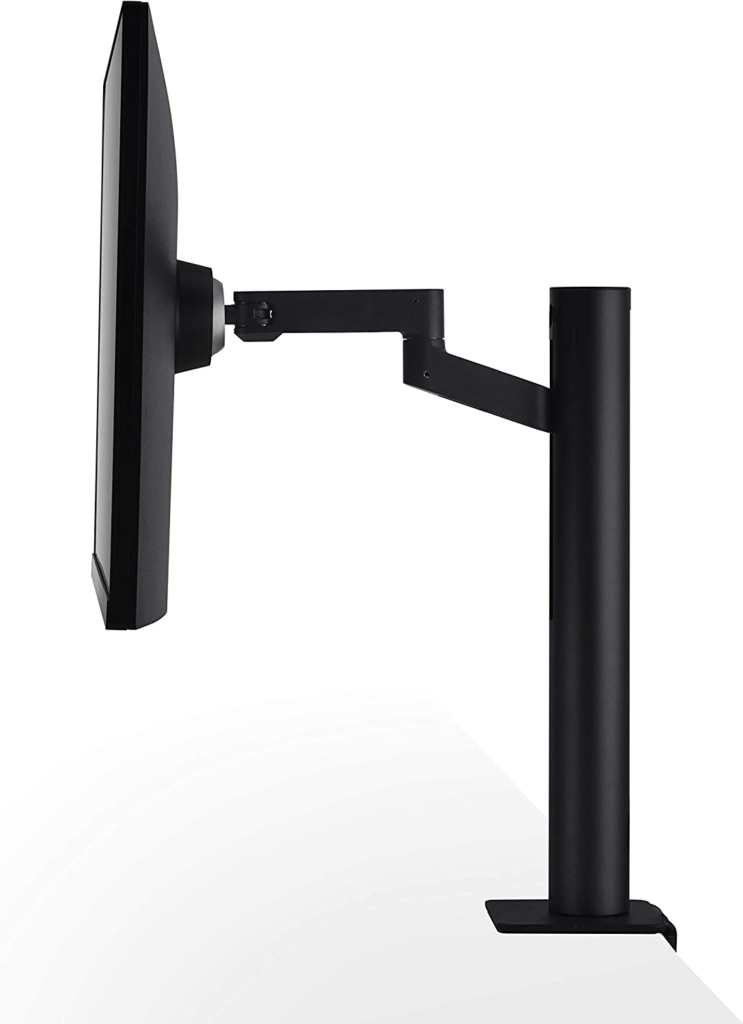 The adjustable stand comes with height, tilt, pivot, swivel, and extend/retract adjustability giving you flexible viewing angles while using this monitor but it takes space on your desk so remember this thing.
The weight of this monitor is around 10.29 Kg, which is a bit heavy and the dimensions of this monitor are 28.1″ x 25.2″ x 16″.
Image Quality
The LG 32UN880-B has a 31.5 inches IPS panel with a resolution of 3840 x 2160 pixels, the color accuracy is very good as it covers 85% of the coverage, and the supports HDR10 for better dynamic range and overall better playback quality but the bad thing is the peak HDR brightness is decent so the HDR playbacks are not that great and you can't enjoy the HDR gaming on this monitor due to low HDR brightness and the 60Hz refresh rate is not that sufficient to run smoothly graphics.
Performance
The monitor offers AMD FreeSync supports and has a decent 60Hz refresh rate, which is enough for working and multitasking but not for hardcore gaming, you can play lightweight games due to FreeSync support, otherwise, there is no major positive side of gaming, this monitor is great for professionals workers for creating content, or editing videos. The HDR gameplay in this monitor is disappointing because of the low peak HDR brightness and the unbalanced contrast.
Connectivity
Connectivity-wise the monitor offers a wide variety just like DisplayPort, HDMI, and USB C port and audio outputs, so you can easily connect your Mac devices and transfer data at a faster speed.
Pros
4K, good colors, fully adjustable stand, USB Type C port, AMD FreeSync.
Cons
Weak Peak HDR brightness, unbalanced contrast.
Price Trends

The lunch price of the LG is 699$, now you can grab it for around 496$ on Amazon.
CHECK THE PRICE ON THE B&H STORE
Comparison
These are the main competitors of the LG 32UN880-B –
The Philips Brilliance 279P1 offers a 27 inches 4K UHD Display with a USB Type C port and 122% sRGB coverage with amazing color accuracy, if you are a content creator and want a monitor that gives you amazing image quality then this is only for you also the price tag is less then the LG model. The downside of this monitor is there is no HDR in this monitor and no FreeSync/G-Sync support.
This is another great option from LG, The 27UN850-W offers a 27 inches 4K UHD display with VESA-certified DisplayHDR 400, a USB Type C port for faster connectivity, and AMD FreeSync for smoother visuals, The best part of this monitor is the price tag is less and you will get better overall experience, but the only drawback of this monitor is the 27-inch display rather than 32 inches.
If you want a bigger 4K monitor at less price then the SAMSUNG UJ59 is the right choice, It has 32 inches 4K UHD display with amazing color accuracy and overall good production capabilities but the downside of this monitor is there is no USB Type C port and no HDR for HDR playbacks.
Final Words
The LG 32UN880-B is a great monitor but it has some minor drawbacks such as the HDR capabilities and slightly unbalanced contrast with SDR brightness, and the price tag is a bit high compared to other models such as the Philips Brilliance 279P1, and LG 27UN850-W, I hope this post helps you to choose the right monitor for your need. Check out our latest articles and share them with your friends.