LG 49WQ95C-W Review – If you are searching for a big screen monitor with amazing gaming capabilities and also offers productivity features then the LG 49WQ95C-W is the best option for you. It has 49 inches curved ultrawide display with a 144Hz refresh rate, a USB Type C port, DisplayHDR 400, tilt/height/swivel, and FreeSync/G-Sync compatibility, an all-rounder monitor with all specs you need as a gaming or working monitor.
If you are looking for a working monitor then the LG 49WQ95C-W is the best option or if you are a pro gamer then this is the best choice for you due to its high refresh rate and G-Sync/FreeSync supports the gameplay experience unmatchable.
Many gamers like a curved display and the LG 49WQ95C-W has a 3800R curved ultrawide panel that is amazing to see through to all angles with a massive 49 inches IPS panel.
Why this monitor is an all-rounder monitor? due to its 144Hz refresh rate and FreeSync/GSync capabilities also it has a USB Type C port DisplayHDR 400 for better color accuracy and is best for working professionals, and the stand is adjustable so these things make it one of the perfect monitors for gaming and working setup.
Read: LG 27UP650-W Review – 4K, 60Hz, No USB Type C Port
LG 49WQ95C-W Review
The LG 49WQ95C-W offers a 49 inches curved ultrawide display with 144Hz refresh rate, AMD FreeSync/G-Sync compatibility, USB Type C port, and DisplayHDR 400 for better image quality. The build and design are good and the stand offers height adjustment so you can adjust the height of the monitor to a perfect viewing position, also you can use a swivel and tilt adjustment to get a comfortable position while working on this monitor.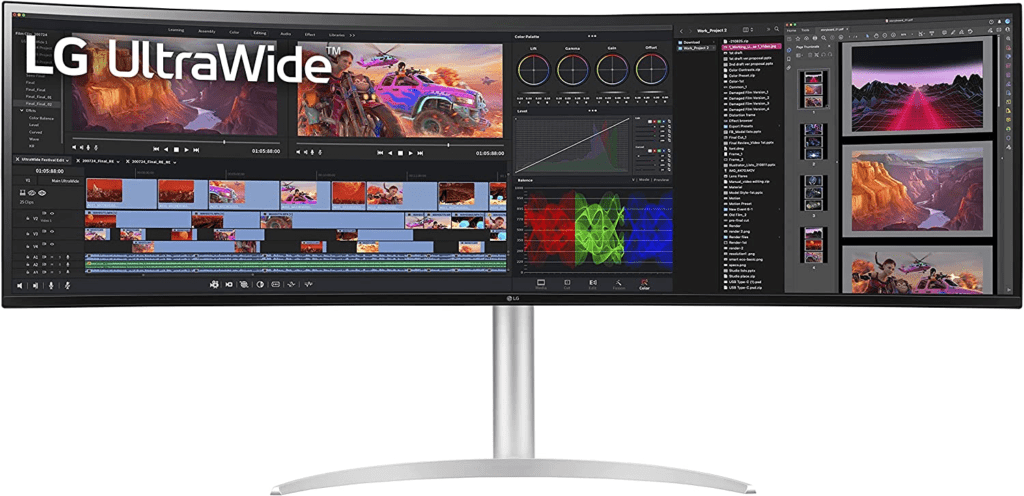 While talking about its capabilities then you can play games on this monitor also if you are a working professional who looking for better productivity then this is a perfect choice, there is a USB Type C port so you can connect your Mac devices very easily.
Read: LG 27UL850-W Review – 4K, USB Type C Port, FreeSync
Build and Design
The body of the LG 49WQ95C-W is made from plastic, the 3800R curved body looks great with the 49 inches huge display, and the design is very similar to many LG models so no new design here. The stand fits perfectly t and it has height, swivel, and tilt adjustability, but there are no pivot adjustments due to its super curved 3800R panel.
The V-shaped stand of this monitor looks good and it doesn't capture too much scape on your workstation, so you can keep some extra accessories or products below the monitor, there is a huge space, and the stand offers three adjustments,s not including the pivot because it's not good for a curved monitor to rotate the screen on all angle.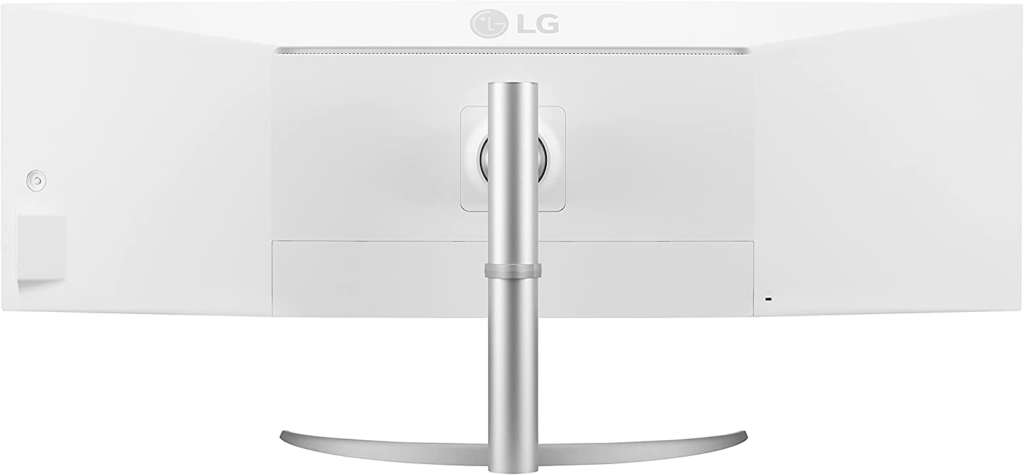 The weight of this monitor is around 14.69 Kg with the stand and the dimensions are 47.8″ x 23.1″ x 11.1″ with the stand.
Read: GIGABYTE G32QC Review – 165Hz, Weak HDR
Image Quality
The LG 49WQ95C-W has 49 inches 3800R curved IPS panel with a resolution of 5120 x 1440 Pixels, it supports VESA-certified DisplayHDR 400 gives you brighter visuals with overall a better dynamic range, and the colors are sharper and more vibrant. The downside is the HDR peak brightness is a little weak and the horizontal and vertical viewing angle needs improvement to get a perfect viewing angle otherwise there is no issue with the image quality, the FreeSync/G-Sync and 144Hz refresh rate produces super smooth visuals.
Performance
It has a 144Hz peak refresh rate and adaptive sync technology provides smoother and flicker-free playback. The LG 49WQ95C-W supports both FreeSync/GSync technology to give you an optimal gameplay experience without any screen tearing, flickering or blurry visuals. You can play heavy games for long sessions without any issues. While talking about productivity performance the monitor performs really when and is great for multitasking thanks to its big screen.
Connectivity
The monitor comes with all connectivity options including HDMI, DisplayPort, USB Type C port, and audio outputs.
Pros
49 inch 3800R curved screen, 144Hz refresh rate, FreeSync/G-Sync, USB Type C Port, DisplayHDR 400.
Cons
Weak viewing angles, low HDR peak brightness, No Swivel adjustments.
Price Trends

Comparison
These are the top 3 competitors of the LG 49WQ95C-W –
The AORUS FO48U is the best monitor that offers a 48 inches OLED 4K display with a 120Hz refresh rate, It has FreeSync premium, HDR supports, and a 130% sRGB rate for super vibrant colors, also it has USB Type C for better connectivity. The only downside of this monitor is the stand is not adjustable so you can use the VESA mount to get a comfortable position.
This is another great monitor that you can choose from, it has 49 inches 1800R curved display with a 120Hz refresh rate. The design and build are impressive and the stand supports height adjustment, tilt, and swivel. so you can change the angle for the monitor wherever you want, for connectivity, there are many ports including a USB Type C port.
The Acer Predator CG437K Pbmiiippuz is perfect for many users, the 43 inches 4K display gives you much more enhanced image quality and it supports DisplayHDR 1000 so the brightness and the colors are superb. For gaming, it has a 120Hz refresh rate with G-Sync technology for smoother visuals. The downside of this monitor is the stand is not fully adjustable and the price tag is huge compared to other models.
Comparison
The LG 49WQ95C-W is a really good monitor but there are many good monitors in the market with a better price tag, such as the Gigabyte Aorus model, it has much more image quality with better overall production capabilities. Another great monitor is the Samsung model which has a great price tag and great specs compared to the LG model.
I hope this post helps you to choose the right monitor for your need, let's check out our other articles to get updated information about the best products.