MSI Optix G272 Review – If you are looking for the cheapest 144Hz refresh rate monitor with the compromise of adjustability of the stand then this is a good option for you. Most gamers don't like a non-fully adjustable stand, so there are many other options in the market that offers a very good deal.
MSI Optix G272 comes with a 27 inches 1080p IPS display with a 144Hz refresh rate, The monitor doesn't provide a fully adjustable stand you can just tilt the display, also the contrast and viewing angles are not very impressive, and horizontal and vertical viewing angles are little poor quality.
The response rate is good and very good at gaming there is no major issue with the performance, It supports VRR which enhances overall gameplay.
The monitor is good for gaming, If you wondering to buy a monitor with a 144Hz refresh rate then this is one of the cheapest monitors that you can get, but not all specs are good, such as adjustability, and build quality, image quality stuff.
MSI Optix G272 Overview
The MSI Optix G272 offers 27 inches 1080p display, with a 144Hz peak refresh rate, the monitor supports a Variable refresh rate. The stand is all and perfectly fits any desk size, but the bad thing about the stand is that you can't adjust the height of the monitor or can't rotate, swivel, or portrait to your favorite viewing position.
The monitor doesn't have HDR support, and the contrast is a little weaker than any other 1080p panel, but the colors are good, and it also lacks text clarity.
Build and Design
The body of MSI Optix G272 is built from plastic, the stand is wide and perfectly fits most desk sizes without taking up extra space on your setup. The problem is the adjustability of the monitor,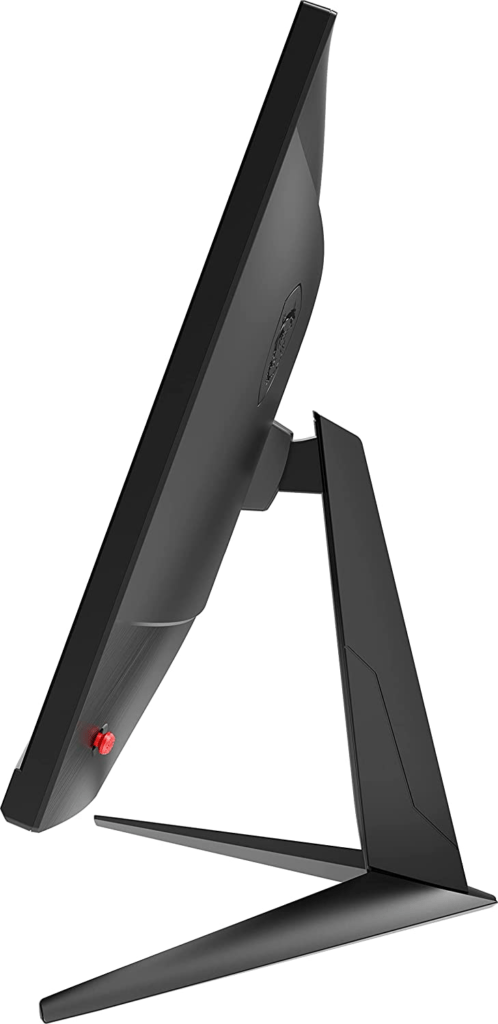 while playing games you need to change the viewing angles to get a comfortable gameplay environment, but in this monitor, you can just tilt the monitor, there are no other adjustability options.
The weight of this monitor is around 4.2Kg, which is lightweight so you can move the monitor very easily, and the dimensions are 24.29 x 2.3 x 14.1 inches.
Image Quality
The MSI Optix G272 has 27 inches IPS display with a resolution of 1920 x 1080 pixels, The contrast is low, and SDR brightness is good with nice color but the text clarity is weak on this monitor. There is no HDR support so missing the deeper blacks and vibrant colors but for gaming, there is no big issue, this is not a content creation monitor so might be a good option.
Performance
It has a 144Hz max refresh rate with great response time, good for gaming, also the monitor supports VRR that's working fine. The only cons are that you can't play HDR games on this monitor, otherwise, you can play heavy games without any big issues such as flickering, screen tearing, and blurry visuals.
Connectivity
The monitor comes with Display Port, HDMI, and a 3.5mm jack, there are no USB ports.
Pros
144Hz refresh rate, VRR, the cheap price tag.
Cons
No full adjustability, Horizontal/vertical viewing angles, weak contrast, and no USB ports.
Price trends
Comparison
These are the main competitors of the MSI Optix G272 monitor –
The VIOTEK GFI24CBA is better than the MSI Optix G272, It has 24 inches 1080p display with a 144Hz refresh rate and FreeSync/G-Sync compatible. The stand of this monitor is fully adjustable so this is another good thing, Lightweight and compact design gives you a comfortable gaming experience, and the price tag is also very good.
If you are looking for a monitor that produces great colors with a cheaper price tag then the AOC G2490VX is a great option for you, It has 24 inches 1080p display with a 144Hz refresh rate and FreeSync premium. The only bad thing about this monitor is don't have a fully adjustable stand, you can just tilt the display.
If you want a curved gaming monitor with a 165Hz refresh rate and a fully adjustable display that supports FreeSync Premium then the AOC C24G1A is perfect for you, The price tag is slightly high than the MSI Optix G272 but you are getting tons of good features, for a 1500R curved display this is a very good choice.
Final Words
The MSI Optix G272 is a gaming focus monitor that supports a 144Hz refresh rate and is VRR compatible, but the stand is not adjustable and if you are ready to compromise on contrast, viewing angles, adjustability then this is a very good option for you, most of the gamers don't like the non-adjustable stand, you can check other competitors that give you perfect features within your budget.