The 5 Best Silent Mechanical Keyboard for Office – While typing on a keyboard usually generates noise and some keyboards are too bad, In this post I shared some quite mechanical keyboards with less noise and a better typing experience. When you are in the office and your keypress sound covers the entire office and everyone looking at you, If you don't want embracement like this then you should choose the right keyboard that doesn't produce extra noise while pressing the buttons.
Normally keyboard buttons generate sound on every keyboard, there is no specific technology to avoid the noise but some keyboards are built differently they try to make the buttons more clickable and at the same time reduce the keypress noise. The click noise comes from the buttons if they have space on the side of a button then the chances are high that the keypress noise will come.
The design factor of the button is the real reason that generates noise while typing, It means you should choose a tight button design that doesn't consume space on the side of the button and it should be hard so there is no chance of button displacement while pressing it.
Read: The 9 Best Gaming Mouse and Keyboard Combo
The 5 Best Silent Mechanical Keyboard for Office
While choosing the right keyboard you should check the response time of the buttons and how they quickly pass the data to the monitor, also the backlights can be a crucial factor, it depends on your choice if you are a gamer then RGB backlight can be a great choice as gamers like the RGB lighting and wired or wireless it is your own choice.
If you compare the wireless and wired keyboards then the wired keyboard gives you faster response times than the wireless one because the wired are transfers the data via wired and it is very fast if you compare it with the Bluetooth connectivity.
Read: The 5 Best Monitors for MacBook Pro
Below I shared the top 5 Silent Mechanical Keyboards that you can choose from, these are some of the best compact design buttons with faster responses and other features with a comfortable typing experience. You can choose one of these keyboards according to your budget and the features you want.
1. Razer BlackWidow TE Chroma v2
This keyboard is from Razer a well-known company that offers many products and gaming products are very good and this keyboard is a perfect example. It is really good at typing without any extra noise while typing and the best thing about this silent mechanical keyboard that I liked so much is the wrist rest it is one of the important things on a keyboard that users always compromise with, but this gives you good posture to your hand while typing in this keyboard. It offers RGB backlights and lightweight hardware that is portable-friendly.
2. SteelSeries Apex 7 TKL
This is another great option from SteelSeries, The SteelSeries Apex 7 TKL offers super fast response time and great build quality with aluminum alloy that gives you long-lasting durability. One of the coolest features of this mechanical keyboard is it has an OLED screen to get important stuff on the display like Spotify, discord playback info, and many more. It is a wired keyboard so the speed is good but the wrist rest is not that practical if you compare it with Razer Blackwidow otherwise overall extremely good.
3. RK ROYAL KLUDGE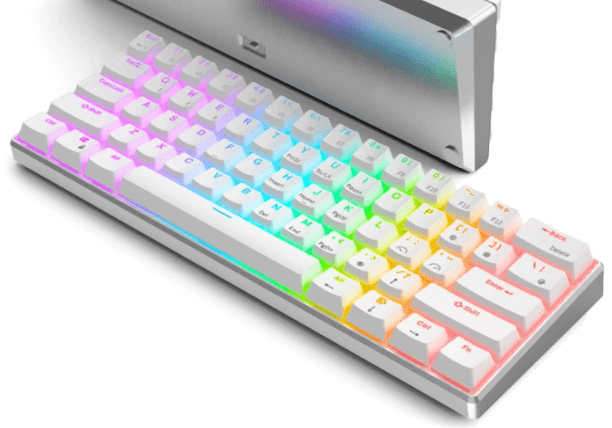 If you want a great wired or wireless silent mechanical keyboard with a budget price tag this is for you. The design is simple and looks great in white color, The best part of this keyboard is the wired and wireless option so if you want to play it without wire then you can connect with Bluetooth and you can use it with wire. Comes with RGB backlights, there is no wrist rest, and the build quality is decent, 1850mAh battery and USB Type C connectivity.
4. ikbc CD87 V2

The ikbc CD87 V2 is another best silent mechanical keyboards with a nice build and a faster response rate, it comes with a dual-tone design and the buttons are solid so the click sound is very low. If you want a simple design and nice build with no RGB backlight then it's a great choice for you. The simple design is the one you will definitely like about this keyboard and the price tag is not huge like the SteelSeries keyboard. Many users don't like funky design as they work on office or other professional work so it's a great choice for that.
5. Mistel BAROCCO MD770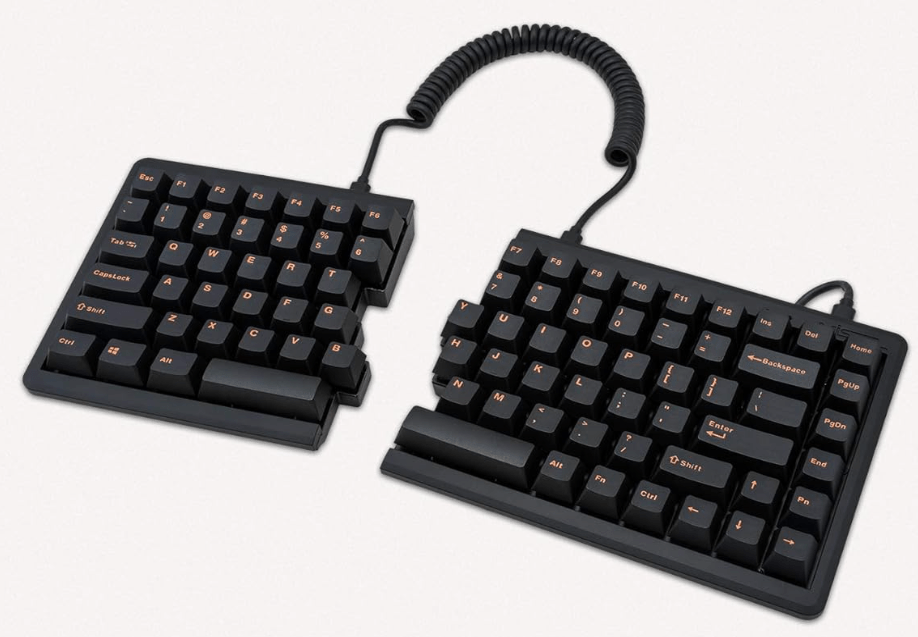 This i the last but not least the Mistel BAROCCO MD770 mechanical keyboard with silent keypress. The best part of this keyboard is the split feature so you can use the split keyboard to get a super comfortable typing experience I think this is one of the best features a user wants and this definitely perfect for office work or programming work as you have a type for a long time.
Wired vs. Wireless Keyboard which is good?
Whether a wired or wireless keyboard is better depends on your specific needs and preferences. Both types of keyboards have their advantages and disadvantages, and the choice between them should be based on your usage scenario and personal priorities. Here are some factors to consider when deciding between a wired and wireless keyboard:
Connection Type:
Wired: Wired keyboards connect directly to your computer using a USB cable. They are typically more reliable and have lower input lag compared to wireless keyboards.
Wireless: Wireless keyboards use Bluetooth or RF (radio frequency) to connect to your computer without the need for a physical cable. They offer greater mobility and a clutter-free workspace.
Mobility:
Wired: Limited by the length of the cable, wired keyboards are less mobile and may have cable management issues.
Wireless: Wireless keyboards provide greater freedom of movement and are a good choice if you want to control your computer from a distance or if you prefer a cleaner desk setup.
Battery Life:
Wired: Wired keyboards don't require batteries or charging since they draw power directly from the computer.
Wireless: Wireless keyboards are battery-powered or rechargeable. Battery life varies, and you may need to replace or recharge batteries periodically.
Read: The 5 Best True Wireless Earbuds – Summer Edition
Latency and Reliability:
Wired: Wired keyboards generally have lower latency and are less susceptible to interference, making them a better choice for gaming or situations where split-second responsiveness is crucial.
Wireless: Wireless keyboards can experience input lag, although modern models have improved in this regard. Interference from other devices can also affect wireless connectivity.
Aesthetics and Desk Setup:
Wired: The presence of a cable can create clutter and may not be visually appealing, but it's a minor consideration for some users.
Wireless: Wireless keyboards contribute to a cleaner, more organized desk setup.
Portability:
Wired: Less portable due to the cable.
Wireless: More portable and convenient for use with laptops and tablets on the go.
Cost:
Wired: Generally, wired keyboards are less expensive than their wireless counterparts because they are simpler in design.
In summary, if you prioritize reliability, and low latency, and don't mind a cable on your desk, a wired keyboard is a good choice. On the other hand, if you value mobility, a clean workspace, and are willing to manage batteries or recharging, a wireless keyboard may be more suitable. Ultimately, the decision comes down to your personal preferences and how you plan to use the keyboard.
Things to know before choosing a silent mechanical keyboard
When choosing a silent mechanical keyboard, consider factors like switch type (Cherry MX, Gateron, Razer, etc.), form factor (full-sized, tenkeyless, or compact), and any additional features you may need, such as RGB lighting, wireless connectivity, or customizable keycaps. Ultimately, the best silent mechanical keyboard for you will depend on your specific preferences and requirements for typing or gaming. If you are looking for the best Silent Mechanical Keyboard for office then the you should check the comfort first.
Read: The 4 Best AM5 Motherboard for 7800X3D or 7950X3D
A silent mechanical keyboard is designed to provide the tactile feedback and keystroke feel of traditional mechanical keyboards without the loud and clicky sound that is often associated with them. These keyboards use special switches that dampen the noise produced during key presses.
Final Words
If you want to upgrade your keyboard and want a brand new one always check the build quality and response time and other features like the wrist rest or split design that gives you a more comfortable typing experience for a long time. I hope this article helps you to know more about some of the best silent mechanical keyboard for office uses and useful tips for choosing the right product. Bookmark this site now to get similar helpful articles.