Asus ROG Swift PG279QM Review – For a better gaming experience, every game lover wants to have a monitor of the best quality and cost-effective. Asus pg279qm comes with outstanding features, We reviewed Asus pg279qm to get full information about the design, image quality, features, and everything about this monitor.
Key features
Aspect ratio- 16:9
Colour Space (sRGB)- 150%
Panel Type- IPS
Pixel Pitch- 0.233mm
Color Space (DCI-P3)- 97%
Brightness- 350cd/M²
Contrast Ratio- 1000:1
Display Colors- 16.7m
Flicker-Free- yes
Response Time- 1ms
True Resolution- 2560*1440
Refresh Rate- 240Hz
Asus PG279QM Monitor Review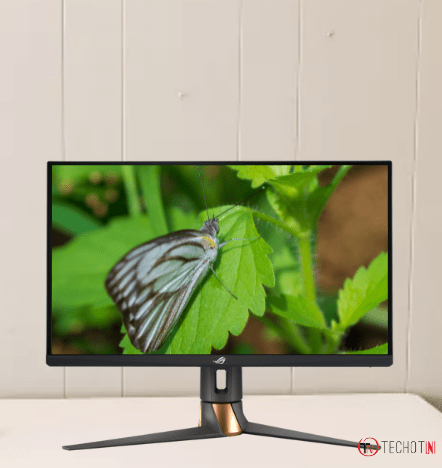 Overview
The Asus pg279 has a fast IPS panel that helps perform the monitor faster. This 27-inches display, along with a 240Hz of refresh rate, makes it perfect for the gamer. Along with that, the ideal feature of high dynamic range and quick response time makes the monitor ideal to work for professionals and action games.
High dynamic range technology, excellent colour gamut, DCI-P3, and display HDR certification ensure exceptional colour and contrast performance than traditional monitors. The darkest black and brightest white colour contrast give every detail more clearly and effectively.
Your performance in competitive games depends on the display update after clicking your mouse. NVIDIA Reflex Latency Analyzer helps in quick response as soon as you click your mouse.
The flicker-free technology helps you play your game for a long time without causing any problems to your eyes. You can enjoy a good and long session of your game.
So, are you feeling excited to know more detail about the monitor? So look forward and get full information about it-
Build and Design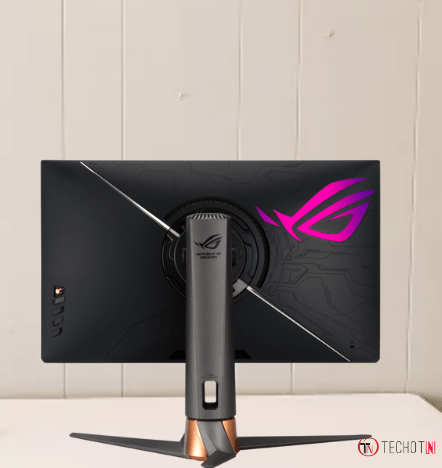 The monitor is built with metal and plastic. The combination of both gives an attractive and premium look. Hence this monitor suits your office purpose also. Its ROG logo is located on the monitor's lower frame at the centre. If the theme is mostly made from plastic, The height of it is adjustable, and you can adjust its angle by 25° as per your preference. Behind the monitor's frame, in the lower-left corner,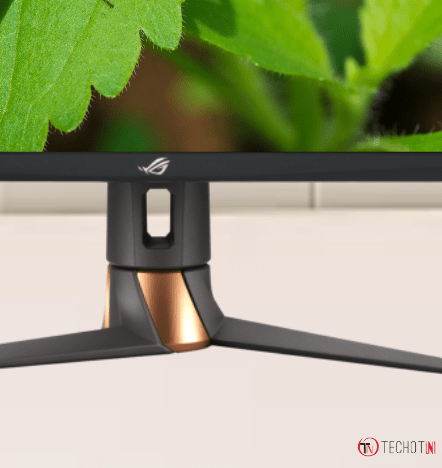 has a joystick and some buttons which you can find out easily because of its size and shape. With the monitor's joystick, you can navigate the menu easily, and its keys are smooth and work freely.
Image Quality
The Asus pg279qm is known for its colour accuracy and high dynamic range that provides a realistic view of an image that contains deep shadows and bright highlights. The In- panel switching offers colour accuracy of ∆E<2 and supports almost 16.7 million colours Covering 150% sRGB and 97% DCI-P3 spectrum.
The VESA displayHDR 400 certification ensures 400 cd/m² brightness with bit depth, specific colour gamut, and rise time value offering good image quality with colour contrast and accuracy. The pixel pitch of this monitor is 0.2333 mm and 1000:1 contrast rate.
The Asus pg279qm gaming monitor features a true resolution of 2560*1440 that provides clear and sharper image quality. By viewing the display from different angles, no colour distortion is found.
However, the display's brightness reduces when you look from extreme angles. Its flicker-free technology helps in eliminating eyestrain by reducing flicker, and you can enjoy a long session of your game.
For viewing conveniently, it will offer four types of filter setting that helps you to control blue light and protect your eyes from harmful effect.
Performance
The Asus pg279qm has excellent features that me it suitable for fast-paced games. It is NVIDIA G-SYNC that provides tear-free and smooth playing facilities. This feature makes it ideal for counter-strike, Fortnite, global offensive, and Overwatch. This monitor helps you track your enemies easily and execute the response faster than other monitors.
Compared to conventional IPS panels, its liquid crystal elements assist in turning on and off of display 4times faster. Thanks to its 240Hz refresh rate, it helps respond quickly where actions are required to appear in milliseconds.
This monitor provides accurate measurement to the game player for system latency that enhances their gaming experience in manifolds.
Its game plus hotkey allows its users to practice and improve their favourite games. For your convenient viewing position, You will get an ergonomic design that provides swivel, tilt, height adjustment, and pivot facilities so that you can adjust the angle setting as per your viewing position.
Connectivity
The monitor comes with a Displayport, HDMI, USB 3.0 and audio outputs.
Price Trends

Comparison
The Asus pg279qm has special features that make them an excellent gaming monitor, but some alternative options are also available. Let's make comparisons between them.
1. Asus ROG Strix XG279Q
When you compare Asus pg279qm with Asus Rog Strix XG279q, you will find out that Asus Rog Strix XG279q is a better option. The reason is that the XG279Q refresh rate is higher than PG279QM.
Along with that, its response time is higher, and the monitor supports HDR. However, PG279QM comes with lower input lag and offers more colour accuracy, and the viewing angle is also wider.
The ergonomic feature of XG279Q is good as you can rotate it fully anti-clockwise, although PG279QM lacks this feature.
2. LG 27GL850-B
LG is a well-known brand in the world of the monitor. LG 27GL850-B and Asus pg279qm offer similar performance instead of but there is some difference between them.
The LG supports FreeSync, and HDR and has offered a better gradient because of its 10-bit panel. Although LG has disappointing ergonomics,
it has limited height adjustment facilities, little tilt range, and it cannot swivel. On the other hand, Asus offers great ergonomically. Asus lacks HDR support, but LG offers a decent HDR colour gamut.
3. BenQ ZOWIE XL2540
BenQ ZOWIE XL2540 has some excellent features; however, Asus is a better option than BenQ. When you compare both monitors, you find out that Asus has a higher IPS Screen and offer native resolution higher along with a much adjustable viewing angle.
The build quality of both monitors is great and supports VRR. The BenQ supports AMD's FreeSync technology, and Asus supports NVIDIA's G-SYNC technology.
The colour accuracy of BenQ is disappointing, and its inaccuracy is easily noticeable by the people. Asus out-of-the-box accuracy of colour is great, and difficult to find out the inaccuracy of the colours. However, the colour gamut of both monitors is excellent.
4. Gigabyte M27Q
For exclusive game players, both the monitor are great and provide great performances. The main difference between the Asus and Gigabyte is that the Asus lacks FreeSync and has native G-SYNC. However, Gigabyte supports FreeSync and G-SYNC computability.
Asus has great ergonomics and can be placed at any viewing position. Gigabyte lacks ergonomics you can only provide tilt and height adjustment. However, Gigabyte does not have better ergonomics but offers other excellent features to gamers, such as USB-C support and HDR support.
Both monitors give a response time of 60Hz, which is great for gamers, and support flicker technology that eliminates eye strain.
Samsung is one of the top brands among the other monitor brands. Samsung and Asus are known for providing great gaming experiences to game players. Although they both are popular among gamers, their features are slightly different.
The Samsung monitor offers excellent response time and a slight refresh rate higher than Asus. But the difference is not identified by the casual players.
The Asus provides better ergonomic adjustment features and a wider viewing angle because of its IPS panel. However, Samsung has a VA panel along with a higher contrast ratio. The Samsung monitors also support HDR making it more preferable than Asus.
The Asus comes with a simple design without a curve; on the other hand, Samsung looks attractive, and stylists have an aggressive turn.
Because of Samsung's V-shaped stand, you can place another object in front of it; however, the Asus stand is flat and can handle the monitor well.
Thoughts on Asus PG279QM
Let's end the discussion over the Asus pg279qm monitor by giving final thoughts. The Asus pg279qm has outstanding features making it for game players. It has an excellent ergonomic design and fast IPS panel.
This monitor is a perfect 1440p gaming monitor and provides tremendous performance and image quality which is essential for playing the game and enhancing gaming skills.
The Asus pg279qm has an outstanding reflection handling quality and picture quality. It provides 16.7 million colour options with accuracy and excellent response time. With its low input lag and flicker-free technology, you will get the best gaming experience.