Asus VG328H1B Review – The Asus VG328H1B offers 31.5 inches 1500R curved display with a 165Hz refresh rate and supports AMD FreeSync premium for a smooth experience, The downside is the stand is not fully adjustable and the viewing angles need improvement.
The monitor supports 120% sRGB but in terms of contrast and brightness feels like not optimized, but you will not notice it in normal uses. Performance wise there is no flicking, screen tearing, or blurry visual stuff, all feels smooth and responsive due to the fastest 165Hz refresh rate and AMD FreeSync combination.
Talking about the pricing then right now the price is 259 USD, and there is no significant change in pricing, in terms of performance and features the monitor comes with a very good price tag,
it is really impressive due to its huge 31.5 inches curved display with an amazing gaming experience this is a very good option for gamers who are looking for a budget monitor.
Asus VG328H1B Review
The build and design to very similar to other Asus TUF gaming monitors, the big 31.5 inches 1500R curved 1080p display are good and the stand is small, and easily fits on any desk size but the bad thing is there is no height,
and portrait adjustability only offers tilt and swivel adjustment, so if you use this adjustability consistently then you will definitely miss these features in this monitor.
Image quality is good at this price tag and performance it's impressive, the colors are good with stable graphics, and the horizontal/vertical viewing angles are not very impressive so needs improvement there. The monitor doesn't support HDR so you can't enjoy the HDR gameplay on this monitor.
Build and design
The body is made from decent plastic and the stand is small and perfectly fits on the desk without capturing extra space but you can't use the height and portrait adjustability,
the monitor only allows you to tilt the display and swivel, so when you are playing games for a long hour you need to change position to a comfortable position but you can't do this.
The bezels are slim with the 1500R curved body the monitor looks very attractive from the front side, The overall build quality is okay, but not very impressive with a sturdily built one.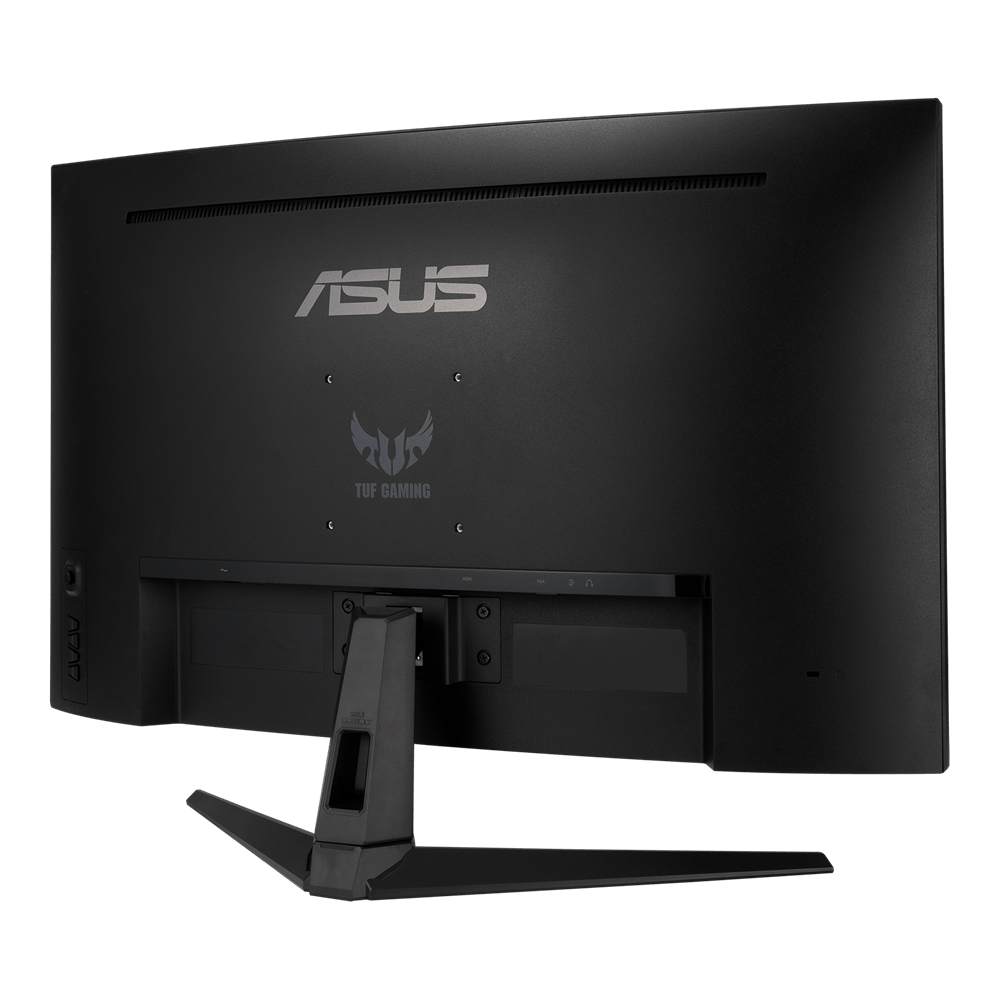 The weight of this monitor is 7Kg and the dimensions are 27.94 x 19.97 x 8.42 inches.
Image Quality
The Asus VG328H1B comes with 32 inches 1500R curved VA panel with a resolution of 1920 x 1080 Pixels, the display supports a 120% sRGB rate that produces super vibrant color and good overall image quality, The downside is the brightness and contrast are not optimized but not noticeable in most of the time, you can see these things on a darker room.
The graphics are smooth and stable due to the higher refresh rate and FreeSync technology, there are no HDR certifications on this monitor so you can't enjoy the extreme HDR gameplay on this monitor.
Performance
It has a 165Hz refresh rate (144Hz native) that brings smoothness to the visuals with the help of FreeSync the playback looks more stable and fast without any screen tearing, flickering, or blurry visuals type of issues. You can play heavy games on this monitor for a long time without any issues, but yes for adjustability you will miss the height adjustability and portrait mode.
Connectivity
The monitor comes with HDMI, D-sub, and Earphone jack, there are no DisplayPort and USB ports.
Pros
165Hz refresh rate, 1500R curved display, and Colors are good.
Cons
No fully adjustable, Viewing angles, Limited connectivity options.
Price Trends
Comparison
These are the main competitors of the Asus VG328H1B gaming monitor –
The Acer Nitro ED323QU Pbmiippx is better than the Asus VG328H1B, It has 32 inches 1500R curved WQHD display with 165Hz refresh rate, AMD FreeSync, DisplayHDR400, and more connectivity options. The biggest drawback is the monitor is not fully adjustable, otherwise, this is one of the best feature pack monitors that offer less price tag than the Asus VG328H1B.
If you are looking for a cheap 32 inches 1500R curved display with FreeSync then the ViewSonic OMNI VX3268-PC-MHD is perfect for you, The price tag is meager compared to the Asus VG328H1B, and impressive performance with good user experience. If you don't have a high budget then you can choose this monitor.
This is another good option from AOC, it offers 32 inches 1500R curved display with a 165Hz refresh rate and AMD FreeSync capabilities. The AOC C32G2 offers height adjustability so that's a very good thing about this monitor, faster response rate and flicker-free gaming experience within your budget.
Conclusion
The Asus VG328H1B offers a great gaming experience with good features, but there are some other options available in their market with lower price tags and amazing user experience so before choosing this monitor you can check its competitors and finalize the perfect monitor.