Gigabyte M28U Review – If you are searching for a gaming monitor with great colors and a fast response rate then you can only find this combination on the Gigabyte M28U, It has 28 inches 4K IPS 8-bit panel with HDR10 supports, 144Hz refresh rate, AMD FreeSync premium pro, height and tilts adjustable.
The downside of this monitor is the peak HDR brightness and the stand is not fully adjustable with slightly less quality in darker environments but not noticeable in gameplays.
The monitor is PS5 and Xbox X compatible, so there is no issue with the connectivity, while talking about the display then you will get a market-leading top-notch image quality, and mostly gaming-focused monitors don't have the crispy and vibrant image quality but this monitor is an exception.
The color accuracy and the graphics are so well balanced with sharper playback, but every monitor has a downside and it has a low HDR peak brightness so the HDR content is not that level excellent but for gaming, there are no such noticeable issues.
Let's check the Gigabyte M28U Review for more details –
Read: GIGABYTE G32QC Review – 165Hz, Weak HDR
Gigabyte M28U Review
The Gigabyte M28U is one of the best gaming monitors in the market with a 4K resolution 8-bit IPS panel with amazing image quality and low input lag, the graphics are super smooth and responsible due to the 144Hz refresh rate and AMD FreeSync Premium Pro, very fast and well build quality with a V-shape stand that allows you to rotate to a comfortable direction and also you can change the height of the monitor but there is no swivel and portrait adjustability.
One more good thing is the price tag is very impressive, at this price range 28 inches 4K, 144Hz, FreeSync, Great color this combination you will not see in the market so that's a perfect thing and no doubt the monitor perform really well but in some area, the monitor needs improvements like the peak HDR brightness and the adjustability.
Build and Design
The monitor is built with strong plastic and feels solid and the back side comes with a glass finishing touch, the bezels are very slim and look attractive. The Gigabyte M28U offers height and tilt adjustments and the stand design is very similar to the typical Gigabyte monitor,

the V-shape stand is good with excellent weight handling and the downside of this stand is there is no swivel and portrait adjustability so you will miss these adjustments.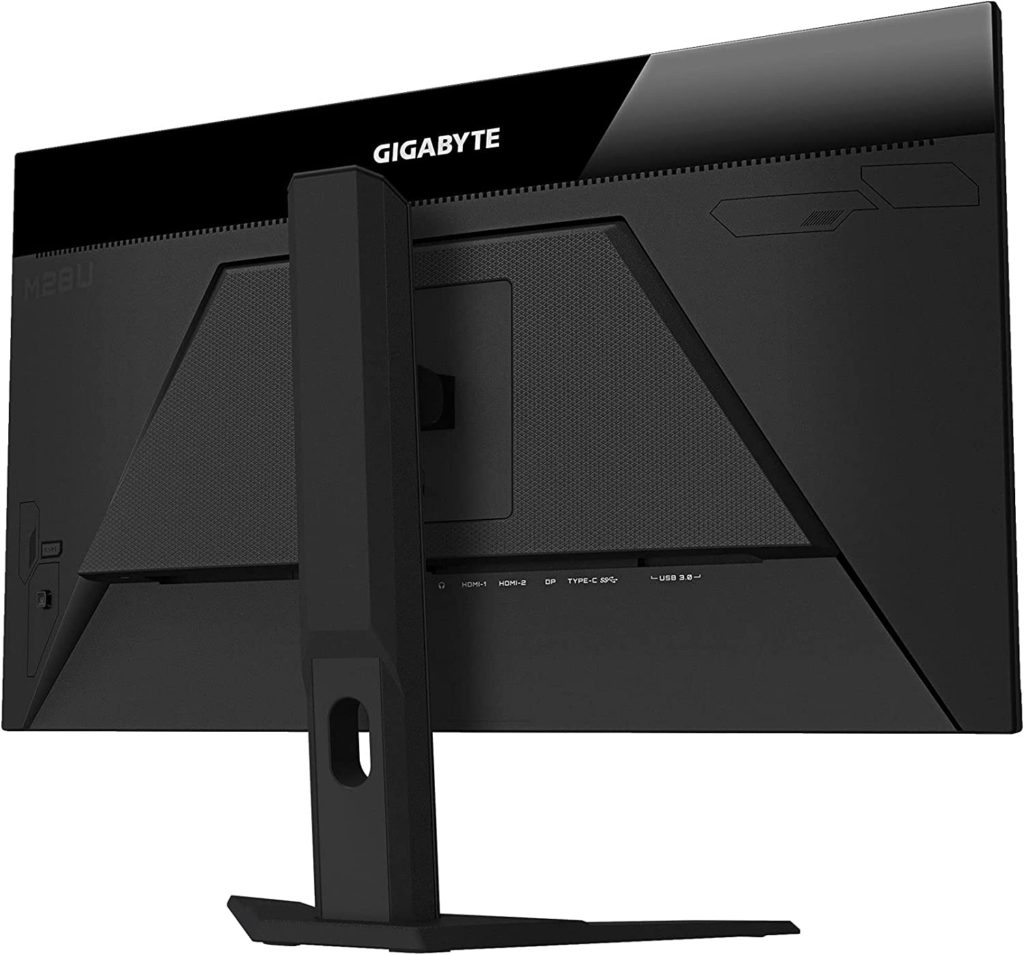 The weight of this monitor is 7Kg and the dimensions are 14.2x 7.1x 6.0 inches.
Image Quality
The Gigabyte M28U comes with a 28 inches flat IPS display with a resolution of 3840 x 2160 pixels, The display supports HDR10 capabilities that give you super punchy colors with sharper image quality. The main downside of this monitor is low contrast and Peak HDR brightness, these are not optimized for HDR content so you will notice in some cases with less dynamic range visuals but not all time. The viewing angles are good with nice SDR and HDR color output.
The monitor is also good for content creation so you can use this monitor for editing videos or graphics designing the vibrant colors of this monitor are really impressive. You can call this is multipurpose monitor due to there is a USB Type C port in this monitor, The overall image quality is very impressive as a gaming monitor.
Performance
It has a 144Hz refresh rate with a super fast response rate, The monitor supports AMD FreeSync Premium Pro for stable and smooth graphics with optimized gameplay performance. You can play heavy games without any issues, there is no screen tearing, flickering, and blurry visuals so all good from a gaming point of view but if you want to change the display t a portrait angle or change the viewing angle by swivel feature so that's you will miss in this monitor.
Connectivity
The good thing about this monitor is the HDMI 2.1 port, also there is a DisplayPort, USB Type-C, USB a and B, and 3.5mm audio output.
Pros
144Hz refresh rate, 4K resolution, Image quality, Connectivity, and nice viewing angles.
Cons
No fully adjustable, Weak Contrasts and HDR peak brightness.
Price Trends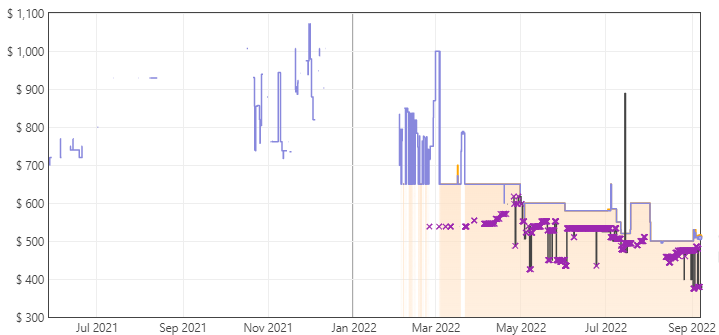 Comparison
These are the main competitors of the Gigabyte M28U –
The Samsung Odyssey G70A is very similar to the Gigabyte M28U, It has the downside that it doesn't offer a USB Type C port otherwise same level of performance and feature with a better adjustability option, The price tag is a little high than the Gigabyte M28U but it is a very good option. It has 28 inches 4K HDR10 display with a 144Hz refresh rate and FreeSync/G-Sync compatible with a fully adjustable stand.
This is another good option from Lg, The LG 27GN950-B comes with a 27 inches 4K HDR display with a 144Hz refresh rate, The display is VESA certified DisplayHDR 600 panel that produces superb color and clarity. The downside is there is no swivel adjustment and the contrast and HDR performance are not that good.
The Acer Predator XB283K KVbmiipruzx is a well-balanced monitor with a god price tag, It has 28 inches flat 4K display with a peak 144Hz refresh rate and the monitor supports both G-Sync and FreeSync technology to enhance the overall gameplay experience without any issue. The build quality is ok, not impressive.
Final verdict
The Gigabyte M28U is one of the best gaming cum productivity monitors with a nice price tag, It is still our top recommendation due to its top-notch performance and the image quality that you will not get in any other gaming monitor. Yes, there is room for improvement in the contrast and HDR brightness with the adjustability otherwise this is a really good monitor. For choosing the right monitor you can check its competitors and if you feel that your requirements can be fulfilled then you can choose them.
I hope this post (Gigabyte M28U Review) helps you to choose the right monitor within your budget and the features you are looking for, check out our other posts and follow us on our social media handles.