LG 27UL850-W Review – If you are looking for a 4K USB Type C monitor then the LG 27UL850-W is perfect for you, It has 27 inches 4K UHD IPS display with AMD FreeSync, DisplayHDR 400, USB Type C port, 60Hz refresh rate, and the stand supports height/tilt/pivot adjustability.
The LG 27UL850-W comes with a 99% sRGB rate that gives you super vibrant color and is perfect for graphics designers and content creators who always looking for a great color output display.
The build and design are very similar to other LG models, nothing new here, very simple design with fewer bezels that looks attractive, It has many connectivity options such as HDMI, DisplayPort, USB Type C, and audio ports.
The display supports VESA DisplayHDR 400, which brings amazing dynamic range with deep blacks, you can play HDR games on this monitor for a better gameplay experience but the refresh rate is just 60Hz and that's not sufficient for heavy gaming.
Read: LG 27UN850-W Review – 4K, USB Type C, Adjustable
LG 27UL850-W Review
The LG 27UL850-W offers 27 inches 4K UHD IPS panel with DisplayHDR 400, AMD FreeSync for smoother graphics, a decent 60Hz refresh rate, an adjustable stand, and a USB Type C port. The monitor is good for editing and graphics designing work due to its nice color reproduction and deeper blacks the content creation work is perfect for this machine.
There are many other options available but this is one of the best monitors right now, before choosing this check its competitors to get more insight into the market in the 4K, USB Type C segment.
Read: The 5 Best Bezel-Less Monitors – 4K, 144Hz
Build and Design
The LG 27UL850-W build with decent plastic, and the design is very similar to other models, the curve stand looks good and fits perfectly on any desk size without keeping extra space, also the stand supports height adjustability so you can change the height of the monitor to a comfortable position,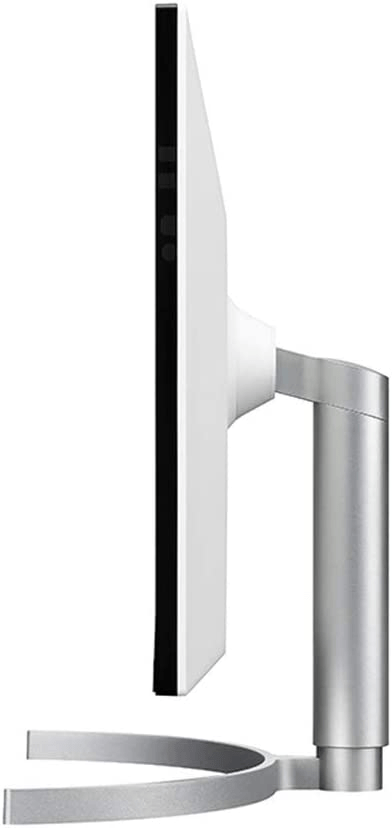 and you can use pivot and tilt adjustability to change the viewing angle of the monitor, there is no swivel option in this monitor. The design is simple and compact, borders are thin.
The weight of this monitor is 6Kg with the stand, and the dimensions are 24.1″ x 22.0″ x 9.2″ (Up), 24.1″ x 17.7″ x 9.2″ (Down) inches with the stand.
Image Quality
It has 27 inches IPS display with a resolution of 3840 x 2160 Pixels, The panel supports VESA-certified DisplayHDR 400 for more deeper and vibrant images, and also offers coverage of 99% sRGB rate for the most accurate colors. The dynamic range is superb so you can watch HDR content with superior colors and brightness, the monitor is not a proper gaming monitor but you can play lightweight gameplay.
Read: Asus ProArt Display PA278QV Review
Performance
While talking about its performing power then you can play games but not good for heavy games, it has a 60Hz refresh rate that;t not sufferance for smooth gameplay, and a higher refresh rate gives you more stable and noise-free visuals with accurate graphics. It has AMD FreeSync for controlling flickering, screen tearing, and blurry visuals. For working professionals there is no issue you can work very differently, USB C and other on-screen features give you a perfect environment.
Read: The 5 Best Monitors for Photo Editing
Connectivity
The monitor comes with HDMI, DisplayPort, USB Type C Port, and audio ports.
Pros
4K, DisplayHDR 400, USB Type C port, Adjustable stand, AMD FreeSync.
Cons
Build quality, Viewing angles, No swivel adjustability.
Read: The 5 Best Monitor For MacBook Pro – 5 Picks
Price Trends

Comparison
These are the main competitors of the LG 27UL850-W –
This is the cheapest 27-inch 4K monitor on the market with a USB Type C Port, HDR10, and a fully adjustable stand, it is a very compact and lightweight monitor. This is a really good choice because of its price tag which is very low compared t the LG 27UL850-W, not just that it has a fully adjustable stand and nice build quality at this price.
This is another great monitor from Benq, it has a bigger display size, 32 inches 4K panel with a USB Type C port, and FreeSync. The downside is the decent color and there is no fully adjustable stand I'm this monitor, if you want a bigger display size then you can choose this monitor.
The ViewSonic VP2756-4K offers a 27 inches 4K display with a USB Type C port with amazing color reproduction, and the stand is fully adjustable. The downside is there is no FreeSync stuff, so the monitor is only for productivity you can't expect good-quality of gameplay, and the good thing is the monitor comes with low price tag than the LG 27UL850-W.
Read: The Best 49-inch Monitor For MacBook Pro
Conclusion
The LG 27UL850-W is a working monitor but you can play casual games on this monitor, this is a good monitor but there are many options available in the market with less price tag than this, not just the price tag but the overall experience and the features are also better than this monitor. You can choose this monitor if you want good image quality with decent gaming capabilities but if you want more features and a lesser price tag then you can choose its competitors.