LG 32UP550N-W Review – If you are looking for a 32-inch 4K monitor with a USB Type Port then the LG 32UP550N-W is perfect for you. It has 32 inch VA panel with a 4K resolution and supports HDR10 for better color production, The design is good and the stand supports the height, pivot, and tilt adjustment so
you can change the viewing angle of the monitor to a perfect position without any issues, but there is no swivel adjustability, if you frequently change the angle of the monitor via the swivel adjustments feature then you will be disappointed with this monitor.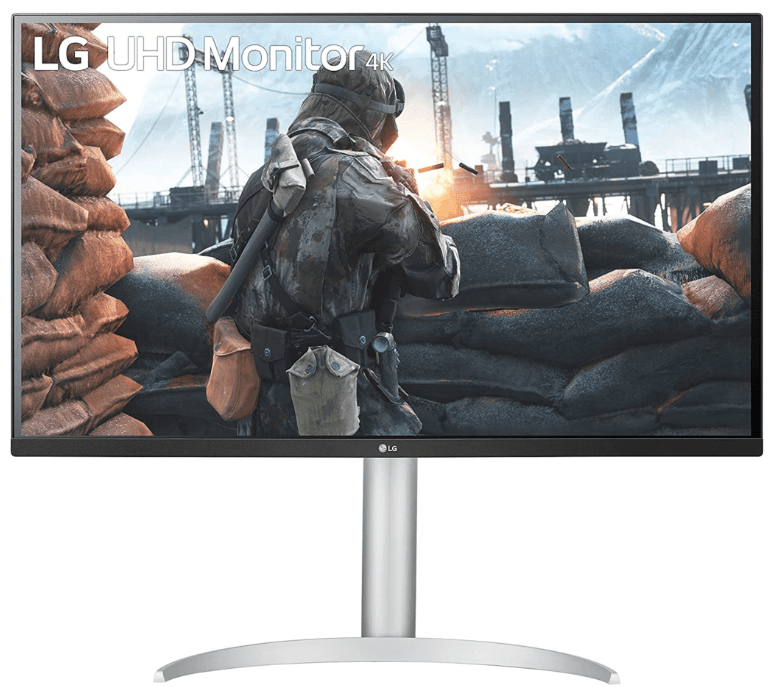 The image quality of the monitor is the best thing you will get, it supports HDR10 for better dynamic range and sharpness so you will get a vibrant playback experience.
The weakness is the contrast and the HDR peak brightness, these are not balanced, so can notice in the dark background otherwise there is no big issue with this monitor.
Read: LG 49WQ95C-W Review – 144Hz, Type C, Weak HDR
LG 32UP550N-W Review
The 32 inches display is perfect for working and multitasking capabilities, a bigger size gives you more comfortable viewing space, It has an 32 inches flat 4K display with HDR 10 and the color reproduction is good, it has a USB type C port for better overall connectivity and AMD FreeSync for flicker-free visuals.
Talking about the design of the monitor it looks very similar to many LG models, The bezels are minimal and look great, and the stand allows you to adjust the height of the monitor to a comfortable position also you can change the angle by using a pivot and tilt adjustments but there is no swivel adjustment in this monitor.
Build and Design
The body of the LG 32UP550N-W is made from plastic, there is many LG model that offers the same design so there is no new thing from LG, the stand offers height, pivot, and tilt adjustment so that's a good thing but no swivel. The display border is very thin that definitely looks great but I think there is a need for better build quality from LG, due to its price tag and features.

The 32-inch display is very good and the stand easily handles the weight of the monitor and fits perfectly on any desk size without capturing any extra space.
The weight of the monitor is around 8.39 Kg with the stand, and the dimensions are 28.1″ x 23.5″ x 9.4″ (Up), and 28.1″ x 19.1″ x 9.4″ (Down) with the stand.
Image Quality
The LG 32UP550N-W offers a 32-inch flat VA panel with a resolution of 3840 x 2160 pixel, the display support HDR10 for better image quality, it gives you more accurate visuals with much sharper visual and vibrant color accuracy. The 4K resolution gives you more details with the 32-inch display, the viewing angles are good but the contrast and HDR peak brightness are not very impressive.
Performance
The monitor is focused on multitasking and working capabilities so the monitor might disappoint some hardcore games, due to its 60Hz refresh rate you might face some weak performance so this is not for hardcore gamers, you can play lightweight games without any big issues, and the FreeSync works really well and handle perfectly the graphics and overall performance.
Connectivity
The monitor with many connectivity options including DisplayPort, HDMI, USB Type C, and headphone outputs.
Pros
4K, HDR10, FreeSync, Adjustable stand, USB Type C Port.
Cons
60Hz refresh rate, No swivel adjustments, weak contrast/Peak HDR brightness.
Price Trends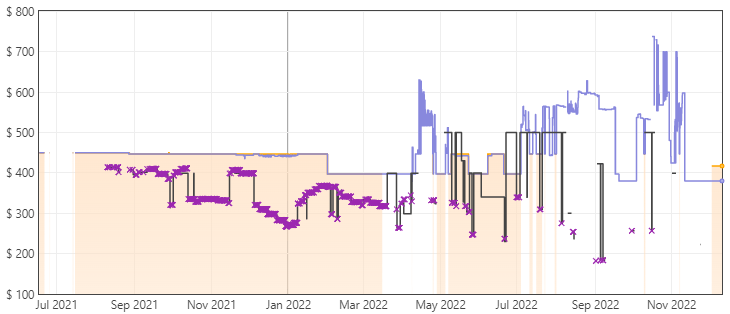 CHECK THE PRICE ON THE LG STORE
CHECK THE PRICE ON THE B&H STORE
Comparison
These are the main competitors of the LG 32UP550N-W –
The LG 27UL850-W is perfect for you if you are ok with a 27-inch display rather than 32 inches. It has DisplayHDR 400 certification so you can expect much more quality in playback with better colors and brightness, the stand is adjustable and the USB Type C port is available so you can connect your Mac devices very seamlessly. The good thing about this monitor is price tag is low compared to many other monitors with these specs.
The BenQ EW3270U comes with a 32-inch flat VA 4K display, supports HDR, and a 60Hz refresh rate for multitasking, this is the best for you if you are looking for a 4K monitor with great image quality with a lower price tag. The stand is adjustable and you can get a better performance overall as a working monitor, it has FreeSync and USB Type C ports for faster data transfer.
This is another 4K monitor from AOC, it has a 32 inches 4K display with a USB Type C port, Adaptive Sync a 60Hz refresh rate. The best thing pf this monitor is the price tag overall a very good monitor if you can compromise with image quality because the monitor doesn't support HDR and the color accuracy might be disappointing but as a cheap 4K monitor the monitor did a great job.
Final Verdict
Buying a 4K monitor with a USB Type C port is a bit confusing in the market but I will recommend choosing a better image quality monitor with better brightness and sharpness, This will help you ill content creation or editing work. Gamers usually don't play with a low refresh rate monitor so these are not gaming monitors only for work,
Before finalizing any monitor check your budget first after checking the specs of the monitor and ensuring that you are getting the all basics of a monitor then decide which is good for you. From this article, you can choose the 27-inch LG monitor if you are okay with 27 inches or you can go for the Benq model.