LG 38WQ88C-W Review – If you are looking for a working monitor with a massive big screen and overall better productivity then the LG 38WQ88C-W might be a good choice, just like it's a good thing it has many bad things that you have to check before choosing this monitor, so if you are wondering to own this monitor then this post is only for you.
The LG 38WQ88C-W offers a 38-inch 2300R curved IPS display with AMD FreeSync, USB Type C port, 60Hz refresh rate, and a fully adjustable stand. The image quality is amazing it supports HDR10 for better dynamic range and vibrant colors.
This is the perfect monitor for working professionals, great for content creation and multitasking. The USB Type C port gives you faster data transfer and seamless connectivity to your Mac devices, Just like the good thing it has many downsides.
Just like the viewing angles are not very impressive, also the color accuracy is not industry-leading graphics designing work, The contrast/brightness needs more improvements because the price tag is really high and users expected the image quality will be top-notch in this monitor.
Read: Asus ProArt Display PA278QV Review
LG 38WQ88C-W Review
LG 38WQ88C-W is good for multitasking, The 38 inches 2300R curved display is massive and gives you much more space to keep multiple tabs open in one place, The HDR10 support helps to get a better image quality overall so it helps a lot to get vibrant visuals, the color accuracy is normal, not amazing.
The built quality is superb and feels premium, the well-designed stand allows you to change the viewing angles of the display to any angle you want, so you can adjust the height of the monitor, also you can use tilt, swivel, extend/retract to get an optimal viewing angle that's pretty nice.
Build and Design
The body of this monitor is made from strong plastic that looks very premium, The design is very similar to many LG monitors, many are gaming lineups, and some the work monitors. The bezels are super thin and it look really amazing Due to the massive display the bezels look very minimal.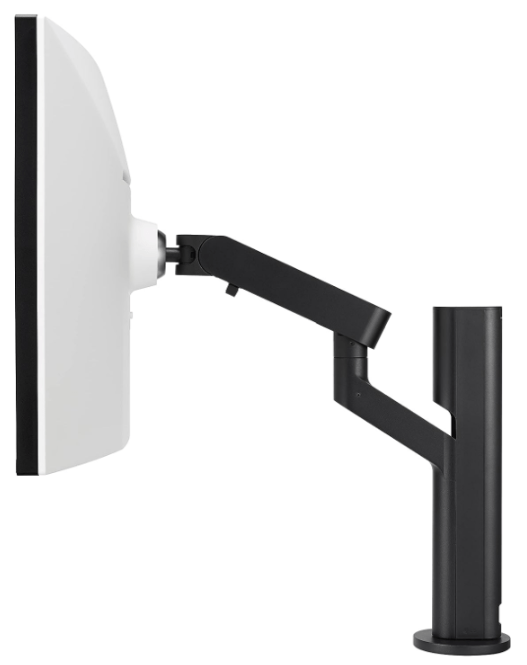 The monitor is focused on multitasking and productivity so adjustability is a key feature of this monitor, The brand-new stand has multiple adjustments just as you can change the display tilted by tilting the panel, also you can also adjust the height and use extend/retract adjustability to get a comfortable position.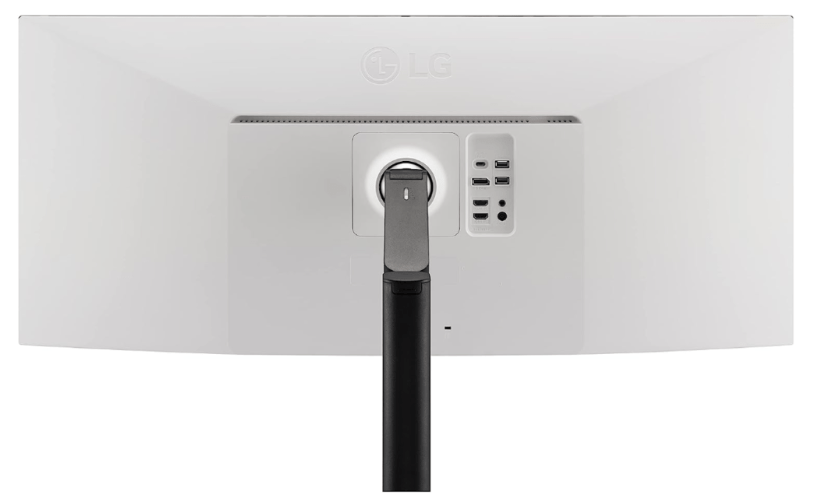 The monitor is a huge display so the weight of this monitor is a little heavy, the weight is around 11Kg with the stand, and the dimensions are 35.3" x 30.1" x 20.2"(Up) 35.3" x 24.9" x 20.2" (Down) with the stand.
Image Quality
The LG 38WQ88C-W has a stunning 38-inch huge 2300R curved IPS panel with a resolution of 3840×1600 Pixels, The playback looks very nice and aggressive in this 38-inch monitor. The colors are decent for a productivity monitor and a whopping price tag, The color accuracy needs more professional type so it can be used as complex graphic design and editing work, but the HDR10 works well. Also, the horizontal and vertical viewing angles aren't impressive at all.
Performance
As for multitasking and productivity, the 60Hz is quite enough for normal tasks, but talking about its gaming capabilities it's not that good, The 60Hz refresh rate is not enough for some high-end gamers, so it's disappointing but you can play lightweight games and handles really well without any big screen tearing, flickering or blurry visuals issues, the FreeSync handles perfectly but the monitor is not for hardcore gamers, perfect for multitasking and office works.
Read: The 6 Best 32 Inch 4K Monitor – Ultimate Setup
Connectivity
The monitor comes with HDMI, DisplayPort, USB Type C port, and audio outputs, connectivity wise The monitor did a great job.
Pros
38-inch 2300R curved display, HDR10, FreeSync, USB Type C port, full Adjustability.
Cons
Weak Viewing angles, Color accuracy is not impressive, and Low 60Hz refresh rate.
Price Trends
Comparison
These are the top 3 competitors of the LG 38WQ88C-W –
The LG 38WN95C-W is way better than the LG 38WQ88C-W, It has a 38-inch curved display that supports DisplayHDR 600 for brighter images with 135% sRGB rate and 98% DCI-P3 color output giving you amazing color Also it has 144Hz refresh rate, AMD FreeSync/G-Sync compatible that gives you smoother gameplay experience at a reasonable price tag as the LG 38QQ88C-W, so this is perfect for gaming and working.
This is another great monitor from Dell, It has a 38-inch curved display with a USB Type C port, 60Hz refresh rate, a fully adjustable stand, and amazing built quality. The monitor is perfect for multitasking and productivity, and the amazing response times give you more smooth work and overall good picture quality.
If you are very serious about image quality and color accuracy then the ViewSonic VP3881 is the right choice. This is one of the best in the market with amazing pro-level color outputs, It has 38 inches WQHD+ ultrawide curved display with a 100% sRGB rate, 14 bit, 4.39 trillion colors, and the image quality is top-notch, it is great for high-end graphic designing and editing work, the price is high but the quality is amazing.
Final Verdict
Choosing a working monitor with a big screen and all useful specs like a USB Type C port and amazing image quality is quite difficult because there are many options but not all are perfect, Every monitor has a downside such as the LG 38WQ88C-W, but few are perfect like the LG38WN95C-W, it has all useful features with a reasonable price tag, so I will recommend this monitor due to its amazing image quality and the price tag is very good. I hope this post helps you to choose the right product for your needs.