LG 34WP580-B Review – LG is a well-known brand in the electronics industry, and the 34WP580-B is a 34-inch ultrawide monitor designed for gaming and productivity. This monitor is part of LG's UltraWide series and features a 21:9 aspect ratio and a resolution of 2560 x 1080 pixels. It also includes a range of advanced features such as AMD FreeSync, a 75Hz refresh rate, and a 5ms response time.
The LG 34WP580-B has a sleek and modern design that is both attractive and functional. The monitor features a slim bezel design with a matte black finish, making it easy to blend in with most workspaces. The stand is fully adjustable, allowing users to tilt the screen to their desired angle for better viewing comfort.
In terms of connectivity, the LG 34WP580-B comes equipped with two HDMI ports and a DisplayPort. This allows users to easily connect the monitor to their computer, gaming console, or other devices. Additionally, the monitor also includes a headphone jack for audio output.
One of the standout features of the LG 34WP580-B is the inclusion of AMD FreeSync technology. This feature helps to eliminate screen tearing and stuttering during gameplay, providing a smoother and more enjoyable gaming experience. The monitor also has a 75Hz refresh rate, which is perfect for productivity tasks but not for heavy gaming because this is not a gaming-oriented monitor.
The biggest downside of this monitor is don't have a USB Type C port, the color accuracy is low, and don't have an amazing HDR playback experience even though it supports HDR10, but if you are looking for a 34 inches working monitor with fully adjustable stand and cheap price tag then this is perfect for you otherwise you can get many other options in the market so check our comparison table to get the market overview.
LG 34WP580-B Review
The LG 34WP580-B has a 34-inch IPS panel display with a resolution of 2560 x 1080 pixels. While this resolution is not as high as some other ultrawide monitors, it still provides a good balance of screen real estate and clarity. The IPS panel provides excellent color accuracy and wide viewing angles, making it suitable for a range of tasks, including photo and video editing.
The monitor also has a 5ms response time, which is fast enough for most gaming and productivity tasks. However, it may not be sufficient for competitive gaming, where faster response times are essential. Additionally, the monitor has a brightness of 250 cd/m², which is bright enough for most environments but may not be sufficient in very bright or sunny conditions.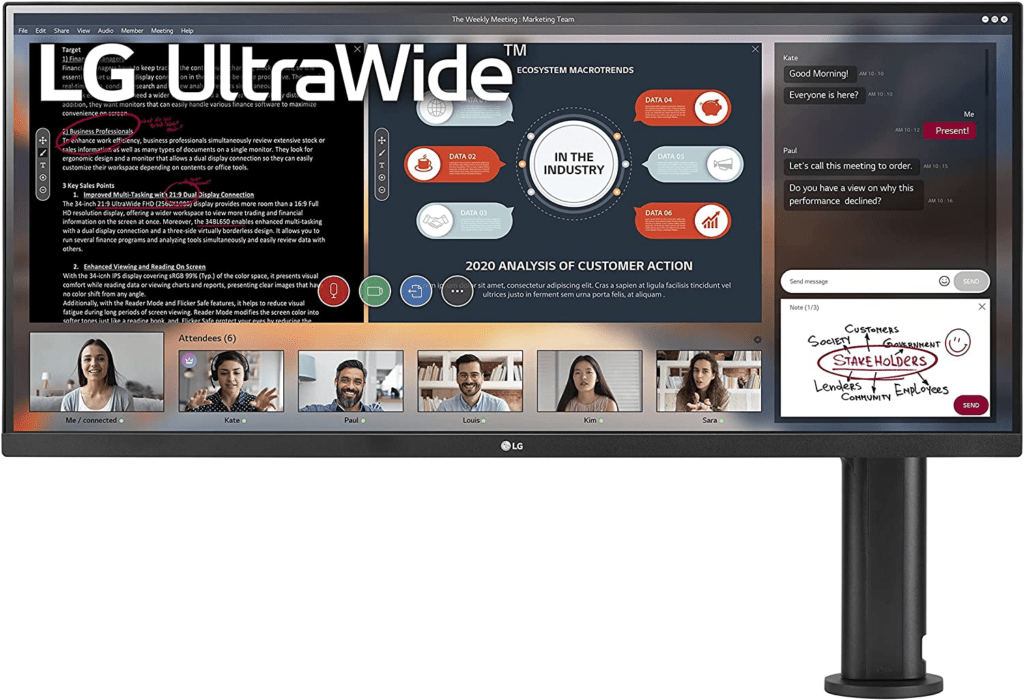 The LG 34WP580-B also includes a range of advanced features to improve the overall user experience. For example, it includes LG's On-Screen Control software, which allows users to adjust various settings such as volume, brightness, and picture mode directly from their desktop. It also includes a Picture-by-Picture mode, which allows users to display content from two different sources side-by-side on the same screen.
The LG 34WP580-B provides an excellent overall user experience, whether it's for gaming or productivity. The ultrawide screen provides plenty of screen real estate, allowing users to have multiple windows open simultaneously. The IPS panel provides excellent color accuracy and viewing angles, making it suitable for a range of tasks, including photo and video editing.
Build and Design
The adjustable stand (LG called ergo stand) also makes it easy to find the perfect viewing angle, reducing eye strain and fatigue. The inclusion of AMD FreeSync technology also provides a smoother gaming experience, while the various advanced features such as On-Screen Control and Picture-by-Picture mode add to the overall convenience and usability of the monitor.
The monitor is built from plastic material, and the design of this monitor is the main attraction, as it has an ergo stand that supports height, pivot, swivel, tilt, extent, and retract adjustments so you can easily change the viewing position to your favorite position. A better viewing angle helps to reduce fatigue while working for a long time, if you are a professional al worker and often work for long hours then this feature helps you a lot.
The body of this monitor is very similar to some other LG productivity monitors, and the bezels are good. The weight of this monitor is around 9.4 Kg with the stand, that's a little bit heavy as it has 34 inches big display. The dimensions are 32.2" x 29.3" x 19.04" (Up) and 32.2" x 24.2" x 19.04" (Down) with the stand.
Image Quality
The LG 34WP580-B offers a 34 inches flat IPS panel with a resolution of 2560 x 1080 pixels, the brightness is decent in this monitor with okay contrast, and it supports HDR10 for better dynamic range but you will not get a true HDR experience as it doesn't bright enough, for working and multitasking the overall image quality is good but if you are serious in graphic design and editing then this might be not a good option. Talking about its color accuracy then it has a 95% sRGB rate which is a bit low but as I said for normal multitasking and productivity work it's perfect.
Performance
Performance-wise the monitor offers a 75Hz max refresh rate and AMD FreeSync supports making visuals smoothy but not for heavy gameplay. You can still play lightweight games on this monitor due to FreeSync compatibility but the refresh rate is too low for an impactful gameplay session, so in conclusion, this monitor is not for series gamers, in another hand for working and multitasking the monitor is very good there are no big issues.
Connectivity
While talking about the connectivity ports in this monitor then you will be disappointed because as for productivity Type C port is now a major port, and it doesn't have. It has Displayport, HDMI, and audio outputs, but no other USB ports.
Pros
34-inch big IPS panel, HDR10, FreeSync, Fully adjustable stand.
Cons
Weak HDR, No USB Ports, low color accuracy.
Price Trends

CHECK THE PRICE ON THE LG STORE
Comparison
These are the competitors of the LG 34WP580-B –
The LG 34GP63A-B has 34 inches 160Hz refresh rate, AMD FreeSync Premium, and HDR10 compatibility. This is way more better than the LG 34WP580-B, as it is a more gaming-friendly monitor with much better color accuracy, and visuals are superb due to a 160Hz refresh rate the FreeSync combination makes it a more confident choice for heavy gaming.
This is another performance pack gaming monitor with much better image quality with super fast graphics, It has 34 inches 1500R curved display with a 165Hz refresh rate, AMD FreeSync Premium, and DisplayHDR 400 for immersive playback. The monitor supports height adjustments so you can change the height of the monitor also you can use swivel and tilt adjustments to get the perfect angle while using this monitor.
The MSI MPG ARTYMIS 343CQR is one of the perfect monitors you can get at a very good price tag, as it offers 34 inches 1000R curved display with AMD FreeSync premium, 165Hz refresh rate, Display HDR 400 for better overall image quality, and the best thing it has USB Type C port for better transfer speed and multitasking capabilities, it's an allrounder monitor for work and gaming.
Final words
The LG 34WP580-B is a very good option if you just want a 34-inch big display with an ergo stand and a cheap price tag, for this price there are no other options available in the 34-inch size segment so this is one of the cheapest 34-inch monitors right now but if you want more performance then you can choose the LG model, or if you want a gaming monitor that you can use as working and gaming both then the MSI is the best option for you.
I hope this post helps you to choose the right 34 inches to monitor with your needs and budget you can afford, also I shared the competitors so you can get a better overview of the market that helps to pick the right product for your need.